Buy and hold forever sounds nice, but it doesn't always work in the high yield market where volatility can offset the high income stream your holdings offer. Worse still, if you play high yield through a closed-end fund ((NYSEMKT:CEF)), you're setting yourself up for long-term capital depletion if you buy and hold these funds, as their structure and dedicated payouts can often involve a NAV depletion that makes your capital dwindle over time.
This doesn't mean you should avoid these funds. On the contrary, swing trading CEFs is actually significantly easier than swing trading stocks, which have a lot of institutional investor focus and attention paid to them. CEFs are dominated by often emotional retail investor sentiment, making their price fluctuations incredibly inefficient.
If you want to buy high-yield bond CEFs right now, you might be worried about the rally in junk bonds. Moody's is worried. A recent report said that the rally "lacks solid fundamentals," while an even more recent report warned that top-line weakness will threaten earnings, in turn threatening companies' abilities to pay bondholders. Excluding energy, Moody's is expecting a 1.4% year-over-year rise in revenues for March: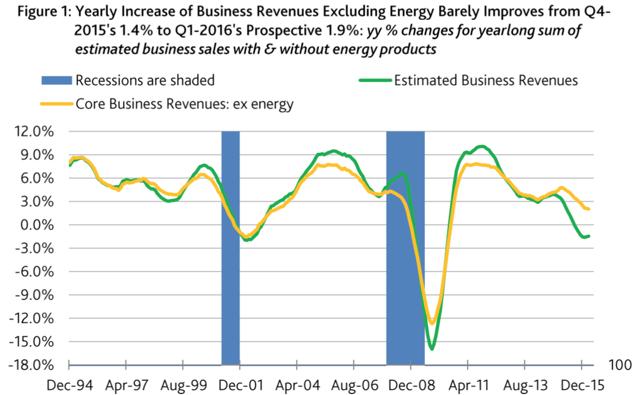 Click to enlarge
Source: Moody's Investors Service
That's the weakest growth since 2009, and also the continuation of a worrying trend where revenue growth has fallen since 2011. Companies can only cut capital expenditures, SG&A, and R&D so much -- at which point solvency and future growth become alarming concerns.
Corporate Bond Yields-Compensated for Risk?
When defaults rise, or when interest rates on Treasuries rise, bondholders are compensated for the risk with higher yields. Higher yields mean lower prices for bonds, meaning that bondholders suffer from the increase in yields while bond buyers benefit.
Throughout late 2015 and early 2016, we saw bond buyers get compensated for the default rate increase significantly: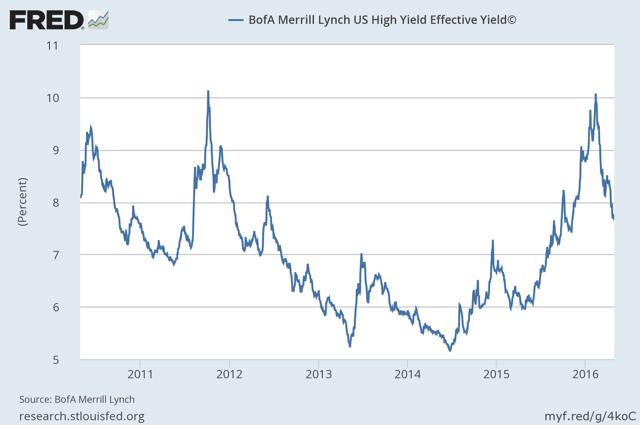 Click to enlarge
Source: Federal Reserve Economic Data
This was driven by a meteoric rise in defaults, as discussed in this article. Shortly after I wrote, CEF discounts fell, with some funds reaching record lows. At this time I was a big buyer of Pimco funds, including Pimco Dynamic Credit Income Fund (NYSE:PCI) and Pimco Credit Income Fund (NYSE:PDI), although these funds have little to do with the junk bond market. I also purchased Pimco Income Strategy Fund (NYSE:PFL), Pimco Income Strategy Fund II (NYSE:PFN), Pimco Corporate and Opportunity Fund (NYSE:PTY), Pimco Income Opportunity Fund (NYSE:PKO), and increased my holdings of AGIC Equity and Convertible Income Fund (NYSE:NIE), Western Asset Global High Income Fund (NYSE:EHI), Western Asset Managed High Income Fund (NYSE:MHY), Western Asset High Income Opportunity Fund (NYSE:HIO), Western Asset Premier Bond Fund (NYSE:WEA), and some equities and funds unrelated to the high yield market. My portfolio is up significantly since then in a short time, and I have reduced my exposure to some of these funds since then, while buying more of others. I have also avoided high profile CEFs with massive yields, like a former favorite Pimco High Income Fund (NYSE:PHK).
My reasoning behind this activity hinges partly on changes in CEF premiums/discounts and the comparative performance of these funds. More importantly, I do not see yields falling to a point where I think bondholders are not being adequately compensated for risk, even if defaults rise to 4.7% as Moody's expects.
One reason behind my belief is that high yield bond yields remain significantly above their post-2009 crisis median: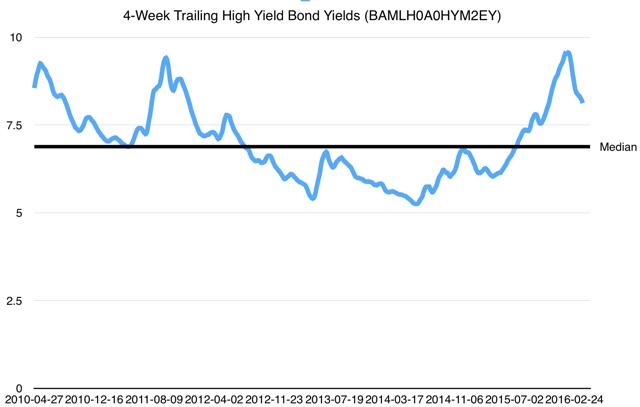 Click to enlarge
Source: Federal Reserve Economic Data
I am not waiting for them to fall substantially below the median, since one needs to adjust this data for the increase in default rates and offset that adjustment by defaults in oil and gas. However, when I do that calculation my conclusion is to continue to holding -- for now.
The Profit Warning
When thinking about defaults, a primary concern is whether corporate profits can sustain bond payouts. At the moment, profits are falling across the board: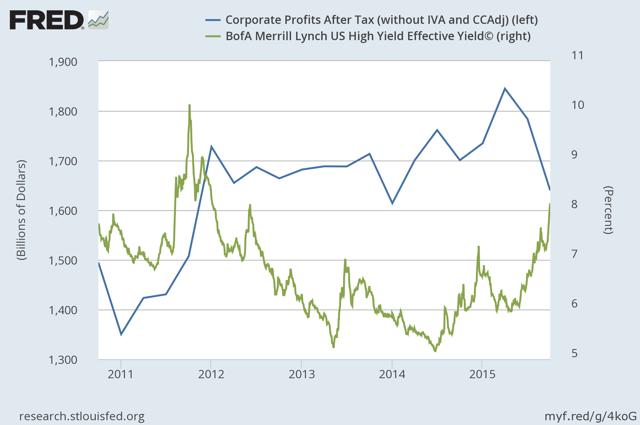 Click to enlarge
Source: Federal Reserve Economic Data
However, when we overlay the fall in profits with bond yields, we see that the market has effectively priced in the extremely stable decline throughout 2015. This is largely the effect of the energy sector, but several high-profile defaults more recently also reminds us that non-energy companies can go bust, too.
With profit growth outside of the energy sector remaining meager, this warning is an additional concern investors need to think about when deciding when to hold high yield bonds. Earnings season isn't over yet, but when it is I will be looking very closely at how profitability has played out across different sectors, and use that analysis to decide how to manage my bond CEFs.
Conclusion
The fall in yields demonstrates that we are nearing the time to liquidate bond fund holdings, but we're not quite there yet. While the high-yield effective yield is one metric I look at when deciding when to enter and exit bond CEFs, it isn't the only metric. Further analysis of companies' profits, the Federal Reserve's rate decisions, oil prices, and the yields of alternative instruments like REITs and BDCs all factor into my purchasing activity.
I bought heavily in February after going all cash in November 2015; my indicators don't say to go all cash again yet, but with weak GDP growth and weak revenues combined with falling bond yields, I expect to be a net seller in the next few months.
Disclosure: I am/we are long EHI, HIO, MHY, NIE, PCI, PDI, PFL, PFN, PKO, WEA, PTY.
I wrote this article myself, and it expresses my own opinions. I am not receiving compensation for it (other than from Seeking Alpha). I have no business relationship with any company whose stock is mentioned in this article.