BlackBerry (NASDAQ:BBRY) hired a new Global Device Sales Senior Vice President. I hope Alex Thurber will be bold enough to upgrade his Android strategy to include all types of customers. The upcoming two $400 Android phones are merely Chen's answer to enterprise clients unhappy with the $700 price tag of the Priv.
The focus on business users is wrong when it comes to selling Android phones. BlackBerry is unlikely to sell a million phones every quarter if it only focuses on $400 handsets for corporate clients. Attracting the interest of mainstream buyers is now more important to BlackBerry's future in phones.
The weak interest on BlackBerry's first Android handset even forced a Newegg vendor to sell a $399.99 AT&T (NYSE:T) Priv. There's also a $499.00 unlocked Priv at Amazon (NASDAQ:AMZN). These desperate price tags are way below the MSRP of $650.
There are third-party stockpiles of unsold Priv handsets that could only be moved through substantial price cuts. This embarrassment could have been avoided if only BlackBerry priced it correctly last year. The Android hardware industry is dictated by common customers (not by business users) long-accustomed to $50-$300 phones.
BlackBerry has no future in Android phones if it cannot compete with the cutthroat pricing of Huawei and other leading Android vendors. While never voiced out, BlackBerry's management likely shares my interest in cheap Android phones. Abandoning BB OS 10 (in favor of Android) meant they still crave a return to the old mainstream popularity of BlackBerry phones.
Only sub-$300 phones can improve the market appeal of BlackBerry Android phones. The average selling price of Android phones is now only $215. Mid-range Android therefore now means $250, not $400.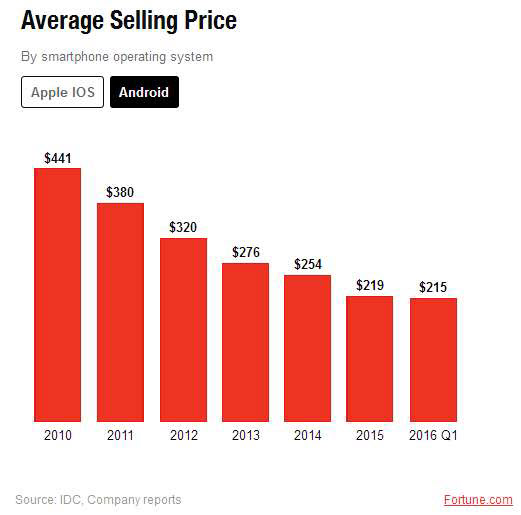 Focus First on Sales Volume, Not On Margins
I know Chen wants to make the phone hardware business profitable. However, it's hard to make a profit if you can only sell 600k phones in a quarter. Thurber and Chen should learn from the success of Huawei, Oppo and Vivo. Those three Chinese firms specialize in sub-$300 Android phones. Oppo and Vivo posted triple-digit, year-over-year growth rates in smartphone shipments by focusing on affordable handsets.
BlackBerry should admit that the high-volume, low-margin approach is key to making it big in Android phones. Even a $3 average per-unit margin is acceptable if one could sell 18.5 million phones (like Oppo did in Q1 2016). BlackBerry has long lost its mainstream premium-branding standing. It cannot expect to thrive as a phone vendor on margins of $50 or more.
Furthermore, a majority of Android users do not care about BlackBerry's industry-leading mobile security features. Using its "Secured Android" marketing battle cry does not impress the majority of potential buyers. People only want a handset that has a decent gaming performance, five-inch or bigger display, and a good battery life.
I'm therefore strongly in favor of BlackBerry selling unsecured, generic, $150 phones. This radical move will help deliver quarterly sales of 2 million units or more. It's a lot better to sell 5 million phones on very slim margins ($3) than having unsold inventories of $400 phones.
Furthermore, there are other ways to monetize Android phones other than through hardware margins. BlackBerry could accept paid app pre-installations from third-party companies. Microsoft (NASDAQ:MSFT) offers incentives to OEMs who pre-install its mobile apps like Skype and Outlook on Android devices.
Market perception is important. BlackBerry needs to repair first its beaten-down reputation through high-volume sales of cheap phones. Industry analysts and investors alike put a lot of emphasis on market share. Selling cheaper phones is the easiest way for BlackBerry to improve its market share. The stock market will love it if Chen can announce quarterly sales of more than 2 million phones.
BlackBerry's partner Foxconn can build entry-level BlackBerry phones using dirt-cheap SoCs from MediaTek or subsidized Atom processors/modems from Intel (NASDAQ:INTC). MediaTek has an LTE-integrated SoC that's even fit for $60 Android phones.
Winning Business Users Outside America
Thurber will find it hard to market $400 business phones outside America. It might only succeed if it's offered under a bundled package (with BlackBerry's enterprise software products) or under a corporate leasing program. The reality now is that there are dozens of sub-$300 premium-quality phones from Asustek (OTC:ASUUY), OnePlus, Oppo, Huawei and Xiaomi (Private:XI).
The $199.99 Huawei Honor X5 has a metal-body, fingerprint sensor and full HD display. It's an Android handset that corporate clients will even find very attractive. Security concerns over using a phone made by a Chinese firm are easily addressed by corporate mobile device management.
IT Administrators and ordinary users also could donate $5 to secure any Chinese-made Android phone. Xprivacy Pro is a donationware Android app that is very similar to BlackBerry's DTEK.
Consequently, business users will not be much of a factor in global sales of BlackBerry's Android phones. It is the mass market $150 handset that is more likely to resuscitate BlackBerry's hardware business.
Conclusion
Selling $150 Android Phones may alienate fans who still cling to the premium-only brand of BlackBerry. However, I place greater importance on the millions of new customers that could fall for cheaper BlackBerry handsets. BlackBerry's survival as a phone vendor requires it to sell to everyone, not just to a small niche.
More importantly, wireless carriers will find it more reasonable to subsidize sub-$300 (not $400) BlackBerry phones for their post-paid customers. Without stronger backing from carriers, BlackBerry's Android global device sales is seriously handicapped. The high price of Priv meant only AT&T and Verizon (NYSE:VZ) are supporting it. Sprint (NYSE:S) backed out.
Chen should try offering $150 Android phones to Sprint.
Disclosure: I am/we are long BBRY, MSFT, INTC, AMZN.
I wrote this article myself, and it expresses my own opinions. I am not receiving compensation for it (other than from Seeking Alpha). I have no business relationship with any company whose stock is mentioned in this article.