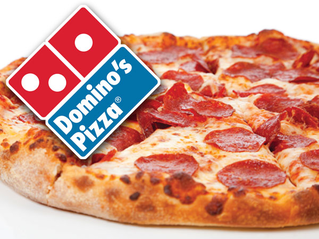 Domino's Pizza (NYSE:DPZ) has been on a great run, as the stock has gone up nearly sixfold in the last five years. In its most recent quarter, Domino's missed on both revenue and earnings which resulted in a nearly -10% pullback. A big reason why this happened was the F/X exchange. Despite the terrible numbers, Domino's actually had a 6.4% increase in comparable-store sales in the U.S. and a 7.9% increase in international sales in the quarter. This will be the 88th consecutive quarter that the company has seen same-store sales increase. Domino's also has a solid bottom-line, as it took in $200 million at the end of Q1 2016. Although it may appear the quarter was a disaster, it was actually decent when you consider the sales growth which can be attributed to Domino's investment in technology which allows users to order with ease, as well as their investment in bringing new innovative pizzas to the menu. Is now a good chance to pick up Domino's on its most recent earnings miss or are there headwinds ahead?
The tech innovator of the pizza market
The restaurant space is very competitive, but Domino's looks to become the leader in the pizza market, as the CEO Patrick Doyle is looking to deliver "great food, consistent delivery and giving good value to our customers". Domino's has a large global presence with over 12,500 locations in 80 countries and excellent delivery system in place, which has been enhanced by new technology adapted by Domino's. Domino's has made its customer experience top notch, as one could simply use the Domino's app or website to construct their pizza, and have a progress bar which tells them where their pizza is, from in the oven until its at your door, along with an estimated delivery time. Over half of Domino's sales now come via online means due to the huge convenience that the online delivery system offers their customers. Domino's customers now have a PoS (point of sale) loyalty program in place which is called PULSE. PULSE keeps its customers coming back and is currently present at over 60% of its locations. Domino's states that its focus on innovating in technology caused 40% of digital users to create an online account in order to use easy order and have access to its loyalty program. In addition, Domino's now has over 1 million Twitter followers, which allows them to keep an elevated relationship with their loyal customer base, this in turn allows Domino's free advertising. It is the strong online platform and the loyalty program which keeps its customers coming back for more. In terms of customer retention, Domino's is head and shoulders above competition in the pizza market.
They're innovating their pizzas! New recipe, improved quality
CEO Patrick Doyle is open to feedback from customers, there have been criticisms that the old Domino's pizza's taste was lacking. In response, a new recipe was rolled out for its pizzas along with new and improved side menu items such as specialty chicken tenders, cheesy bread, pastas, sandwiches and cinnamon stix. The new pizzas and sides has driven same store sales through the roof, as international SSS has been increasing for the 88th consecutive quarter. Domino's is listening to their customers, and it is paying off, as the company continues to find ways to innovate their menu in order to keep its customers coming back for another slice. I believe it is Domino's ability to improve its product, and its innovation in improving the user experience is what puts it ahead of competition such as Pizza Hut (NYSE:YUM), as Domino's is growing at a much faster rate in comparison. Pizza Hut's revenues fell in its last quarter by a whopping $262 million with an increase in same-store-sales by only 1%. Pizza Hut's revenues fell in its last quarter by a whopping $262 million with an increase in same-store-sales by only 1%.
Valuation and Conclusion
Although Domino's missed on top and bottom line in the latest quarter, I believe same-store sales growth, and its huge online loyal customer base will make Domino's a fantastic long term pick. Domino's has a strong bottom line with operating cash flow which is twice its net income, with a fantastic ROIC (Return on invested capital) of 137.8%. Currently the stock has a P/E of 34.7, which is very high considering its five year historical average P/E is 26, and the retail-food and restaurants average is 28.5. Revenue has grown at a compounded annual rate of 7.1% over the last five years, and the same store sales growth is expected to continue for many more quarters to come due to the company's strong relationship with its customers. Although the business is great, the stock still looks expensive, even after its -10% dip to $120.47. I believe that there may be a further pullback due to the disappointing quarter, and investors should jump in when the stock is more fairly valued at around $100 which puts its P/E at around the industry average. There looks to be very little upside currently, as the stock has run up a bit too far and the dividend is a mere 1.26%.
Disclosure: I/we have no positions in any stocks mentioned, and no plans to initiate any positions within the next 72 hours.
I wrote this article myself, and it expresses my own opinions. I am not receiving compensation for it (other than from Seeking Alpha). I have no business relationship with any company whose stock is mentioned in this article.