Gilead's first quarter earnings provided additional evidence supporting the Bear thesis on Gilead's growth prospects. As I have stated for the past five months; a maturing HCV domestic market, increased competition, and rising discounts will continue to drag on Gilead's growth. Despite growth in the HIV franchise, Gilead's net income fell 7% in the first quarter due to a significant fall in HCV product sales and rising costs. Absent a major transformative acquisition to re-accelerate growth, the company's share price is trading above fair value when considering its limited growth prospects relative to its peer group.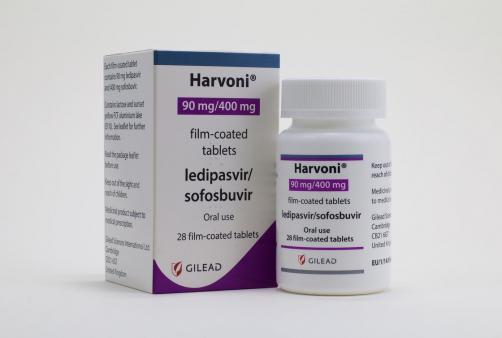 (Source: Gilead Sciences)
HCV Product Sales have Very Likely Peaked
While only a small fraction of the total worldwide HCV patient population has been treated by sofosbuvir based regimens, the total sofosbuvir based product sales have very likely peaked and will continue to decline in coming years. Simply put, this decline will be due to an inability to expand the number of individuals being treated in the developing world at a rate sufficient to compensate for the decline in sales from developed world.
The situation in the developed world is perhaps most dire for Gilead in the U.S., which is the company's most lucrative market by a large measure. HCV product sales plummeted 40% in the U.S. compared to the previous year as Harvoni patient starts rose 5,000 sequentially in the first quarter, but declined by 17,000 year over year. In addition, the company noted continued growth in discounting as the HCV patient mix moved towards the more heavily discounted government payer population and commercial discounts widened. Finally, the patient population has moved towards individuals treatable over Harvoni's FDA approved shorter duration treatment period, which is a trend very likely to accelerate as the sickest HCV patients are replaced by those less so.
It seems highly unlikely that this declining trend in U.S. HCV sales will reverse its self as the three major drivers of the precipitous decline in U.S. sales cannot be viewed as transitory. In fact, HCV product sales in the U.S. could further deteriorate if Merck's (NYSE:MRK) Zepatier is able to grow patient starts significantly in coming quarters. Many Gilead bulls have pointed to the pending approval of Gilead's Pangenotypic HCV product as a catalyst to re-ignite product sales in the U.S, but this is not a plausible scenario as genotype testing is not seen as a major obstacle to treatment in the developed world by the WHO and only a small fraction of the U.S. HCV population is estimated to be non-genotypes 1,2, or 3.
In the other two developed markets for HCV, Western Europe's Big 5 and Japan, dramatic growth in the previous quarter was engendered by regulatory approval and the completion of pricing agreements, and has now slowed to the rate investors can expect going forward. In Europe's Big 5, Gilead reported a 13% year over year decline in HCV product sales even as patient starts grew both year over year and sequentially, suggesting the same forces of rising discounts and shorter treatment durations are impacting sales. In Japan Gilead reported a modest sequential decline in new patient starts in the second quarter of Harvoni's wide availability.
The Developing World is Not Enough
The HCV patient population in the developing world is admittedly huge and could represent an important driver of future product sales for Gilead and its competitors. But as I have pointed out in previous articles, limited access to diagnoses and sofosbuvir based regimens, as well as the product's price relative to the U.S., Europe, and Japan means the company will not be able to sustain its HCV product sales even with the large patient populations in the developing world. Gilead's first quarter earnings demonstrates this simple truth as patient starts outside of the U.S., Europe, and Japan actually declined year over year, demonstrating the difficulty the company will face in simply growing access to sofosbuvir based regimens outside of the developed economies of the world.
Buybacks Buying Time
Gilead was able to squeeze out modest EPS growth of 3% in the quarter, despite the company's net income falling 7%. In these results investors can see the effect of Gilead's robust share repurchase plan at work as the company completed the $15 billion plan from January 2015 with an accelerated $5 billion repurchase, and added an additional $3 billion of repurchases from the latest authorization. While this is an admittedly shareholder friendly utilization of excess cash in the short term, it is hard to see how heavy repurchasing against the backdrop of falling HCV sales is a recipe for long term value creation.
Summary
The passion of the Gilead Bulls in the SA community is understandable, as I too was once a Bull on the company's HCV story. The truth, which I have been writing now for 5 months, is that the HCV story has changed and investors must adapt. Gilead is heavily reliant on its HCV franchise to grow product sales and the franchise's product sales has very likely peaked. Absent a major transformative acquisition, there are likely no major catalysts ahead for the company's share price.
Disclosure: I/we have no positions in any stocks mentioned, and no plans to initiate any positions within the next 72 hours.
I wrote this article myself, and it expresses my own opinions. I am not receiving compensation for it (other than from Seeking Alpha). I have no business relationship with any company whose stock is mentioned in this article.