Small Stock With Big Dividends - The best of Both Worlds:
Dividend investors usually face a tradeoff. This is the choice between growth and income, and in most companies, it is one or the other. Small growing firms usually retain earnings for growth and don't have the financial ability to pay shareholders, while large dividend-paying companies are usually far past their horizon dates and the days of exciting growth are over.
To make matters worse, as soon as a good dividend paying stock makes it to the mainstream, investors pile in - driving the yield down to unappealing levels.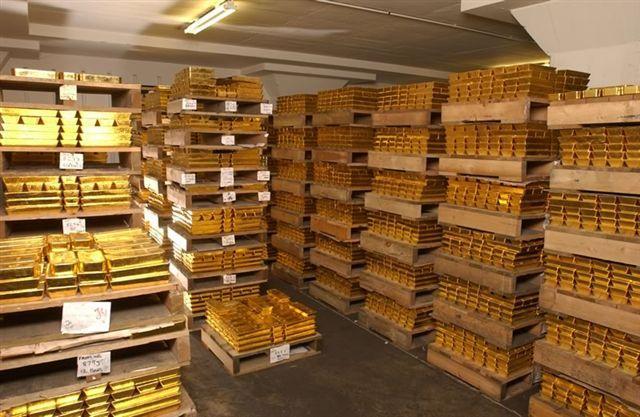 That is why I love small cap dividend paying stocks. These companies have the best of both worlds; the risk and volatility of a smaller firm, with the long-term satisfaction that can only be found in a dividend paying investment.
Caledonia Mining Corp. (OTCQX:CALVF)
Also known as CAL.TO, is a gold miner based in South Africa that operates a low-cost mine in Zimbabwe. The firm's market cap of under $50 million makes it a nano-cap, and one of few such stocks to actually pay a dividend. The $0.019 per share dividend results in a 4.77% yield paid quarterly, making this stock perhaps the highest yielding gold miner available.
Caledonia Mining Corp. has been around since the late 90s and has a website along with readily available financial statements where the information in this article will be drawn from. The company is headquartered in South Africa and has 49% ownership in the Blanket Gold Mine in Zimbabwe. Mine depth is around 750 meters and it is projected to produce 80,000 ounces of gold by 2021.
In this article, we will look at the market outlook and fundamentals of this company to determine the dividend safety, and assess the prospects for growth in the future. The market is finally taking note of CALVF, and over the long term (5-10 years), this stock is poised to grow many multiples of its current price. The volatility of a nano-cap stock makes 300% + rallies a real possibility.
However, for those who are bullish on gold in the short term, the rally starts now.
CALVF is starting to earn a premium over gold spot prices: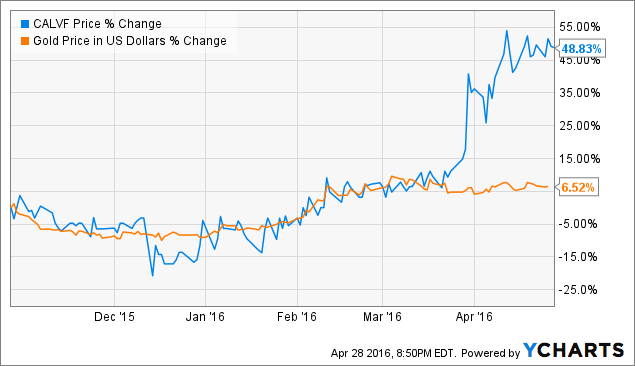 Market Outlook for Gold:
My short-term outlook is bearish for gold and mining stocks, but I see gold prices bottoming soon - before rallying again in the long term.
Many disagree with me on this position and think the current rally is the start of a new bull market in gold. For such investors the most important things to consider before investing a gold miner are; profitability in a bad market, debt levels, cash position, and dividend yield. Dividends are usually not seen as a big deal among mining investors... and that is unfortunate because the nature of investing in small cap miners requires a great deal of patience - you need to be able to wait out bear cycles like the one we are currently in.
There is no better way to reward a patient investor than with a dividend.
Geographic Risk:
Geographic risks are moderate, and priced into the stock. Operating in Zimbabwe carries some challenges. For example, Zimbabwe's 'indigenisation' laws require that 51% of the equity in all businesses located in the country must be owned by indigenous citizens. As a result, Caledonia was required to sell 51% of Blanket mine ownership for compensation of around $30 million. This would be equivalent to around 25,000 ounces of gold - a fair price in my opinion.
To add another twist, as of 2014, regulations in Zimbabwe stipulate that all gold produced in the country must be sold to a government entity called "Fidelity Refiners," for 98.5% of the current spot price of the metal. The corporate income tax is 25.75%, and exploration costs can be expensed against profits.
Zimbabwe's general infrastructure is weak, but Caledonia has the needed infrastructure to function efficiently - the company funds maintenance on the roads it needs to function.
Geographic challenges are significant, but I would caution investors against over hyping them. Doing business in a third world country comes with risks, but these are more than offset by the cost benefits gained by access to untapped resources, expansion potential, lower wages expense, and less regulation. Geographic discount can also be seen as an ignorance discount - people are hesitant to invest in what they don't understand, and this results in profitable market inefficiencies.
As someone who studies the geopolitical and economic environment in Africa, I believe that the worst is over for Zimbabwe from a strictly resource sector standpoint. This is because Zimbabwe has abandoned its national currency and now conducts business in foreign currencies. Consequently, the country needs foreign companies to operate there in order to keep the cash flowing. Zimbabwe's 'indigenisation' laws also make it so the people have a vested interest in the success of any foreign company because they have a majority security interest in the assets.
Overview of Operations:
Gold is mined and smelted in an induction furnace until 90% purity, the bullion is then sold to "Fidelity Refiners," who processes it further before selling. Caledonia claims to have increased gold recovery rates in the mine to over 94%. The company also plans to raise $70,000,000 via internal cash generation and current assets to complete an expansion - projected to increase annual production from around 45,500 ounces of gold per year to 80,000 by 2021.
In my opinion, the arrangement between Caledonia and the Zim government via Fidelity Refiners is actually a huge benefit for the company. The 98.5% price the company receives for its .90 purity gold is reasonable, and I believe this arrangement increases the firm's efficiency by allowing the mine to focus on extraction while having a nearby and reliable purchaser to do the value added component. If Caledonia is able to generate $70,000,000 million without debt it will be impressive. We have to look at the financial statements to see how they are progressing.
Dividend Safety and Financial Health:
The most important questions I want to answer about Caledonia Mining Corp. are: dividend safety and growth potential. I believe these are the two main factors a potential investor should analyze when considering this stock.
The stock pays an unheard of 4.77% yield per share in an industry where yields below 1.5% are average, it also has a bright future in terms of growth.
Revenue
The financial health of Caledonia Mining Corp. is superb considering the recent decline in gold prices. The company has been able to turn a significant profit in almost every recent year.
CALVF shows significant growth in gold output, increasing ounces produced to 11,515 in Q415 alone, up from around 1,109 per quarter 5 years ago. Revenue has grown to match, totaling $48.98 million by 2015.
Revenue from 2008 to 2015:
Caledonia barely missed a beat in terms of revenue growth after gold prices peaked in 2011. This is because the company was ramping up production in its mine as the price of the metal began to fall. CALVF is still significantly below its revenue peak of $75 million in 2013.
Net Income:
As expected, Caledonia's increasing gold production is not all translating into greater net income growth. While the company has been profitable in 2015, maintaining profitability has been difficult as gold's price falls from its peak. Interestingly enough, Caledonia is managing to stay profitable while firms producing the metal cheaper than it are posting horrifying losses.
Quarterly net income has held relatively steady despite the falling gold price, but the company posted a very bad year in 2014.
Quarterly net income from 2008 to 2015: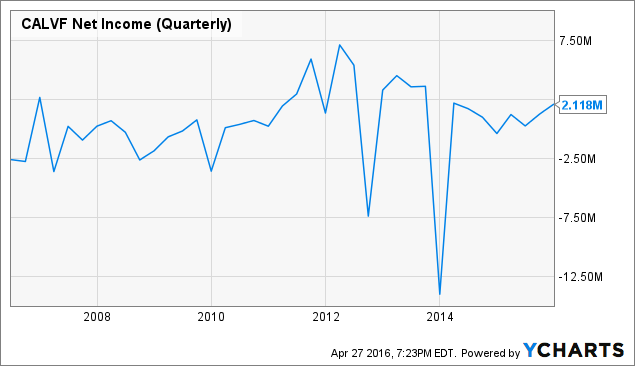 CALVF has regained profitability since 2015, even as the price of gold continued to fall. While the company will greatly benefit from increases in gold prices, it is not completely dependent on spot prices moving higher to generate a profit.
Annual net income & price of gold 2008 to 2015: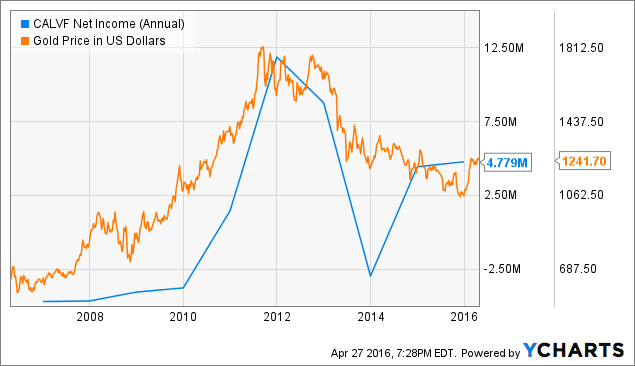 Costs:
Gold Spot Price 4/26/2016: 1,243.50 per ounce
Generally, Caledonia is a low cost miner if you only consider the firm's cash cost of extracting metal from the ground, as well as non-production related costs. But it, like many miners, has had significant production cost increases in the face of a declining gold price. This is because during the boom years of 2011 and 12, many resource sector companies used the high prices as an opportunity to expand production, thus increasing Cap-Ex and AISC.
As of Q415, All in Sustaining Costs are $1,130 per ounce of gold the company produces.
Average (of quarterly) AISC, 2011 to 2015.
| | | | | |
| --- | --- | --- | --- | --- |
| 2011 | 2012 | 2013 | 2014 | 2015 |
| (unavailable) | $954.75 | $985.75 | $964.5 | $1032.5 |
There seems to be a general uptrend in AISC for Caledonia mining, and the firm is in the higher end of the pack compared to other gold miners. However, CALVF has managed to maintain profitability while many firms with lower AISC post losses. This is because of CALVF's lower costs outside of direct production.

Click to enlarge
I expect Caledonia's AISC to decrease as the firm spends less money on exploration and capital expenditure. Cash costs have never significantly surpassed $700 per ounce, often staying in the $500 to $600 range. I consider this good for a gold miner.
As long as CALVF can keep extracting at this price, it should be able to cut costs (if necessary) enough to remain profitable so long as gold prices do not go below $1000. The fact that this firm is profitable, while others are not suggests that the prices listed in the company's financial statements "Operational Drivers" (IFRS) may be denominated in Canadian Dollars, and are thus .79% of the listed prices.
Cash Flow:
Caledonia Mining Corp. generates $6.869 million from operations, expending $2.50 million for financing (this is the dividend), and $16.57 million for investment in 2015.
If you look at the 2015 statements, cash flow has recently not been high enough to cover the dividend. However, in 2014, the company generated $1.1 million in positive cash flow covering the dividend. The reduction in total cash flow going forward is because of increasing capital investment in the business for growth. In addition, cash flows from operations have been significantly affected by falling gold prices.
Cash flow from operations 2010 to 2015: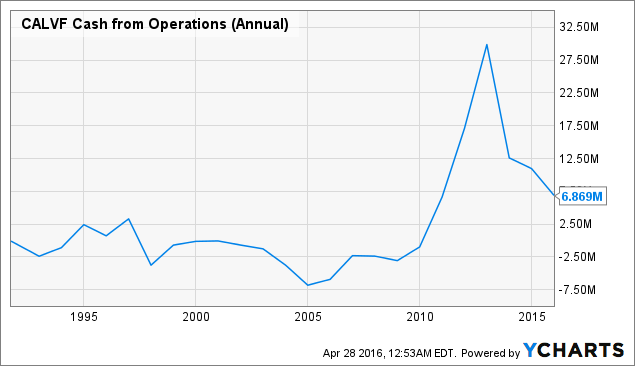 For gold bulls who expect gold to rally to 2011 levels, note that those prices would put Caledonia at $27 million in cash flows from operations - not even considering the massive expansions the company has undertaken since that date.
If CALVF is able to double gold output by the next gold rally, we could be looking at cash flow of over $50 million a year, making both the current $16 million capital expenditure and the $2.5 million dividend look tiny.
Caledonia increasing capital expenditures: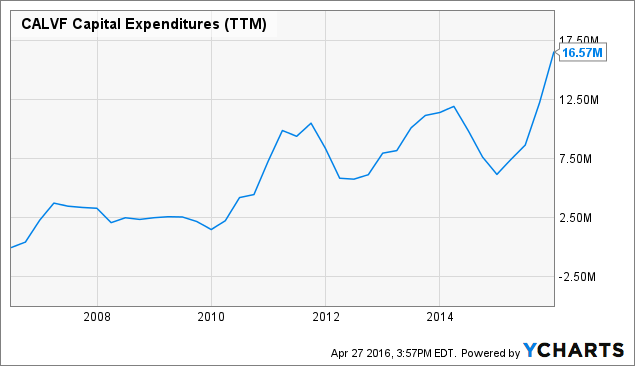 Looking at these massive investments, there may not seem to be much room for the dividend, but I disagree. The $2.5 million payout is a small sum in comparison to all the other cash outflows the company is willing to undertake, and when these expansions are complete, the dividend expense will look even smaller and may be grown to size.
When analyzing nano-cap stocks, we must understand that growth is the number one priority, and the dividend is an additional reward for investor patience.
Gold Bugs insight: The nature of the 'indigenisation' laws in Zimbabwe suggest to me that this dividend was created to keep in good terms with the local investors (who own 51% of the mine and paid 30 million for it). This presents a unique opportunity for investors outside Zimbabwe to benefit from the shareholder friendly conditions necessitated by this arrangement.
Balance Sheet:
Caledonia's liabilities are increasing, but considering the current low gold prices and the company's expansion projects, this is not concerning. The good news is that CALVF has ZERO debt and the majority of its liability growth has been due to deferred taxation - the result of Zimbabwe government policy letting the company defer certain taxable items until expansion is complete.
CALVF also has a massive cash position. This asset totaled $23 million in 2014, a sum which dropped to $12.5 million in the first quarter of 2015 due to the massive increase in investment spending undertaken in that year (see capital expenditure).
Total assets are growing in tandem with the company's expansion expenditures:
Long Term (fixed) Asset Growth 2013-2015
| | | |
| --- | --- | --- |
| 2013 | 2014 | 2015 |
| $65,508,000 | 66,479,000 | 72,838,000 |
Conclusion:
I think Caledonia Mining Corp.'s dividend is safe and the stock is a good buy - as soon as gold prices bottom, or if you think they have already bottomed. Caledonia Mining Corp. has over $12 million in cash, and is generating a profit while many miners are sustaining heavy losses. The company has no debt, and is able to generate positive cash flows from operations in a bad market.
The growth potential in CALVF is undeniable, as the company is well on track to hitting its 80,000 ounce per year gold production target for 2021. If gold prices hit $2000 per ounce by then, the profitability situation is phenomenal, and I would not be surprised to see this stock increase by many multiples of its current $.94 per share price.
CALVF is a strong income generation play for those who are bullish on gold, or looking for a nano-cap dividend stock with the potential for growth. This company reminds me of Nevsun (NYSEMKT:NSU), another cash flowing mining company based in Africa. These stocks are the only two gold/base metal miners that I like - the combination of huge yields, no debt, and profitability in a difficult market make these stocks a bargain for investors who expect to see commodities going higher.
Note:
Investors should be aware of the risks involved with gold miners. These can be very dangerous stocks, and usually underperform physical gold. While Caledonia Mining Corp. is by far my favorite gold miner, nothing is guaranteed if gold prices continue to fall.
This is an article of interest for holders of: the Market Vectors Gold Miners ETF (NYSEARCA:GDX), the Market Vectors Junior Gold Miners ETF (NYSEARCA:GDXJ), the SPDR Gold Trust ETF (NYSEARCA:GLD) and the iShares Gold Trust ETF (NYSEARCA:IAU).
- Follow Gold Bug by clicking the circle icon next to my name. Subscribe for more in depth coverage of small stocks with big yields and hidden gems in the precious metals sector. I look forward to your comments and suggestions.
Thanks!
Disclosure: I/we have no positions in any stocks mentioned, and no plans to initiate any positions within the next 72 hours.
I wrote this article myself, and it expresses my own opinions. I am not receiving compensation for it (other than from Seeking Alpha). I have no business relationship with any company whose stock is mentioned in this article.
Editor's Note: This article covers one or more stocks trading at less than $1 per share and/or with less than a $100 million market cap. Please be aware of the risks associated with these stocks.