With Activision Blizzard (NASDAQ:ATVI) set to announce Q1 earnings on May 5, investors will be paying extra attention to the stock. While the consensus estimate is $0.10 per share, I think there is reason to monitor the stock for the longer term regardless of actual Q1 earnings. First, I'd like to provide some background on the gaming industry at large.
Gaming And eSports
In the ever-changing global economy, the video game industry has shown recent strength. Total revenues for 2015 were $23.5 billion, a 5% increase over 2014. One segment fueling this growth is mobile gaming. In fact, it is estimated that spending on mobile games will surpass spending on traditional PC games for the first time ever in 2016.
Another segment with the potential for significant growth is the eSports industry. This fact is emphasized in part by TBS's recent announcement that it will broadcast Eleague, a 10-week long eSports competition, beginning on May 24. For the first season, the series will feature 24 teams competing in Counter-Strike: Global Offensive. The prize pool will be $1.2 million.
Speaking of eSports statistics, the Major League Gaming (MLG) Counter Strike: Global Offensive Championship held from March 30 to April 3 set a new viewership record for the event. The tournament featured a $1 million prize pool and attracted 71 million total video views and 1.6 million concurrent viewers. This feat is especially significant since ATVI owns Major League Gaming, having acquired it for $46 million on January 1, 2016.
Despite mixed opinions about eSports within the traditional sports world, it is also interesting to note that many high-profile figures from the sports world are putting their money on eSports. The most well-known case is perhaps Dallas Mavericks owner Mark Cuban, an investor in the eSports betting startup Unikrn. Other prominent figures who have invested include Sacramento Kings co-owners Andy Miller and Mark Mastrov, Shaquille O'Neal, Alex Rodriguez, and Rick Fox.
Clearly, investing in an eSports team or startup company is not a practical choice for most investors. So what are some other options? There are two immediate groups that come to mind when considering this question. Namely, these are the software companies that publish popular eSports games and the sponsors and advertisers, many of whom manufacture hardware and peripherals related to eSports, who use the industry as a marketing channel.
The Case For Activision Blizzard
With the previous facts in mind, I feel that ATVI is a stock to watch in this space. First of all, consider that while the company publishes different titles under the Activision and Blizzard brands, both brands publish popular eSports titles. For Activision, its Call of Duty series has immense popularity both in eSports and in general. Not only was Call of Duty: Black-Ops III the top-selling game of 2015, a Call of Duty game has been the best seller every year since 2009 with the exception of 2013. In total, the series has sold over 250 million copies.
Blizzard has been associated with eSports for a long time, with its Starcraft series arguably paving the way for the current scene. Nowhere is this more evident than in South Korea, where Starcraft is frequently referred to as the unofficial national sport. While the popularity of Starcraft has waned somewhat thanks, in part, to the rise in popularity of MOBA (multiplayer online battle arena) games, a different genre, Blizzard is still an active player in the industry.
In fact, Blizzard released its own MOBA, Heroes of the Storm, on June 2, 2015. Another eSports-related title is the smash hit Hearthstone, released on March 11, 2014. I'll talk more about Hearthstone in a moment, but first, I'd like to give a brief overview of the popularity of ATVI games on Twitch.
The Twitch Factor
Twitch, or Twitch.tv, is a website that allows gamers to live stream gameplay to viewers. The website grew enough in popularity that Amazon (NASDAQ:AMZN) acquired if for $970 million on September 25, 2014. To give an idea of the site's popularity, Twitch claims to attract over 100 million unique monthly viewers watching content from over 1.7 million broadcasters.
Twitch is significant because, clearly, the more people that view a game, the more likely they are to buy and play that game themselves. It's also reasonable to assume a correlation between the number of viewers of a particular game on Twitch and the number of viewers for eSports events featuring that game and vice versa. In Twitch's 2015 retrospective, three ATVI games were in the top 10, namely, Hearthstone at #4, Destiny at #7, and World of Warcraft at #9. More recently, the most-watched games for March 2016 included Hearthstone at #4, Call of Duty: Black Ops III at #6, and World of Warcraft at #8.
Hearthstone And Mobile
Getting back to Hearthstone, the digital CCG (collectible card game) continues to be a great asset for Blizzard. When Blizzard began developing Hearthstone, it organized a team of only 15 members to work on the game. Thanks to the game's explosive popularity, the team grew to around 50 members as of January 2016. The player base has also grown steadily, from 30 million in May 2015, to 40 million in February, to over 50 million as of last count. Also worth noting is that the most recent expansion, Whispers of the Old Gods, was just released on April 26.
Hearthstone employs a free-to-play model, but allows players to spend money in order to buy packs of digital cards. This model has proved successful, reportedly bringing in $20 million per month. Another key to Hearthstone's success was the subsequent development of Android and iOS versions of the game after the initial PC/Mac release. This means that players can create one account and access that account from their phone, tablet or PC.
Speaking of mobile gaming, what is the first game that comes to mind when someone mentions the subject? I'm willing to bet that many readers thought of Candy Crush Saga. I mention this because ATVI acquired that game's developer, King, for $5.9 billion on February 23, 2016. ATVI projects that the deal will generate $2 billion in operating income on revenues of $6.25 billion in 2016.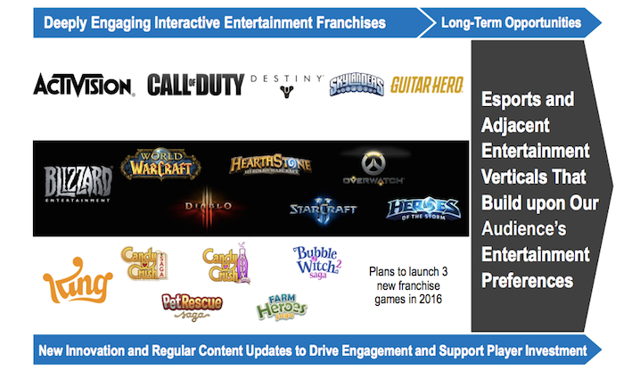 Criticisms
Despite the expansion into mobile both within the existing company and through the King acquisition, some may still point to the declining PC market as a problem. While the overall PC market has been declining, the gaming PC market is actually growing. Specifically, while year-on-year PC sales for Q4 2015 were down 10.6%, one estimate suggests that gaming PC sales are actually growing at 26% per year. This upward trend seems to be supported by Activision Blizzard's own numbers, which show a 23% increase in sales in the PC segment from 2014 to 2015.
In fact, PC gaming sales aren't even the largest segment within ATVI. The company's 2015 non-GAAP revenue breakdown by platform shows online revenue (World of Warcraft) at 15.4%, PC at 15.8%, next-gen consoles at 37.7%, prior generation consoles at 13.5%, mobile and ancillary at 9.8%, and other sources including distribution, studio and network media businesses at 7.7%.
Another concern is that, while ATVI is still active in the eSports scene, they are no longer the top dog. Currently, MOBAs such as League of Legends and Dota 2 draw the largest crowds. As I mentioned previously, ATVI has a MOBA of its own, it's just not at the same level of popularity at this time.
Even so, I see the eSports industry as an overall positive for ATVI. The industry already encompasses various genres, and if it continues to grow, I believe that a rising tide will lift all boats. In fact, eSports is already more popular than some outsiders may realize, with major non-gaming-related sponsors such as Red Bull and Coca-Cola (NYSE:KO) already significantly involved.
Conclusion
In conclusion, ATVI is a compelling stock to watch for multiple reasons. Whether one considers eSports, mobile gaming, live streaming on Twitch or just the gaming industry in general, all are growing, and ATVI figures prominently into each area. As the company has diversified itself as well as its portfolio of games, it has created a more stable revenue stream and given itself more ways to profit in the future.
Disclosure: I/we have no positions in any stocks mentioned, and no plans to initiate any positions within the next 72 hours.
I wrote this article myself, and it expresses my own opinions. I am not receiving compensation for it (other than from Seeking Alpha). I have no business relationship with any company whose stock is mentioned in this article.