IBM (NYSE:IBM) released its first quarter 2016, earnings few days ago. The company has hinted in its earnings call that it is aiming at expanding its software business by marrying digital intelligence with it. Gradually, a new business model will evolve which I believe will beat Amazon's (NASDAQ:AMZN) and Microsoft's (NASDAQ:MSFT) cloud leadership. Given that IBM has already built a versatile software portfolio to support the business model, it is highly likely IBM will become the new cloud leader sooner than expected.
IBM's new business model is centered on IBM Watson. In the first quarter, the company has taken some significant steps to expand the Watson ecosystem. This article will focus on how Watson is becoming IBM's key product for driving its software business growth.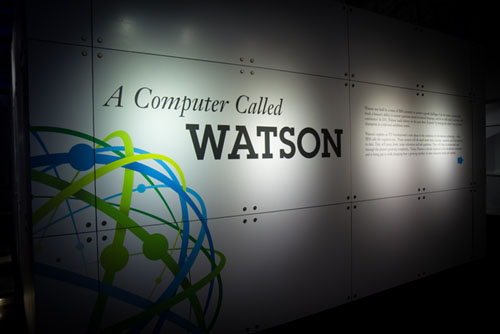 Excerpts from the Earnings Call
Here are some excerpts from IBM's first quarter earnings call that I believe are worth pondering over:
We're not only transforming our existing businesses but building new markets and addressing new opportunity areas. We're creating Cognitive Solutions that marry digital business with digital intelligence.

…

We're continuing to expand our Watson ecosystem and reach. Over the last 12 months, the number of developers using Watson APIs is up over 300% and the number of enterprises we've engaged with has doubled.
Growth of Digital Intelligence Will Expand Digital Business
For expanding its digital business platform, i.e., the software platform, which it offers via cloud, IBM has entered a strategic partnership with VMware (NYSE:VMW) in February. The aim of the partnership is offering VMware customers an opportunity to shift their existing workloads from their datacenters to IBM's cloud platform. The partnership has the potential to impact numerous workloads across 80% of the datacenters around the world, reported Forbes.
IBM and VMware have developed a cloud architecture to help enterprises automate VMware's SDDC (software-defined datacenter) workloads on the IBM cloud. The SDDC market would quadruple in size and reach $77.8 billion in 2020, a 2015 report said. This will create tremendous growth opportunities for IBM's cognitive computing (or digital intelligence, as IBM said) platform, the engine of which is IBM Watson.
IBM is taking artificial intelligence (AI, in short) mainstream with Watson by positioning it as the equivalent of an AI-based operating system. The company rolled out its new hybrid cloud capabilities for IBM Watson a year ago. Given the growth potential of the SDDC market, IBM Watson will see huge adoption once it begins to become popular on VMware's SDDC workloads.
IBM has also entered a strategic partnership with GitHub in February for delivering GitHub Enterprise as a dedicated service on Bluemix. GitHub Enterprise is the on-premises version of GitHub and Bluemix is IBM's cloud platform. As a part of Bluemix, GitHub Enterprise will allow developers to build compelling Watson applications for enterprises. As a result, IBM's Watson ecosystem will see significant expansion, which in turn will ensure growth of IBM's digital business.
Recent Acquisitions Will Also Drive Growth via Watson
In the first quarter, IBM made two significant acquisitions. In January, it acquired Ustream, and in March, it acquired Bluewolf. Bluewolf is one of Salesforce's (NYSE:CRM) global strategic partner. While Bluewolf will help IBM expand Watson's geographical footprint, with Ustream, Watson will leapfrog the barriers of text analytics and move into the realm of video analytics.
Ustream is a company that offers its customers cloud-based live and on-demand video streaming services. Ustream streams videos to about 80 million viewers per month. Its customers include NASA, Samsung (OTC:SSNLF), Facebook (NASDAQ:FB), Nike (NYSE:NKE) and The Discovery Channel.
IBM knows very well that videos are rapidly replacing texts as the new form of data. Therefore, video analytics will see huge demand going forward. Keeping this in mind, IBM has created its intelligent video analytics software that can generate alerts for users by identifying specific trends and patterns from live video streams. To learn more about this, click here.
IBM wants to take video analytics to another level, which is much more advanced compared to what it offers via intelligent video analytics. Therefore, it has introduced Watson Visual Recognition service, which provides developers an API that helps them analyze images or video frames for extracting deeper insights from the visual content. Ustream's technology will help developers build apps taking advantage of Watson Visual Recognition service. Eventually, an advanced video analytics ecosystem will be developed.
Conclusion
Watson is IBM's game-changer product, which will help the company grow its revenue consistently over the next three to five years. Recently, IBM has joined hands with German business software provider SAP (NYSE:SAP) to broaden the horizon of Watson. Since cognitive computing is fast becoming one of the most sought-after technologies of tomorrow and IBM is pioneering the technology, IBM is the best investment opportunity if someone wants to profit from the technology.
Disclosure: I am/we are long IBM.
I wrote this article myself, and it expresses my own opinions. I am not receiving compensation for it (other than from Seeking Alpha). I have no business relationship with any company whose stock is mentioned in this article.