Freeport-McMoRan (NYSE:FCX), the world's leading publicly listed copper producer, has been one of the biggest casualties of the commodities rout. The Phoenix, Arizona,-based minerals producer has recently reported its sixth quarterly loss in a row. But it has taken the right steps that should improve its financial health by the end of this year.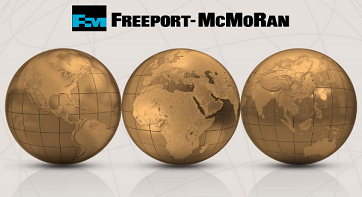 Quick recap
During the first three months of this year, Freeport-McMoRan produced 1.1 billion pounds of copper, up 14.5% from last year, 201,000 ounces of gold, down 23.6%, 17 million pounds of molybdenum, down 26.1%, and 12.1 million barrels of oil equivalents, down 3.2%. Freeport-McMoRan witnessed drops of 20.2%, 25.2%, 48.6% and 30.1% in the average realized price for copper, molybdenum, oil and gas respectively while the average realized price for gold increased by 3.5%.
Freeport-McMoRan's revenues fell 15.1% to $3.52 billion. The company also booked $3.8 billion in charges to reduce the value of its oil and gas properties. Consequently, it ended the quarter with a massive loss of $4.2 billion. But even after excluding the impact of one-off charges, the company's earnings remained in the red, with a loss of $197 million, or $0.16 per share, despite reduction in production and delivery, DD&A, SG&A and mining exploration and research expenses.
Decent performance
The decline in earnings was expected due to persistent weakness in commodity prices, particularly for copper and oil. In fact, Freeport-McMoRan's adjusted quarterly loss was one cent better than analysts expected, according to data polled by FactSet.
The company also delivered a decent operational performance. The Cerro Verde mining complex located in southern Peru, which is 53.56% owned by Freeport-McMoRan, reached full capacity in the first quarter, with output climbing by more than 2.5 times from a year earlier to 272 million pounds of copper. With a strong performance in the first quarter, the project is on track to achieve its target of producing 1 billion pounds of copper in the current year.
Freeport-McMoRan also did a good job of curtailing costs, with a 15.9% year-over-year decline in net cash costs for copper to $1.38 per pound - that was six cents better than the company's January guidance. For the oil and gas business, the company also reported a 21.8% drop in cash production costs to $15.85 per boe. Capital expenditure clocked in at $982 million, 47.4% lower from last year.
Debt problem
Freeport-McMoRan, however, is primarily a play on financial health. The company made an ill-fated, debt-powered acquisition in the oil and gas space when it bought McMoRan Exploration and Plains Exploration and Production just a year before oil prices began retreating. The company's total debt ballooned from just $3.5 billion at the end of 2012 to $18.5 billion in 2014. As prices of virtually every commodity collapsed, Freeport-McMoRan's revenues, earnings and cash flows came under pressure and it was left reeling with the biggest pile of debt it has ever seen.
Freeport-McMoRan has taken a number of steps to shore up its balance sheet, but its financial health hasn't improved so far. If anything, the company's balance sheet appears weaker now than it was a year earlier. Its debt has slightly grown from $20.3 billion a year earlier to $20.78 billion on March 31. Meanwhile, the company's cash reserves have fallen by almost 40% to $331 million in the same period. This means that Freeport-McMoRan's net debt, after accounting for cash, has actually climbed 3.5% since last year.
Fortunately, Freeport-McMoRan is facing no significant maturities for the current year and has $1.6 billion due next year. This seems manageable, considering the company has recently announced asset sales of $1.4 billion, including the $1 billion sale of 13% stake in the Morenci copper complex located in Arizona. The miner expects to close the sales in the second quarter.
Moreover, Freeport-McMoRan has substantially reduced capital spending and could end the current year with positive free cash flows. In the first quarter results, the company said that it expects to generate $4.8 billion in operating cash flows while capital spending is projected to be $3.3 billion. This should translate into free cash flows of roughly $1.5 billion. That is going to mark a turnaround from the last few years when it reported large cash deficits of more than $3 billion in 2015 and $1.5 billion in 2014. But more importantly, the excess cash can be used to pay off some of the debt.
Together, the recent asset sales and free cash flows can boost Freeport-McMoRan's cash reserves by $2.9 billion, allowing it to easily meet the upcoming maturities.
However, Freeport-McMoRan is not out of the woods yet.

That's because firstly, according to the terms of an agreement with its lenders, Freeport-McMoRan has to announce an additional $1.6 billion of asset sales by the end of the second quarter. That deadline is just two months away. Although Freeport-McMoRan benefits from having a large asset portfolio and has previously talked about divesting some of its energy assets and a portion of its Grasberg copper project in Indonesia, the prolonged weakness in commodity prices has made it difficult to sell assets at a reasonable price.
In the second quarter conference call, Richard Adkerson, the company's Chief Executive, told analysts that he was "very confident" about Freeport-McMoRan's ability to meet the collateral test. But it is clear that if he fails to fund a buyer, then that's going to negatively impact the company's financial flexibility.
Secondly, the company's future operating cash flow estimate is based on the assumption that for the remainder of 2016, the average price for copper, oil and gold will be $2.25 per pound, $45 per barrel and $1,250 per ounce, respectively. This means that Freeport-McMoRan is expecting the price environment, which has improved in the ongoing quarter, to stay strong throughout the remainder of the year.
But if the commodities come under pressure again, for instance, by heightened concerns around China's economy, then Freeport-McMoRan might report substantially smaller free cash flows for 2016. In the worst case scenario, the company may even face a cash flow deficit. Remember, Freeport-McMoRan is highly leveraged to commodity prices, particularly copper. Every $0.10 change in the price of metal impacts the company's annual earnings (EBITDA) by $425 million. The company's failure to report positive cash flows could further increase its reliance on asset sale.
Disclosure: I/we have no positions in any stocks mentioned, and no plans to initiate any positions within the next 72 hours.
I wrote this article myself, and it expresses my own opinions. I am not receiving compensation for it (other than from Seeking Alpha). I have no business relationship with any company whose stock is mentioned in this article.