Enerplus (NYSE:ERF) has been on a roll for a few months with the stock more than doubling, a result of solid management and improving expectations for oil prices.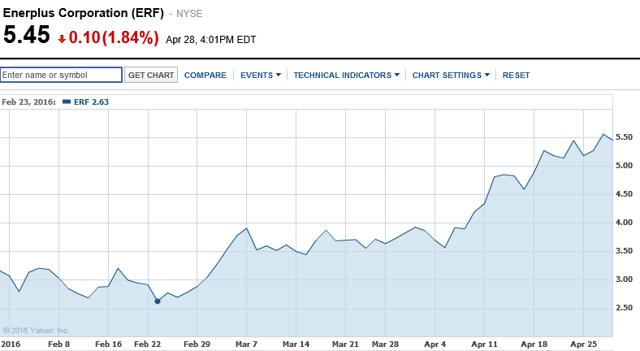 Click to enlarge
Source: Yahoo.com
In part the firmer outlook for oil reflects a now established trend to lower production of oil in the United States. U.S. field production has fallen more than 500,000 barrels a day since last June.
Lower production followed a drop in active drilling rigs with the current number of rigs in operation at a historic low.
Enerplus is in some ways unique in that the company has steadily increased output despite substantial divestitures and the slump in oil prices that has hamstrung the industry since the fall of 2014. Enerplus production for 2016 should be over 90,000 barrels a day after recent divestitures that raised $193 million (Cdn).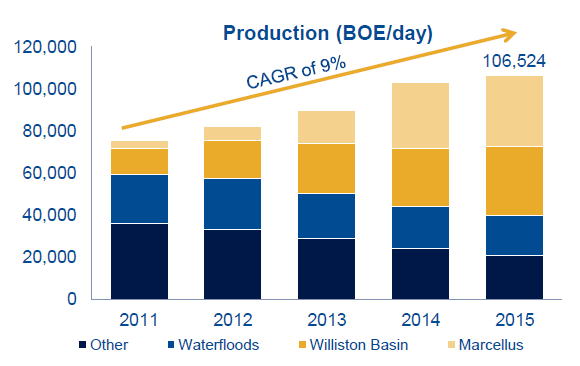 Source: Enerplus
In part, Enerplus success has been driven by improving capital efficiencies with the cost of putting another daily barrel of production onstream dropping 23% in two years.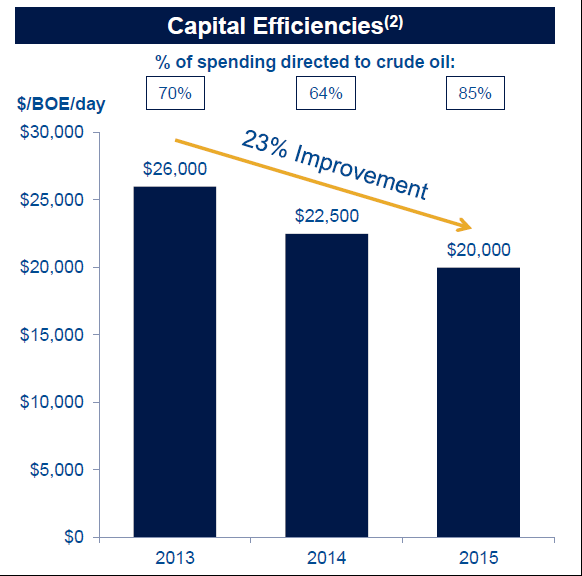 Source: Enerplus
Enerplus 2016 plans incorporated a $200 million drilling program funded by internally generated cash flow and based on WTI at about $39 a barrel.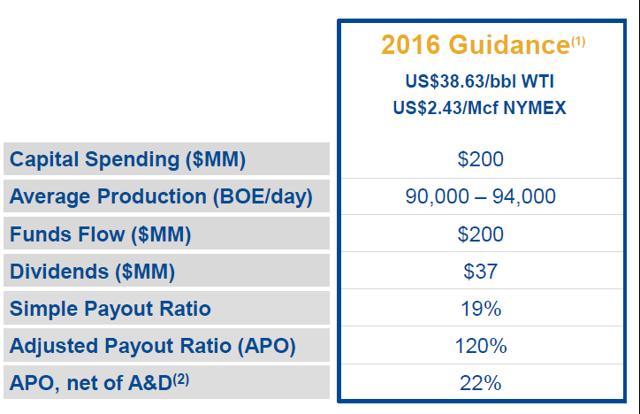 Click to enlarge
Source: Enerplus
With current oil prices now north of $45 a barrel, Enerplus should be able not only to fund its drilling program but also to fund its dividend from internally generated cash flows, and possibly pay down some debt. The company estimates a $5 increase in WTI crude prices adds $66 million to cash flows.

Click to enlarge
Source: Enerplus
I think we will see oil prices north of $50 WTI this year. Enerplus' high leverage to oil prices suggests that the company will be major beneficiary of any strength. In my view, that makes ERF a reasonable speculation in a recovering oil industry. I am long the name.
Disclosure: I am/we are long ERF.
I wrote this article myself, and it expresses my own opinions. I am not receiving compensation for it (other than from Seeking Alpha). I have no business relationship with any company whose stock is mentioned in this article.