Goldcorp (NYSE:GG) surges nearly 6% after reporting better than expected Q1 earnings on the back of higher production and lower costs.

On April 28, 2016, the miner closed at $18.94 per share, up $1.07 (5.98%) from the previous close with a volume of 14,758,090 shares traded on the New York Stock Exchange:
The earnings announcements produced a surprise of 125% and it will likely have a significant impact on the value of the stock.

But to the contrary of other gold mining stocks like Barrick (NYSE:ABX), whose positive surprise has been produced as the difference between actual and estimated "adjusted net earnings per share", Goldcorp Inc. has beaten analysts' expectations on net earnings per share, which is influenced by the favorable foreign exchange impacts to the AISC per ounce at its Canadian, Mexican and Argentine operations.
During the 1st quarter of 2016, Goldcorp Inc. has increased gold production and improved AISC per ounce:
GG says Q1 production rose to 783.7K oz. from 724.8K oz. in the year-ago period, and all-in sustaining costs fell to $836/oz. of gold from $885 a year ago.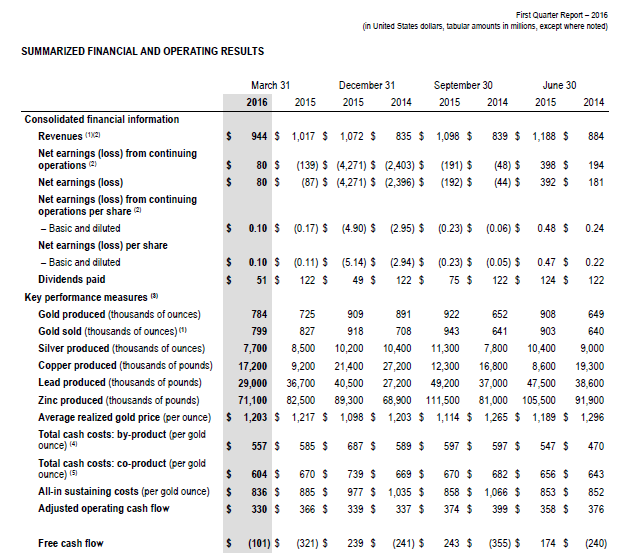 "All-in sustaining costs ("AISC") were $836 per ounce for the three months ended March 31, 2016, compared to $885 per ounce for the three months ended March 31, 2015. The decrease in AISC was primarily due to lower production costs from favorable foreign exchange impacts of $30, $42, and $69 per ounce at our Canadian, Mexican and Argentine operations, respectively, lower contractor and power costs, lower realized losses on the Company's derivative contracts; partially offset by a decrease in by-product sales credits due to lower realized metal prices and sales volumes for silver, lead and zinc; and lower gold sales volumes."
Without this favorable foreign exchange impact I doubt whether Goldcorp Inc. would be able to show a decrease in the overall costs while increasing the production of gold.
I wonder how it is possible that revenues decreased to $944M from $1.02B while the company's bottom line increased to $80M from -$87M in the year-ago period.
In my opinion the increased net earnings of the company from the same quarter 2015 don't tell the true story about this miner in Q1 2016 and masks operating issues that I will summarize in a lower average grade of gold proven reserves (Au g/t), which involves more effort (more operating costs) to extract the metal.
Compared to other gold stocks, like Barrick and Newmont (NYSE:NEM) which are, instead, mining at a higher average grade and are sustaining less operating costs, Goldcorp will generate less cash from operating activities to be reinvested in the business and less cash to distribute to its "value investor" shareholders during a negative downtrend in the price of precious metals. Expectations on a "substantially free cash flow positive" for the full year will be affected as well. The free cash flow in Q1 2016 was negative, - $101M.
Goldcorp reaffirms its 2016 production guidance of 2.8M-3.1M oz. as a result of a lower production guidance for the next three years as the company is facing unexpected geologic issues underground at an Ontario project. This issue delayed its development and therefore the company moved it back to the "advanced exploration" stage. Previously, the company forecasted up to 3.6 million ounces in 2016, up to 3.7 million in 2017 and up to 3.4 million in 2018.
Cochenour, in Ontario's Red Lake camp, was supposed to start producing gold last year. Cochenour is at a stage to determine the timing and the amount of production that the company can get. Once the company has done that, Cochenour will be included in their production guidance.
Goldcorp needs to continue the drilling to get some development done and to get initial test stopes (the first test stoping).
GG will decide around mid-year whether to go ahead with two proposed projects, the Penasquito pyrite leach plant in Mexico and the Musselwhite materials handling venture in Ontario.
The production of gold is expected to drop 15% in Q2 2016, compared to Q1 2015, due to planned lower grade mining sequences in most mines and a 10-day mill shutdown for preventative maintenance at Peñasquito.
My point of view:
I am not convinced about the Q1 2016 results even though the miner has beaten analysts' expectations on EPS. In my opinion the company is not well positioned because of what I have explained in this article. Goldcorp Inc. has a lot of work to do in 2016 and must make up for lateness compared to its peers that are better positioned and started to move to the right direction in advance.
Disclosure: I/we have no positions in any stocks mentioned, and no plans to initiate any positions within the next 72 hours.
I wrote this article myself, and it expresses my own opinions. I am not receiving compensation for it (other than from Seeking Alpha). I have no business relationship with any company whose stock is mentioned in this article.