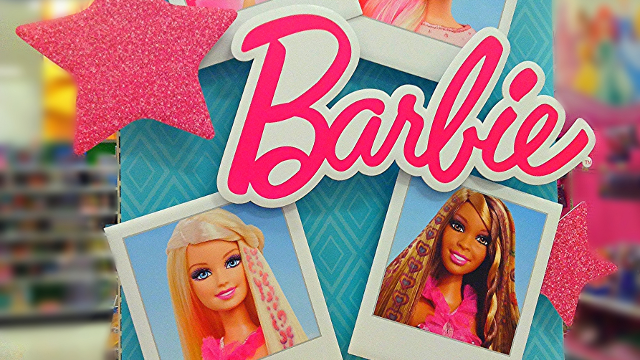 Toy companies have come to interest me in recent years. Maybe in part because increasingly I am surrounded by friends and family with children and the accompanying toys. Maybe because in a low-interest, low-yielding environment the toy makers like Hasbro (NASDAQ:HAS) and Mattel (NASDAQ:MAT) -- which I reviewed together back in December -- emerge with pretty generous looking yields.
The Q1 results from Mattel have made me take a fresh look at whether it is time to open a position in this particularly high yielding company. As I suggested back in February, I argue that there is still a rich bullish and bearish thread to Mattel's recent performance and immediate dividend prospects. Yet, the bull appears to be gaining just a little more momentum .
Let's see what I mean.
How Good Was Q1 2016?
To be honest, they were not the best looking results Mattel could have released.
Sure there were some solid revenue growth figures (on a constant currency basis) from Fisher-Price and their construction and Arts & Crafts segments. Yet the all-important Mattel Girls and Boys Brands which make up over 55% of revenue continue to see sharp declines:

Click to enlarge
The effect on overall revenue was predictable. Reported revenue and operating income both declined: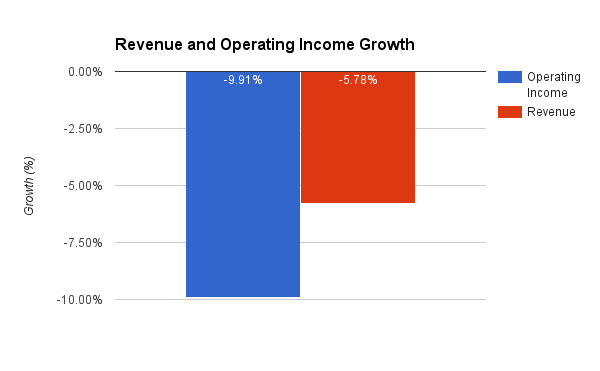 The result was, equally predictably, a pretty sharp drop in the share price in response: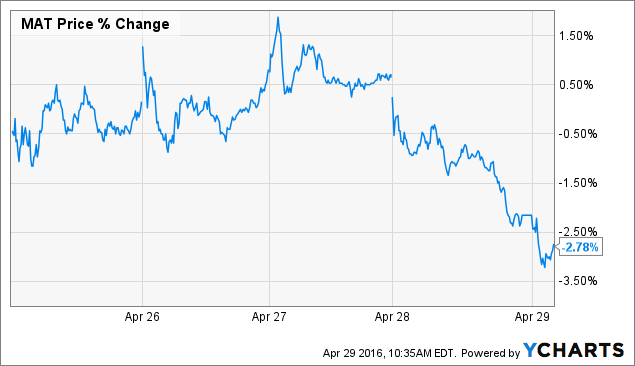 Stripping out currency movements, however, and revenue declines soften a little. Yet decline they still did and across their North American and International operations. Both home and international sales dropped 1% leaving the company as a whole 1% lower revenue wise even after adjusting for currency headwinds.
Maybe not the most obviously eye-catching results. Yet I don't think you should disregard it as an investment based on this. Far from it.
News Is Still Better
The reality is that Mattel remains a compelling business. It continues to hold a number of highly attractive toy brands which continue to appeal to children and parents across the globe.
What is more, considering the fact Mattel lost the Disney Princess license from the start of this quarter the flat revenue is, to be honest, pretty good going. As Mattel CEO, Chris Sinclair, explained:
Overall we're very encouraged by the start of the year and particularly with our ability to hold the top line as we offset the loss of Disney Princess.
I find it hard to disagree with this. It provides a solid base on which to build upon improvements in constant-currency revenue growth in recent quarters. Despite undoubtedly lumpy revenue growth figures it is clear that the tide is finally turning: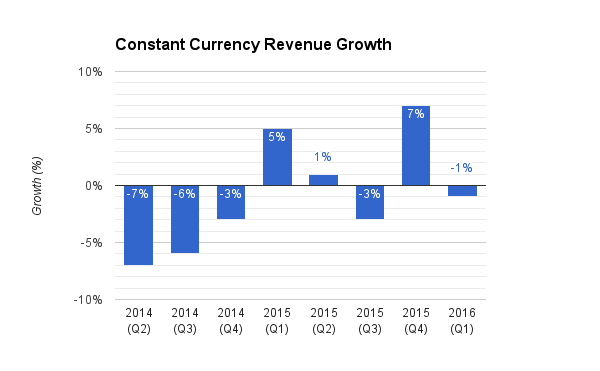 This is great news. Yet one of my concerns with Mattel has always been one of its main appeals at the moment: its dividend. Despite a flat distribution, the yield has grown as share prices have been pressured by revenue declines: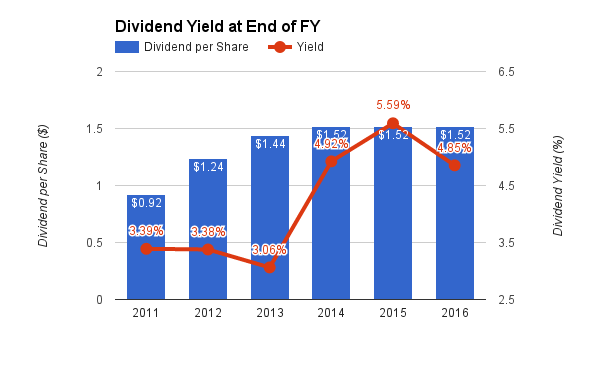 Right now, it sits around the 4.8% mark. Attractive indeed. Yet should it be cut it is hard to see how the share price would not plunge with it. Yet is this a worry?
"Thin" Cash Flow Cover at Best
It would certainly seem so. Mattel has seen its dividend struggle to be covered by FCF in recent years: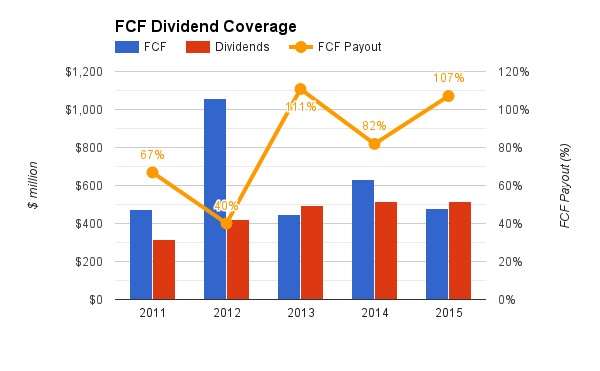 Concerns seem amplified by the fact that 2016 does not look likely to be any better. Now, Q1 is rarely a cash flow positive period for the company.

As is clear, however, as the year progresses cash begins to flow into the company's coffers. Great. Yet I doubt (again) that it will be enough. I come to this conclusion from my predictions on FCF generation.
Let me explain what I mean a bit more.
Free Cash Flow Projections
I estimate FCF figures by taking the FCF/Revenue ratio from the last five years (hereafter, 5Y) and last financial year (hereafter, LY). I then feed these figures into this formula to get my projected FCF/Revenue ratio:
Predicted FCF/Revenue ratio = (5Y + (LY * 2)) / 3
By multiplying last year's FCF/Revenue ratio by two my predicted FCF/Revenue better reflects whether the company is seeing the ratio grow or shrink. In Mattel's case I get 8.78%:

I then multiply the consensus analyst revenue figures for the company over the next two years to get my predicted FCF for the company. In Mattel's case they come out like this:
2016 = $488 million
2017 = $522 million
If we assume that Mattel pays out the same $515 million in dividends over the next couple of years it is clear that cash flow will continue to struggle to cover these payments: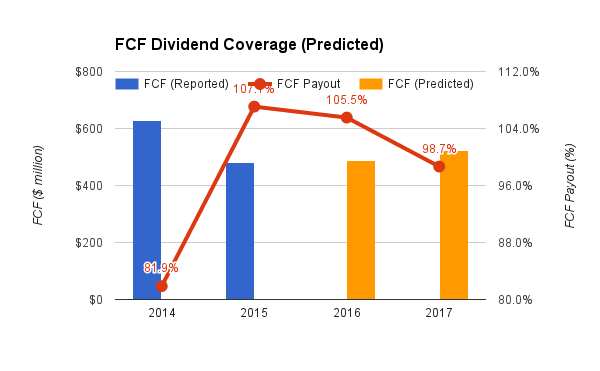 It seems unlikely that 2016 will see the dividend covered by FCF either. 2017 may well (finally) see the dividend covered modestly which will hopefully also be supported by top and bottom line growth. Concerns still remain on this front, however. Chiefly revolving around the fact that the dividend is not the only drain on this FCF. Mattel needs all the cash it can muster to drive forward growth. Even assuming this FCF coverage, they are left with limited spare funds to actually invest in the business which is essential.
Bear or Bull?
Am I bearish on Mattel then? Sort of, and sort of not. The reality is that the dividend (and thus the share price) remain somewhat shaky at present.
Yet this also presents a potential opportunity. Top and bottom line performances are improving and cash flow has remained historically quite robust with potential for growth returning soon.
Mattel has shown itself to still be very much financially sound. Although cash reserves have been heading down as demands on its have grown from dividends and investments it still remains at robust levels: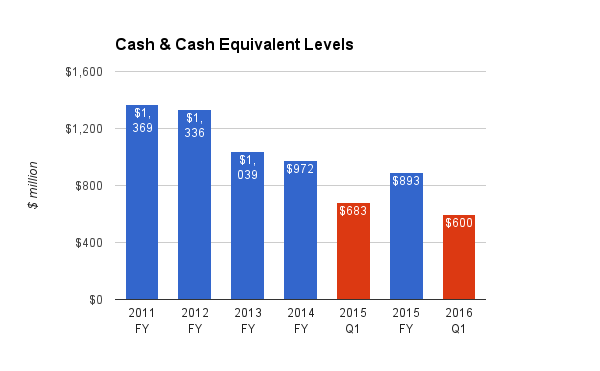 What is more, Q1 showed that the company had hived a hefty chunk off the top of its debt pile: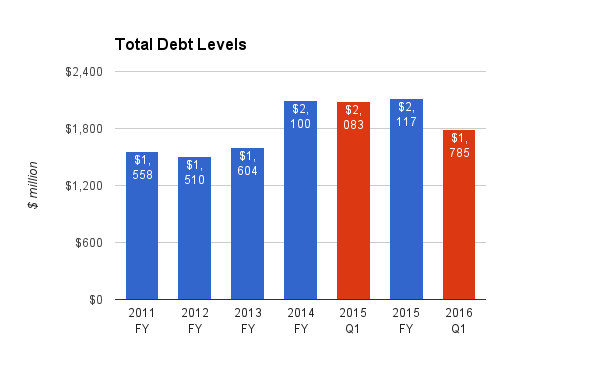 Again, this is all encouraging to see. The company certainly could keep the dividend running at current levels for a reasonable amount of time even at present profitability and cash flow levels. Yet whether they should while growth remains an uphill battle to attain is a different question.
Valuation
Mattel presents me with an equally confusing picture when I look at my valuation models. Both my PE and FCF-based models are derived from taking the five-year average valuations for the company (using PE for the former, and the enterprise value to FCF for the latter) and multiplying them by the average predicted EPS and FCF predictions for the next two years.
Typically, the valuations land either side of the current share price of $31. They read:
PE fair value: $30.10
EV/FCF fair value: $32.70
Splitting the difference throws off a price of $31.40-pretty much bang on the nose of the price today.
Conclusion
Mattel continues to present both a challenging and compelling investment case. If you're happy to take on a little more dividend risk in your portfolio, Mattel could be a good bet. The dividend does look on the cusp of finally being covered once more by FCF. Sustained top and bottom line growth does look like it is now on the near horizon too.
The present valuation neither looks stretched nor a bargain. Mattel is therefore a fairly textbook "beauty is in the eye of the beholder" investment.
Mattel carries with it continued attractions courtesy of strong brands and market positions. For those looking for a "sure-fire" (as much as you can get that) dividend there are better options out there. Yet for those comfortable with a higher dividend risk/reward mix, Mattel looks an increasingly tantalizing bet. That being said, it may be worthwhile waiting to see whether Q1's results continue to push Mattel's share price lower in the immediate term.
For me, Q1's results on top of recent updates has certainly made me seriously consider opening a modest position in Mattel to sit in the racier dividend corner of my portfolio (alongside, mostly, commodity plays). Whether it earns the same consideration for you is, of course, one for you to ponder upon.
Note: Unless otherwise stated, all graphs and the calculations contained within them were created by the author. Creative Commons image reproduced from Flickr user jeepersmedia.
Disclosure: I/we have no positions in any stocks mentioned, and no plans to initiate any positions within the next 72 hours.
I wrote this article myself, and it expresses my own opinions. I am not receiving compensation for it (other than from Seeking Alpha). I have no business relationship with any company whose stock is mentioned in this article.