There has been a great deal of negative sentiment about Gilead (NASDAQ:GILD), which has been fully warranted. The company delivered a rather weak quarter, but should be expected considering the growth trajectory for the company.
Our thoughts on the Q
Ahead of the quarter, we had estimated for a diluted EPS of $2.89 vs. actual GAPP diluted EPS of $2.53. Excluding the Merck patent, EPS would've came in at ~$2.65, still shy of my estimates. To give some color for our long term outlook, for the year we am predicting a revenue decline of 2.3% followed by a further ~9% drop in revenues in FY2017 on the backs of double digit declines in Harvoni and Sovaldi. We believe this will be the case as the HCV/ HIV market becomes increasingly saturated and price reductions are further catalyzed by increased competition from Merck and other players entering the market. With this being said, the top line also was weak missing my estimate of $8.1B vs. actual $7.8B. This top line miss is why we believe the stock was hammered. We think little attention should be paid to the bottom line given the true reasoning behind a bear case, a slowdown in growth. In its current form, Gilead looks to be proving itself to be a value trap - low PE, but low growth nonetheless. While the management team is strong and the balance sheet prospects point to potential in the future, in its current place, Gilead is a one-trick pony with heavy reliance on one industry. Ultimately, we were greatly disappointed when our already bearish case was further exacerbated by a wide top line miss.
We have attached our sales forecasts for the Q compared to the actual: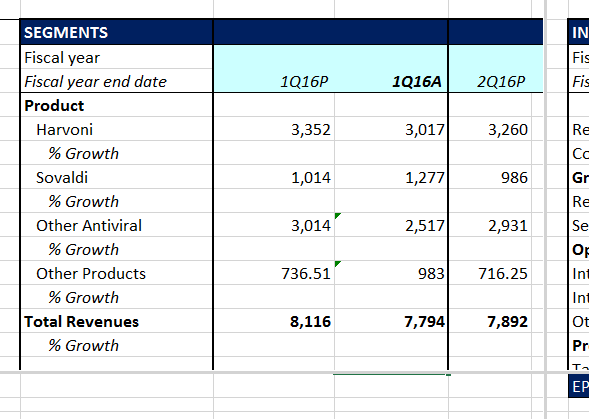 While the quarter did have some notable one-off items that were overly criticized, I do believe the story remains that Gilead needs to look for another path for growth opportunities to justify a current multiple expansion from ~8x to ~12x+. The product mix will likely continue to decline in the double digits and increased movement from more profitable payers to government payers will further dampen the outlook.
Where to go from here:
As the entire SA community may know, Gilead is in dire need of a change in strategy and we am suggesting that Gilead is in need of an activist shake-up and/ or acquisition. The company has severe interest in a single market with other smaller players, such as Regeneron, having interest in multiple products. This diversification limtis the effect of outside competition and market saturation to which Gilead is suffering from the effects of both.
Pricing reductions and increasing competition could affect Gilead's strong market dominance presenting steep downside risks to the stock as many are failing to foresee a further slowdown in revenues. Moreover, despite Gilead's recent success with its pipeline, it continues to expand in the HCV/ HIV space with little movement elsewhere. Gilead seems to be happily sitting on its cash load and moving with business as usual without unlocking further value elsewhere.
We believe that the bull case rests solely on the strength of the company's balance sheet and strong cash flow generation, and is personally our reason to remain bullsih on the business as it has maintained its potential to turn strong and consistent cash flow generation into immediate inorganic growth. The company is sitting on $21B of cash and has minimal R&D spend. We believe that instead of utilizing the majority of cash for buybacks and increased dividend spend, the company should make an acquisition in the growing oncology market and further diversify into other therapeutic treatment spaces. The company's management indicated continued interest in the space and has the ability to do so. Ultimately, an investment in Gilead is a bet that the company will change its course and move into new treatment areas.
Conclusion:
Ultimately, the larger sell-off was warranted given the further realization that growth is slowing. Nonetheless, our view of Gilead remains on the longer term and we am planning to pick up more after further negativity hammers the stock. It is in our view that the company has received a wake-up call and will get to work on searching for a blockbuster acquistion that will diversify the pipeline and unlock value. In doing so, we are reaffirming our PT of ~$117 and remain bullish.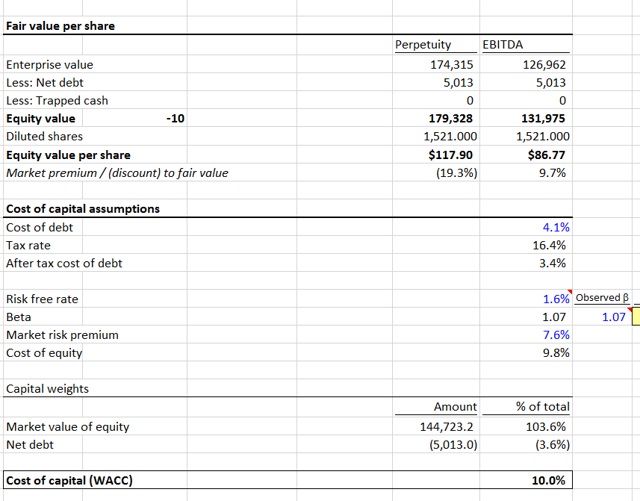 Click to enlarge
Disclosure: I am/we are long GILD.
I wrote this article myself, and it expresses my own opinions. I am not receiving compensation for it (other than from Seeking Alpha). I have no business relationship with any company whose stock is mentioned in this article.
Additional disclosure: The views expressed in this are our own and do not constitute an offering/ solicitation of securities. I am only receiving compensation from BlackVault Investments, LP and SA.