An update on VEReit since my selection
Last fall I selected VEREIT (NYSE:VER) as my Mid-Cap Pick for 2016. My selection of VER was based upon the fundamentals, and the belief that the Company could benefit in 2016 from a number of catalysts. I was encouraged by the pace at which management was addressing the issues that had arisen under the former leadership team. I outlined my reasoning for selecting the company here. If you are interested in more backstory, I also wrote about why I had taken a long position in the stock here. At the time of selecting VER as my mid-cap pick, it was trading at about $8.38 per share.
Flash forward to April 28, and VER is now trading at just over $9.00 per share. Since I announced my selection the stock has appreciated by ~7.5 percent, and had you bought the dip at the start of the year, you would have realized an appreciation of just under 14 percent, not including dividends received. The outsized performance largely mirrors Realty Income's (NYSE:O) for the year, and both VER and O have outperformed the Vanguard REIT ETF (NYSEARCA:VNQ), which I consider an imperfect proxy for the REIT sector, by a large margin.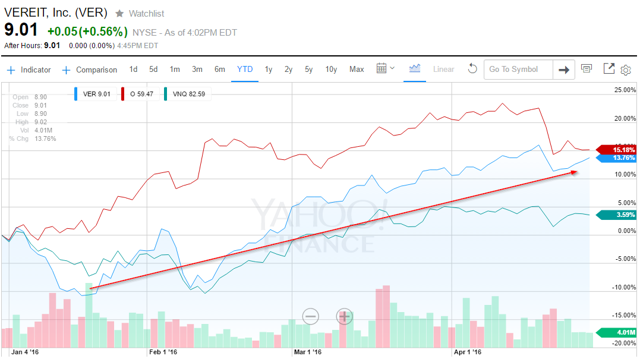 Click to enlarge
Source: Yahoo Finance, 28 April 2016
While the short-term appreciation is nice, I would caution that it's still too early to claim victory and call this the start of further, outsized gains. When we take a look at how these same securities have performed over the past two years, it quickly becomes apparent that VER has yet to break out of its depressed trading range that it entered when the reporting issues surfaced at the end of 2014.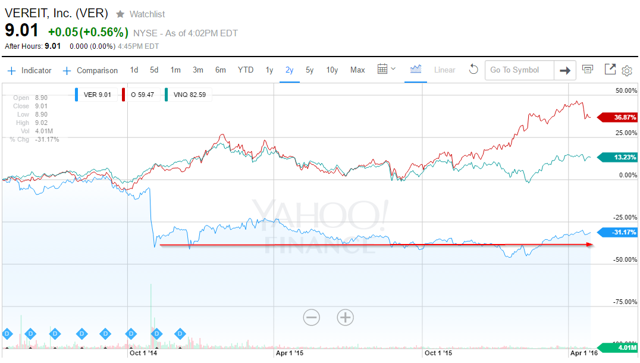 Click to enlarge
Source: Yahoo Finance, 28 April 2016
I believe that management will need to show progress on the catalysts I listed in my previous article in order to drive such a break-out in pricing this year.
What I am looking for when VER reports next week
In the Q4 conference call, available from Seeking Alpha here, at the end of February, Glenn Rufrano, VEReit's CEO, concluded managements comments with a brief discussion of forward guidance, stating:
"Thanks, Mike. Our reconstituted Board of Directors, new management team and proven execution places us in a good position to achieve our goals this year. The continuation of our business plan leads to the following 2016 guidance.
AFFO per share between $0.75 and $0.80 which includes $0.02 to $0.03 for Cole; dispositions for 2016 of $800 million to $1 billion which is an increase of $200 million over the $2.2 billion high end of our prior range; real estate operations with average occupancy in excess of 98% and same store rental growth approximating 1%; Cole Capital equity raise between $500 million and $800 million and $1 billion to $1.6 billion of acquisitions on behalf of the Cole REITs.
The result of our business plan and guidance achieve the following by year end - an enhanced and more diversified portfolio to our culling process, continued restoration of the brand value and increased market share for Cole Capital, investment grade metrics by reaching the lower end of our net debt to normalized EBITDA target of 6x to 7x, and an ongoing and sustainable dividend at an appropriate payout ratio.
We are well positioned to execute in 2016, increasing balance sheet liquidity and flexibility. With that, I'd open the call to questions."
Management seems to have a good grasp on what they must do to complete the turn-around. The comments closely mirror the catalysts I focused on last fall.
In looking specifically at Q1 results, I will be looking to see what their progress has been towards reducing the debt load and achieving investment grade metrics. It would not surprise me if it takes several more quarters for the investment grade rating to return. Further, I will be paying close attention to the debt maturities, to see if progress has been made on extending terms and paying down near term debt maturities.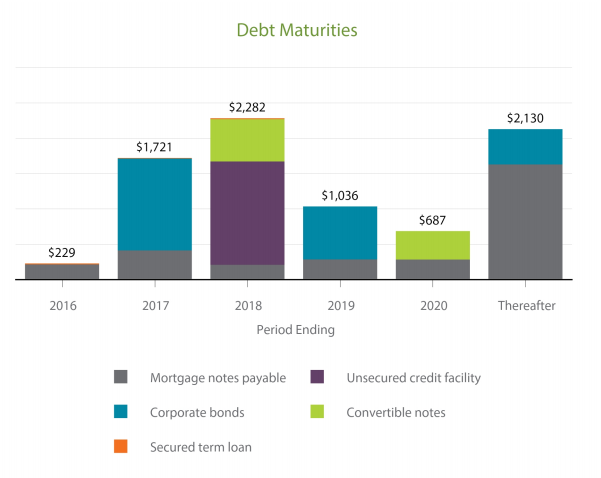 Source: VEREIT Q4 2015 Investor Presentation, amounts in millions
If the past is any indication of the future, it would not surprise me to see that management was aggressive during the first quarter with regard to the culling process. Last year the pace was rapid, and Red Lobster dispositions occurred faster than I expected. I expect to hear that dispositions at the start of the year outpaced acquisitions, as I anticipate that portfolio growth will not occur until the latter part of the year.
With regard to Cole Capital, management has only a small contribution to AFFO from the segment, which seems fairly conservative. This could be an opportunity, but we will need to see continued strengthening in the brand and management will need to demonstrate that they have improved the capital raising at Cole which fell off significantly in 2015.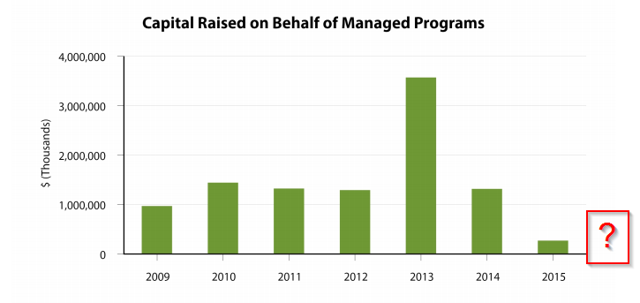 Click to enlarge
Source: VEREIT Q4 Investor Presentation, edited
Taking a look at the current valuation
Even with the current run-up in valuation, VER is trading at a P/FFO multiple of just over 13 and continues to yield over 6%.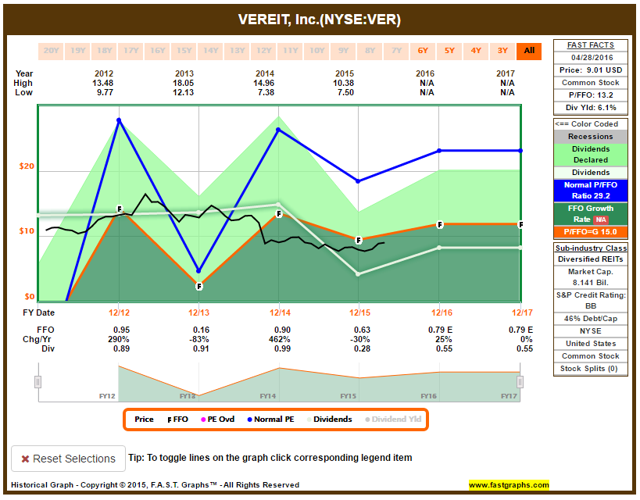 Click to enlarge
Source: FASTgraphs.net, 29 April 2016
Compared to its peers, VER still remains on the lower end of the valuation range.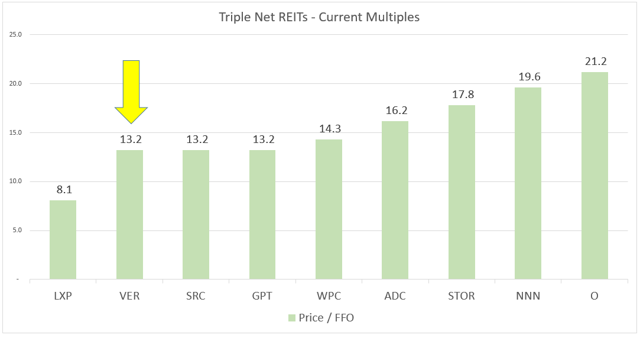 Click to enlarge
Source: Data from FASTgraphs.net, 29 April 2016
Summary
VER was clear about its objectives, and the goals it needs to accomplish to restore the company and its stock valuation. Next week we will get to see just how much progress management has been able to make towards these objectives.
The stock is still priced attractively and I am okay adding at current levels despite the run-up this year. I have been reinvesting dividends as I have received them the last two quarters, and January's reinvestment at $7.07 per share has quickly become my best investment of 2016.
Management still faces hurdles in the form of on-going litigation, and delivering on the objectives they outlined, but should management be able to hit its targets, then I think that we will see the catalysts turn into further gains.
The turnaround will likely require that investors remain patient though; and further pricing gains may not happen until later in the year when the culling subsides and portfolio growth resumes. In the meantime, I will keep reinvesting the dividends, and collecting a 6+% dividend yield is satisfactory to me as long as management continues to deliver.
Disclosure: I am/we are long VER.
I wrote this article myself, and it expresses my own opinions. I am not receiving compensation for it (other than from Seeking Alpha). I have no business relationship with any company whose stock is mentioned in this article.