Microsoft (NASDAQ:MSFT) posted a 61% increase in its Surface tablet/notebook revenue during the previous quarter. However, the long-term appeal of Windows-based detachable laptops may eventually suffer from Remix OS-based products like Jide's Android $299 Ultratablet computers.
Created by former Google (NASDAQ:GOOG) (NASDAQ:GOOGL) engineers, Remix OS transformed the touch-focused mobile Android operating system into a mouse-and-keyboard-based OS. This is something that Google has failed to deliver with its Pixel C 2-in-1 product.
IDC's latest report confirmed that the 2-in-1 form factor is the emerging future of notebooks. Remix OS now threatens the future sales of Windows-based 2-in-1 laptops. It allows OEMs to create true productivity-focused Android computers.
Many first-time 2-in-1 buyers would love to own a notebook that looks like its running Windows 10, and also has access to millions of Android apps/games.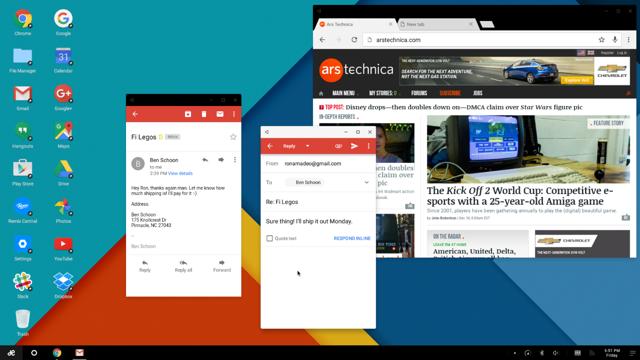 (Image Source: Ars Technica)
Some people will find the lightweight Android computer the better portable productivity tool than the Surface Book. Aside from Office 365, Google Apps For Work also runs well on big-display Android devices. People who cannot afford the $499 Surface 3 or Pixel C, may go for the $299 Remix Ultratablet. It's a true alternative to Wintel 2-in-1 machines.
Major OEMs Will Support Android Computers
Microsoft's OEM partners like Hewlett-Packard (NYSE:HPQ), Acer, and Dell who sell sub-$300 hybrid Windows-based detachable notebooks will suffer from Android's debut on desktop computing. The $169 Cube i7 Remix is a touch-enabled 2-in-1 product with an Intel (NASDAQ:INTC) processor and an 11.6-inch display.
The Cube i7 Remix is a decent gaming machine that is also perfect for long sessions of Office 365 work. With little developer support for Windows 10 universal apps, OEMs (who now sell $300 Windows 10-based 2-in-1s) might find it more viable to build $150 Android computers.
Chinese chip maker Allwinner has already unveiled its reference design for a $99 2-in-1 ARM-based 14.1-inch Remix OS laptop. The other smaller, non-touch 11.6-inch version will sell for $79.
Microsoft's decision to make Office 365 device-agnostic makes it possible for any OEM to build $79 productivity-friendly devices. The arrival of Remix OS was the only missing link that delayed Android's transition to desktop PC-level usability.
I won't be surprised if Lenovo (OTCPK:LNVGY) or Acer comes up soon with their own Remix OS-flavored Android computers. The smartphone industry is stagnating. Android OEMs need new product types to make up for the slowdown in smartphone sales. Mouse-and-keyboard-friendly Android computers are the obvious expansion products.
AndroidBooks Might Find More Mainstream Success
Google's ambition to invade the desktop OS territory of Apple (NASDAQ:AAPL) and Microsoft is easier done with Android. The persistent rumor of Alphabet enabling Google Play Store and GMS on Chromebooks is unlikely to happen soon. Remix OS is here and ready to be exploited. Phoenix OS is another desktop reworking of Android.
Chromebooks never made it big outside the education market. This is largely due to its lack of good apps and horrible touchscreen compatibility. The cancellation of Google's Project Athena meant Chrome OS will remain a browser-based operating system that is unfit for 2-in-1 products.
Chromebooks will continue to reduce Windows laptops' presence in schools, and AndroidBooks could target the enterprise/mainstream customers. Yes, I believe business users and ordinary consumers will likely favor the 2-in-1 AndroidBook over the clamshell-only Chromebook.
The versatility of the 2-in-1 laptop makes it the better value-for-money product to buy.
Final Thoughts
AndroidBooks is my own descriptive term to describe all Android laptops that run like Remix OS-based machines. Unless Microsoft can persuade its OEM partners to also come up with $99 Windows-based 2-in-1 products, AndroidBooks could derail the sales of Windows 10 computers.
A successful transition of Android from mobile to the desktop PC will prevent Microsoft from reaching its 1-billion devices target for Windows 10.
AndroidBooks, not Chromebooks, are the potential threats to the multi-billion surface revenue stream. Microsoft popularized the hybrid, detachable tablet/notebook design. It has a lot to lose if cheaper Android-based hybrid laptops start exerting pressure on margins over surface products.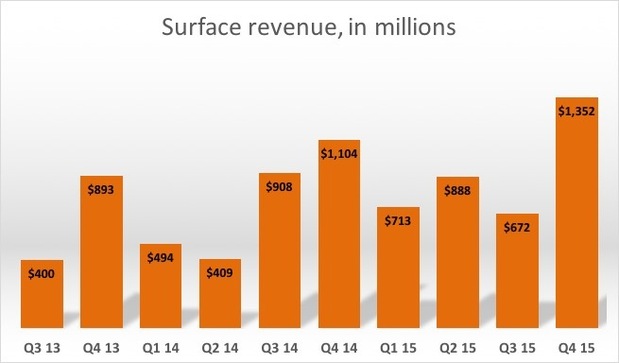 (Image Source: Computer World)
Disclosure: I am/we are long MSFT, INTC.
I wrote this article myself, and it expresses my own opinions. I am not receiving compensation for it (other than from Seeking Alpha). I have no business relationship with any company whose stock is mentioned in this article.