There we were, cruising along in the midst of the spring rally, when Carl Icahn stepped in and said he was worried about the stock market.
With the free admission that the phrase "perfect storm" gets a bit overused, Icahn's remarks did touch off something of said storm in miniature. As I was marveling Thursday that stocks had overcome more weakness in the form of durable goods, GDP, the strengthening yen (a well-followed "risk-off" indicator), and another quarter of profit declines (looking to come in at about down 5% for the S&P 500 as a whole), Icahn came along and the spring rally started to fall apart in a hurry.
There certainly was more weak economic news, apart from weekly jobless claims, and I have seen many a first quarter earnings rally turn down sharply the last couple of trading days in April. Profit-taking, calendar-influenced algorithms, whatever the case, it happens more often than not. Sometimes there's a nice set-up for traders in the form of excess talk around the "sell in May" syndrome, allowing them to easily rock the boat and squeeze prices higher in early May, but on a relative basis, such talk seems to have been scarce this time around.
So if you're wondering why Icahn's remarks should set off such a strong bout of selling, it has a lot to do with the structure already being seriously weakened, with Icahn more or less showing up to blow it down with a puff of wind.
With durable goods, I usually put up charts of the business cap-ex category for new orders, but here's a look at total new orders after Tuesday's release of March data: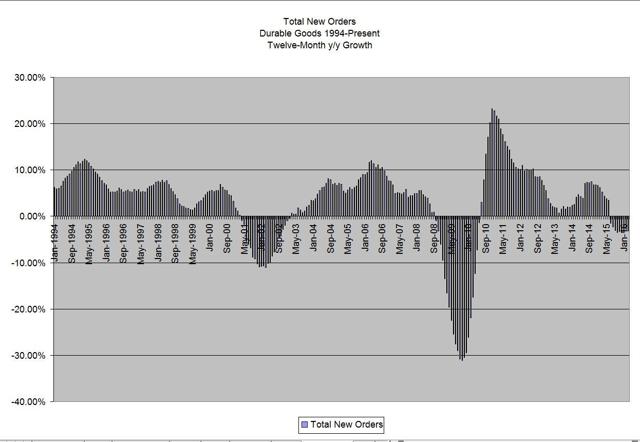 Click to enlarge
It doesn't look good, does it? The last two times orders were this negative we were in a recession.
First quarter GDP wasn't great either (initial estimate at 0.5%, seasonally adjusted and annualized). Though the usual talking heads were bravely talking up suspicious weakness in first quarter reports in recent times while simultaneously promoting another second quarter rebound, there's still more trouble ahead. To begin with, the winter of 2016 was rather mild, so there's no reason to expect another weather rebound of the sort we had the last two years, coming as they did on the heels of brutally difficult winters. Indeed, one of the best contributors to activity in the first quarter was residential fixed investment, at a sizzling clip of +14.8%, a rate that took advantage of the mild weather. Housing starts were up 22% (unadjusted) in the first quarter on a year-over-year basis (the extra day in February didn't hurt).
There isn't going to be a rebound in the second quarter for housing. It looks to me as if the underlying rate in housing starts is about 10% y/y, and if that rate holds true we can expect a much smaller (though still positive) contribution from housing in the second quarter. The mild winter did depress sales of winter apparel and accessories, but the slowly warming moderate spring weather doesn't foretell pent-up urges for warm-weather goods. The personal spending rate was only 0.1% (first estimate) in the last month of the quarter, so it's not as if consumers have been on a tear - in fact, total retail spending growth has been a slow slide for over a year. Did I mention that the inventory-to-sales ratio is also still too high? Another negative for second quarter activity.
Trade is still lousy, but it was a positive factor in the first quarter because imports of goods fell faster than exports. It has been lousy for a couple of years going back to before the strength in the dollar, so I'm not looking for a rebound there either.
So while Icahn may have provided the spark, the tinder was dry and waiting. Going into the waning minutes of Friday's close, bulls tried hard to rally the S&P 500 back to its 20-day exponential moving average ("EMA") - it hadn't closed below the 20-day since February 12th and had they succeeded, it might have presented a good trading opportunity on the long side. But the attempt fell short, and that means a test of the 50-day EMA usually follows (around 2041). Stocks were overbought coming into the week, another contributing factor to the selling, and have now worked their way back to neutral. They are not oversold.
So is this the beginning of the big one? Probably not, though I do expect heavier weather in May and June and another 5%-10% correction over the next two months does loom, in my estimation, as a better than 50-50 shot. But as I wrote last fall, the market won't roll over for good until employment does, and so far it's holding up. Jobs are a lagging indicator, though, and they can roll over quite suddenly. I don't expect that to be the case with next week's April report, but neither do I expect employment to grow forever. It never has, and never will.
In my last two articles, I wrote about fading the rally. There may be some confusion about what that means - it doesn't mean going from 100% long to 100% short in a day, but an incremental process of selling pieces into the rally. If a rally goes on long enough, you can start to take some short positions of the kind you're comfortable doing, but understand that you're always going to be a little early shorting tops and buying bottoms, so go slowly.
Icahn's remark acted on a weakened setup for stocks, or they might have attracted little notice. When you look at falling corporate profits and the sluggish economic activity - four quarter nominal GDP is at 3.2% and has been hovering around there for the last three quarters, weaker than it was at any time in 2007 - it's a good lesson for the broader picture that the setup for economic growth (and so equities) has also weakened. We've had similar stretches of weak domestic output in the last few years, but they weren't accompanied by falling corporate profits and maxed-out unemployment. That makes it a good time to be wary, and to fade every rally.
Disclosure: I/we have no positions in any stocks mentioned, and no plans to initiate any positions within the next 72 hours.
I wrote this article myself, and it expresses my own opinions. I am not receiving compensation for it (other than from Seeking Alpha). I have no business relationship with any company whose stock is mentioned in this article.