In my last piece on selecting preferred shares, I introduced the preferred shares for several triple net lease REITs:
| | |
| --- | --- |
| Common Ticker | REIT Name |
| (NYSE:O) | Realty Income Corporation |
| (NYSE:NNN) | National Retail Properties |
| (NYSE:LXP) | Lexington Realty Trust |
| (NASDAQ:GOOD) | Gladstone Commercial Corp |
| (NYSE:VER) | VEREIT, Inc. |
| (NYSE:EPR) | EPR Properties |
| (NYSE:MNR) | Monmouth Real Estate |
| (NYSE:GPT) | Gramercy Property Trust |
I opted to analyze the preferred shares for triple net lease REITs because I am comfortable analyzing the underlying business and I believe the quality of the business remains absolutely critical to analyzing the preferred shares.
Importance of Underlying Business
I don't want to invest in preferred shares on the basis of the discount to liquidation value (or call value). I have no interest in buying shares in an "investment" that will fail to pay their dividends. Investors who believe the liquidation value provides some absolute guarantee that they will recovery their money are fooling themselves. There are plenty of preferred shares in other sectors that trade at fairly small percentages of their "liquidation value" because investors recognize that they are unlikely to receive anything near the par value.
However, I also don't want to pay any material premium to call value if the shares could be called immediately and the accrued dividend (usually due on call) would not cover the difference.
The Preferred Shares
The preferred shares for these REITs are demonstrated in the chart below: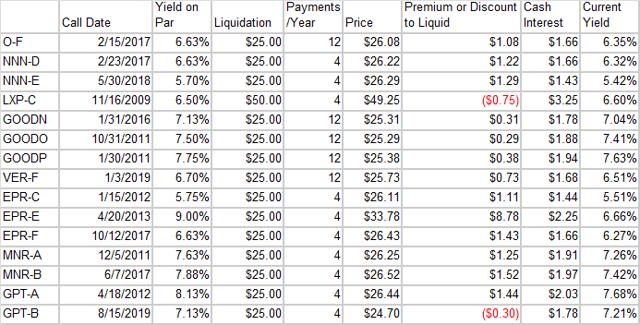 Click to enlarge
When I was writing the first article several weeks ago, I also recorded values for the prices on these preferred shares and built the same table. I colored the older one yellow to make it easier for readers to tell them apart: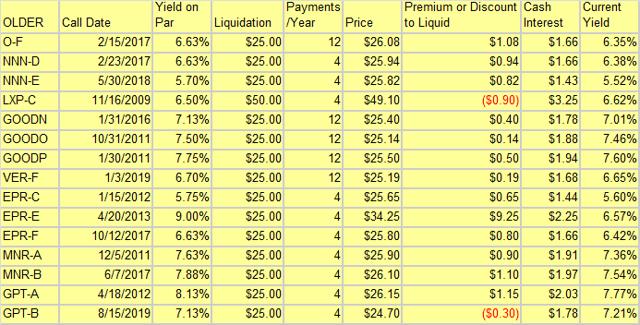 Click to enlarge
If investors are trying to compare the values in the table directly they might think the data was messed up because the prices on several shares are precisely the same. While these preferred shares can struggle with weak liquidity, they often have fairly stable prices that reward an investor if they are patient and able to enter near the bottom of the normal range.
For investors that want to see the price difference across each share, I'm providing another table. To make it simple, I've kept the older values in yellow and put the newer values in white: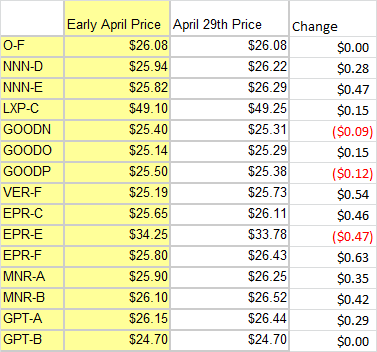 Realty Income Corporation
I see some very interesting possibilities in here. Investors can see the recent price on O-F was a significant premium to the liquidation value. The call date is less than a year out, which makes the entry price absolutely critical. The difference between expecting great risk adjusted returns and very poor returns is a matter of about $.30 on the purchase price.
It is my opinion that there is a very high probability of O calling these shares within the year they become eligible for calling and it wouldn't surprise me if it happened within a couple months.
National Retail Properties
The D series for National Retail Properties has a similar challenge. It trades at a very weak yield to call despite a great current yield. Since shares of the E series contain a coupon rate of only 5.7% and still trade at a premium to call value, investors are getting a fairly clear signal that the market would probably be willing to pay at least par value to buy new preferred shares from O and NNN with a coupon rate below 5.7%. When the F series for O and the D series for NNN both carry an initial coupon rate of 6.63%, I have to think they will be replaced with a new series running between 5% and 6%.
Gladstone Commercial Corp.
I spent quite a substantial amount of time analyzing Gladstone Commercial Corp. over the last few weeks, but I haven't published anything on them. I was very interested in analyzing them because I was interested in the preferred shares. I wanted to be certain that I was comfortable with the underlying business. The very strong yield on common stock in measurements like trailing FFO and dividend yield would be enough to make most investors curious. I don't like external management structures, but after research I decided it wouldn't be a deal breaker for buying into the preferred shares.
GOODN represents preferred shares with a mandatory call date (January 31, 2017). That is more than slightly unusual, but investors wanting the certainty of a shorter maturity are still bidding enough on these shares to cause them to trade over the liquidation value. I did not find anything that would prevent them from being able to call as early as January 31, 2016 (listed call date, already past), but the shares of GOODN were not my focus.
The premium to call value here also tells me that investors buying into GOODN are convinced that the company won't have significant cash flow problems in dealing with the redemption.
The security that I found very interesting is GOODO. The liquidity can be very poor and it took me a while to get full execution on my limit order. I picked up a great position in GOODO with an average cost of $25.03. The shares are trading past the call date, but I'm willing to risk losing $.03 per share. I believe it is very unlikely that these shares will be called in the immediate future.
Consider the position you would take if you were managing GOOD. The GOODN shares have a mandatory call date, so you would need to have liquidity available for that. If you felt the other existing preferred shares were too expensive and wanted to call them and reissue them, would you be looking to call GOODO first? The shares of GOODP carry a slightly higher dividend and both shares are trading past their call date.
The market prices on GOODP have regularly been high enough to exceed the combination of par value and the accrued dividend, so I didn't see as much safety there. GOODP is slightly more exposed to a loss of premium due to a larger premium to call and it is a better candidate for calling if management decides to call.
Nice Call
The shares of GOODO have regularly been trading around $25.20 to $25.40 or so. They are the only preferred series from GOOD to appreciate since my earlier piece in April. The dividend already earned on my position more than covers the slight premium to par I paid so the risk of a negative return would have to come through something other than a call taking place. Note that while GOODO does not have one of the stronger appreciations, it is also paying on a monthly basis rather than quarterly so there is less accrual baked into the price.
Disclosure: I am/we are long GOODO.
I wrote this article myself, and it expresses my own opinions. I am not receiving compensation for it (other than from Seeking Alpha). I have no business relationship with any company whose stock is mentioned in this article.
Additional disclosure: Information in this article represents the opinion of the analyst. All statements are represented as opinions, rather than facts, and should not be construed as advice to buy or sell a security. This article is prepared solely for publication on Seeking Alpha and any reproduction of it on other sites is unauthorized. Ratings of "outperform" and "underperform" reflect the analyst's estimation of a divergence between the market value for a security and the price that would be appropriate given the potential for risks and returns relative to other securities. The analyst does not know your particular objectives for returns or constraints upon investing. All investors are encouraged to do their own research before making any investment decision. Information is regularly obtained from Yahoo Finance, Google Finance, and SEC Database. If Yahoo, Google, or the SEC database contained faulty or old information it could be incorporated into my analysis.