ARMOUR Residential REIT (NYSE:ARR) provided investors with a new look at their portfolio value on 04/20/2016. The update came through the company's website where ARR usually posts portfolio updates. This was an exceptionally interesting report for me because it confirmed some of my expectations. In a previous article, I predicted ARR would buy Javelin Mortgage Investment (NYSE:JMI). I was confident in the analysis and bought shares of JMI based solely on the expected upside from the buyout.
In the article, I indicated that the lack of portfolio updates at the end of February had pushed me over the edge in believing this buyout was coming. The following section demonstrates my argument:
"Reason #5 Late Updates
Both ARMOUR Residential REIT and Javelin Mortgage Investment provide monthly portfolio updates. You can see the links here:
The page for ARR goes back to January of 2014. None of the presentations were uploaded later than the 26th of the month. During the period covered, there were only 2 presentations that were later than the 21st of the month. Those were December 2015 and January 2016.
The page for JMI goes back to November of 2013. They were also fairly well into the month in December 2015 and January 2016. However, for JMI, there was a presentation on the 27th during January of 2015. The subsequent February presentation (February 2015) was 02/13/2015. There is no reason to think that this is normal, though investors could write it off as a coincidence.
It is worth noting that the vast majority of the information presented in the spreadsheets is simply pulled from the portfolio. It shouldn't take management much time to prepare those monthly spreadsheets. They should be able to simply pull the latest data from their portfolio, stick it in the presentation, and have their charts updated.
The one thing that seems like it would be a real pain though is handling a portfolio update after agreeing to a sale. If I were in that scenario, I would really want to bring some auditors to assist in establishing the proper presentation. If ARR has already agreed to buy JMI and the agreed price implies a value less than the fair value of the assets, the accounting statements could be a little difficult between the time of the agreement and the execution. The lack of a portfolio update on February 28th is enough to make me wonder if there is a deal in the works."
When ARR provided their latest portfolio update they confirmed my rationale for the reason the updates had suddenly disappeared:

Click to enlarge
Where ARR Stands Now
The new dividend was announced at $0.27 per month for the second quarter. Relative to the prior dividend of $0.33 per share, the 18.2% cut is bound to sting. I argued for quite a while that this dividend cut was coming so it shouldn't be a surprise to any of my frequent readers. Despite the cut, ARR doesn't trade at as large of a discount to their April 20th book value as I would've expected. Their book value is demonstrated below: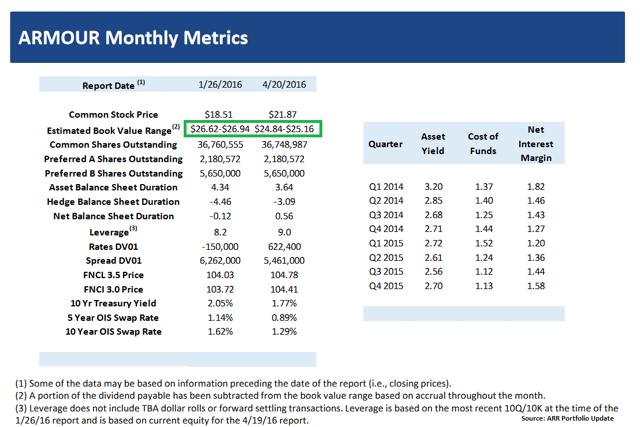 Click to enlarge
The discount to last reported (estimated) book value is around 15%. To be more precise, it is a range of 14.3% to 15.4% based on the closing price of $21.28. This puts ARR at a valuation similar to where I believe American Capital Agency Corp. (NASDAQ:AGNC) is currently trading. Over the last several months, there have been several times when ARR traded at a materially larger discount than peers. It is interesting to see ARR move to trade at a similar discount.
Given the increase in the spreads between swap rates and MBS rates, I can see plenty of rationale for ARR choosing to run a very highly leveraged and hedged portfolio. However, I still believe that the market is currently showing quite a bit of optimism and when that optimism ends, I would expect shares of ARR to be sold off harder than their peers unless their portfolio materially outperforms. Therefore, I am concerned about the potential for prices of the common shares to fall lower.
Conclusion
ARMOUR Residential REIT demonstrates another significant book value loss despite the favorable acquisition of Javelin Mortgage Investment. In providing their latest portfolio update, they confirmed my guesses about the reason they were temporarily not providing the updates. Based on the latest estimates of book value and the discount currently available relative to that value, I believe there is more potential for prices to decline than to improve.
Disclosure: I/we have no positions in any stocks mentioned, but may initiate a long position in THE PREFERRED SHARES OF ANY MREIT over the next 72 hours.
I wrote this article myself, and it expresses my own opinions. I am not receiving compensation for it (other than from Seeking Alpha). I have no business relationship with any company whose stock is mentioned in this article.
Additional disclosure: Information in this article represents the opinion of the analyst. All statements are represented as opinions, rather than facts, and should not be construed as advice to buy or sell a security. This article is prepared solely for publication on Seeking Alpha and any reproduction of it on other sites is unauthorized. Ratings of "outperform" and "underperform" reflect the analyst's estimation of a divergence between the market value for a security and the price that would be appropriate given the potential for risks and returns relative to other securities. The analyst does not know your particular objectives for returns or constraints upon investing. All investors are encouraged to do their own research before making any investment decision. Information is regularly obtained from Yahoo Finance, Google Finance, and SEC Database. If Yahoo, Google, or the SEC database contained faulty or old information it could be incorporated into my analysis.
Editor's Note: This article covers one or more stocks trading at less than $1 per share and/or with less than a $100 million market cap. Please be aware of the risks associated with these stocks.