"Risk comes from not knowing what you're doing." - Warren Buffett
Conviction
No, I'm not referring to the criminal interpretation, but rather the following definition.
Con·vic·tion - noun, a firmly held belief or opinion. Synonyms - belief, opinion, position, persuasion, idea, stance.
When an investor assembles their plan, and puts that strategy into practice it has to be done with conviction. Therein lies yet another obstacle for investors. The stock market has a way of challenging these plans and the "will" of investors over and over.
In the world of investing, conviction can also be defined by the willingness to take risk and express beliefs through a bold course of action to achieve long term goals. That does not suggest that an active trader strategy is better by simply taking on more risk, but a fair amount of risk is indeed necessary to add substantial value to a portfolio. Like everything else in life, it is all about balance.
More importantly I believe conviction to an investment strategy can be the anchor that keeps an investor grounded and focused on their plan.
Without it, an individual will tend to waffle, change direction with each change of the wind caused by the headline of the week. All of this leads to being unsure, adding a loss of confidence, causing indecision. When all of that takes place it usually leads to mistakes.
Investors with a strong conviction of their abilities and strategies has a better chance of adding value to their portfolio over time. Well then, it's easy, just have conviction in your plan and all will turn out ok. Not really, investing isn't that easy.
Having that strong mindset has to be tempered and checked constantly. It is a fine line to have that strong will dictate a winning strategy or lead one down a path of failure. Staying with a plan that isn't working for an extended period because of stubbornness, can be disastrous.
This then becomes a dilemma for all of us, because we all have to look at the situation and admit that we were wrong. In my years of investing staying on the profitable side of that fine line revolves around short term versus long term thinking. Adding in or leaving out emotion also dictates how one can navigate this fine line I refer to.
I bring this up because of what all investors just witnessed in the last 9 months. Investor "wills" were tested in August 2015, and again in January and February 2016. How each investor handled those tests made a large difference in where their portfolio stands today.
The "short term" mentality was prevalent with each passing headline and then the emotion factor entered the picture. Instead of being focused looking at the long term trend and leaving emotion at the door, panic sets in, and suddenly there is no plan. Instead there are mistakes.
The takeaway here is that short term thinking, combined with emotion has little place in an investor's mindset. The S&P is at 2066, the same level it was a year ago. That is a testament to having conviction by looking at the long term trend and leaving emotion out of the equation, amidst all of the volatility.
I do find the mindset that takes over most investors quite ironic. During these "tests" of our plans, some investors can't seem to think past the next 12 hours or 2 months. However an event that happened seven years ago (financial crisis) stays in the forefront of investors' minds and affects their views on investing.
At times, you will have to step out of your comfort zone to realize significant gains. Know the boundaries of your comfort zone and practice stepping out of it in small doses. As much as you need to know the market, you need to know yourself too. Can you handle staying in when everyone else is jumping ship? Or getting out during the biggest rally of the century? There's no room for pride in this kind of self-analysis. The best investment strategy can turn into the worst if you don't have the stomach to see it through.
That's when the high wire act of walking that fine line takes place, and as Mr. Buffett says, "risk" comes from not knowing what you are doing.
Economy
Scott Grannis sums up what I have been talking about for a while. No recession, no deflation, lots of pessimism.
The economic data were, once again, on the soft side of expectations.
This week's new home sales print missed expectations, coming in at a seasonally adjusted annual rate of 511,000 versus 520,000 expected. That miss was slightly offset by an upward revision to last month's data, from 512,000 SAAR (Seasonally annual adjusted rate) to 519,000 SAAR. Prices have also softened, falling 2% year over year and 6.4% month over month.
The U.S. Census Bureau's Advance Report on Durable Goods rose less than consensus estimates, up 0.8% month-over-month in March. This was below estimates looking for growth of 1.9%. These reports are extremely volatile and can't be seen as a driver of overall industrial activity during most periods.
The Atlanta Fed's GDPNow model forecast for real GDP growth (seasonally adjusted annual rate) in the first quarter of 2016 is 0.4 percent on April 26, up from 0.3 percent on April 19.
This past week we received the advance read on Q1 GDP reported at 0.5%. The expectations were for a subdued 0.7% print. It should be noted that the average miss from the advance versus actual reads is 0.4%.
The Conference Board's Consumer Confidence Index declined to 94.2 in April from 96.1 in March.
Chicago PMI came in below economist expectations stumbling from the prior report of 53.6 to 50.4.
Chief Economist of MNI Indicators Philip Uglow:
"This was a disappointing start to the second quarter, with the Barometer barely above the neutral 50 mark in April. Against a backdrop of softer domestic demand and the slowdown abroad, panelists are now more worried about the impact a rate hike might have on business than they were at the same time last year."
One exception to the soft data was Richmond Fed activity indices covering the Services and Manufacturing sectors were reported as broadly positive.
The two sectors of the economy that have been strong continue their positive trends. The Pending Home Sales print for the month of March. It staged a nice rebound over the last few months suggesting that existing home sales should continue to press higher year over year.
This report along with once again strong mortgage applications this past week suggest that housing demand remains robust as the spring selling season is now in full swing.
Last week the U.S. Department of Labor reported Initial Jobless Claims were 257,000, lower than the 259,000 estimate and up slightly from last week's 248,000. This marks 60 consecutive weeks of initial claims below 300,000, the longest streak since 1973.
The Fed
A quick look back at the beginning of the rate normalization process and the reaction from the stock market. After one rate hike, which was the first since 2006, the dollar continued to rally and the financial markets got a little panicky. That set the groundwork for the S&P pullback in early January and February.
The market reaction should not have been unexpected as history tells us that market weakness does indeed follow the first rate increase.
Then when the Fed emphasized that they would be cautious raising rates in the rest of 2016, the dollar reversed course and investors breathed a sigh of relief. Once again Janet Yellen's words should not have come as a surprise since they have projected that stance since she became the Fed chair.
What we have seen since is a 60%+ rally in oil prices, stabilization in commodities and substantial rallies in the global stock markets. I believe that bodes well for the remainder of this year. However, with the wild reactions that I just witnessed since the beginning of the normalization process, who knows how the headlines will play out with investors and the Fed.
I have stated over and over that investors pay too much attention to the Fed. Of course, the Fed is hugely important for the economy and the markets, but it is critical to remember that the Fed is actually a lagging indicator. I see no reason why that won't be the case throughout this cycle as well.
Since the Fed began to target the Fed Funds rate in the early 1980s, the Fed has never led the markets either when raising rates or lowering rates.
The Fed's recent guidance seems to be following the historical norm. The uncertainty surrounding the US and global economies is preventing the Fed from being the leading indicator that some would like them to be. Recent comments indicate that the Fed may prefer lagging. If the Fed tightens monetary policy too early or too quickly, then they feel they may put the global economy at risk.
However, if they tighten too late or too slowly, they feel they can always react to inflation and increase the pace and magnitude of rate increases. The current Fed's perceived risk and return seems similar to those of past Fed regimes. With the exception perhaps of the Volcker Fed, the Federal Reserve has historically responded to economic conditions rather than set them. The current Fed's "data dependency" is really nothing new. It is just another reason for the skeptics to whine over the Fed's actions.
This week's FOMC concluded and the "statement" was slightly less dovish than the recent official communiques the FOMC has issued, but retained an overall slant towards accommodation. Key points included a reduced emphasis on international risk, continued emphasis on low inflation, optimism on the labor market, and no direct hint at a June rate hike.
In my opinion the statement was designed to prepare markets for that outcome should data on inflation and wages improve. My view remains the same, there's nothing that I can see to drive the FOMC to a June hike.
I believe, it's one more increase in 2016 and done.
Earnings
All we hear is that central bank liquidity and corporate management's ability to use it to manipulate earnings have driven all of the earnings improvement. Strategas Research disagrees (so do I), as they report from both a notional dollar and per share basis, share buybacks appear to have had little to do with it.
Instead lower interest expense and the ability of corporations to keep labor costs under control has had a much bigger impact, and any hint of stronger top line growth could result in even greater bottom line gains.
In the last year S&P sales have declined 1.6%, which includes a 29% hit from the energy sector. Ex-energy, sales were up 2.1%. The result, margins shrank almost exclusively because of energy, which suggests if the recent rally in WTI stays firm and holds, margins and earnings can improve.
Federated Investors reports when the dollar turns negative year over year (y/y), S&P EPS has climbed at an 11.1% annual rate. The USD is on the cusp of doing just that as it is virtually flat in the last 12 months.
I will admit that neither of these trends is assured, but there is light at the end of this tunnel. Putting a multiple of stocks in the interest rate environment becomes a challenge and that debate will rage on.
When one considers present inflation, inflationary expectations and long term rates, it's hard (for me) to claim that equities are wildly overvalued. However, I can see why that will draw criticism from anyone that is skeptical of the market at these levels.
Dudack Research chimes in with a report that looked at seven long economic cycles from April 1960 to March 200. They concluded that there tends to be an earnings decline or flattening in growth roughly 7 years following a major earnings peak. The average slump lasted 18 months, which equates to 101 months past the original peak. When overlaying the current earnings cycle vs. history, 2015's earnings recession had remarkably similar timing to the average earnings cycle slump. If this parallel were to continue, history suggests there should be a pickup in S&P earnings growth directly ahead in 2016-2017.
That report interestingly coincides with many of the analysts' projections for an earnings pick up in the second half of this year.
Per Thomson Reuters:
Here is the forward 4 quarter estimate for the last 4 weeks:
4/15/16: $124.83

4/8/16: $124.78

4/1/16: $123.50

3/25/16: $120.14
The "forward 4 quarter estimate" now covers the period from Q2 '16 through Q1 '17. What the forward estimate does is allow investors to better track the forward P.E ratio of the S&P 500, since most investors are currently using either the 2016 full year EPS P.E or the 2017 full year EPS P.E. The forward 4 quarter estimate gives readers the rolling P.E on a constant time horizon.
The latest earnings details from Factset - April 28, 2016
"With 62% of companies in the S&P 500 reporting earnings to date for Q1 2016, 74% have reported earnings above the mean estimate and 55% have reported sales above the mean estimate."

"On March 31, the estimated earnings decline for Q1 2016 was -8.7%. For Q1 2016, the blended earnings decline is -7.6%. Six sectors have higher growth rates today (compared to March 31) due to upside earnings surprises, led by the Consumer Discretionary sector."

"The forward 12 month P/E ratio is 16.8. This P/E ratio is above the 5-year average (14.4) and the 10 year average (14.2).

"At the sector level, the Materials (89%) and Consumer Discretionary (87%) sectors have the highest percentages of companies reporting earnings above estimates, while the Telecom Services (33%), Financials (62%), Energy (63%), and Utilities (64%) sectors have the lowest percentages of companies reporting earnings above estimates."
On the revenue side of results.
The Telecom Services sector is reporting the highest revenue growth of all ten sectors at 11.2%.

The Health Care sector is reporting the second highest revenue growth of all ten sectors at 8.9%.
This earnings season has already produced forty eight "triple plays".
That is by far the most I have seen at this time in the reporting cycle. With the list being so extensive, here is a separate document that can be viewed here.
Sentiment
According to the latest weekly sentiment survey from the American Association of Individual Investors, bullish sentiment dropped down to 27.37% this week from last week's reading of 33.41%. This now makes it 26 straight weeks where bullish sentiment has been below 40%, and 60 out of the last 61 weeks. Once again a clear sign that investors still want nothing to do with the most recent equity market rally.
Crude Oil
The total miles traveled for the United States through the 12 months ended February made a new all-time high, while the 3 month average of year over year miles traveled ticked up sequentially.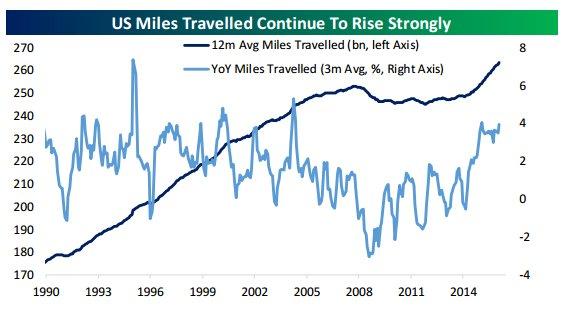 Source: Bespoke
The demand side of the Crude oil equation appears to be holding up well.
U.S. production continues to fall in line with the massive reduction in rig counts.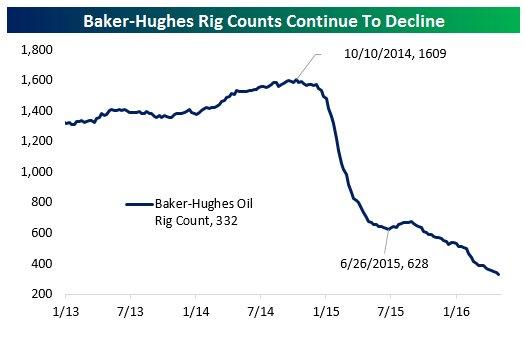 Source: Bespoke
Obviously it will be very hard to boost production without boosting rigs, and despite a nearly constant 3 month rally in crude prices we haven't seen those rigs come on line; in fact, quite the opposite.
WTI closed the week at $46.07, a gain of 20% for the month of April.
The Technical Picture
Early this year, many pundits sold the story that the Russell 2000 small cap index was going to lead the entire market down when it officially entered bear market territory this year.
While the S&P 500 never moved into bear market territory, the Russell 2,000 did, falling 26.4% from its closing high on 6/23/15 to its low on 2/11/16. Since 2/11, though, the index is now up 21%, 1% above the 20% bull market threshold. By definition, a new Bull market. So far this bull has lasted 75 calendar days.
According to Bespoke Investment Group the median bear market for the small cap index sees a decline of 29.3% over 164 days. The last bear that just officially ended now that the new bull has been confirmed saw a decline of 26.4% (slightly less than average) over 233 days (longer than average).
The 50 largest stocks in S&P 500 on 2/11 are up 11% since then. The 50 smallest are up 42.5%. Small and mid-cap stocks have contributed just as much to the rally as large cap names, which is a healthy sign.
Ryan Detrick reminds us of another healthy sign:
"On April 26th the S&P 500 gained 0.2%, yet there were 1,668 more advances vs declines on the NYSE. No day since '70 was weaker with better breadth."
The daily chart of the S&P reveals the first support level that I mentioned last week (2074) has been broken. The index has now fallen below the 20 day moving average trendline that has supported the recent move higher.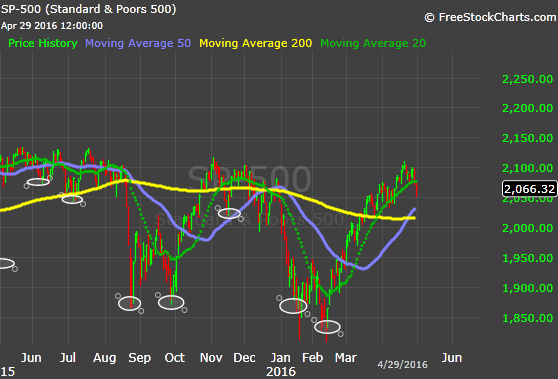 My analysis shows that the next test for the index will be the 2033 level.
A violation there and it could confirm a trend change in the short term with a pullback firmly in place. My thoughts during this rally have been consistent.
For anyone who is bullish, any pullback will have to be kept in check, or the possibility will grow that this is another failed rally attempt to make new highs. On the other hand, a quick shallow pause refreshes the buying power, to once again try to push to higher levels.
With conviction in mind and emotion out of the thought process, I suggest no conclusions can be made just yet. The commentary is merely offered to attempt to show the possibilities that lie ahead.
Market Skeptics
Where is the deflationary abyss that was going to take the stock market down?
We have witnessed a persistent decline in commodity prices since mid 2014, and it appears to be ending, and the financial world is still intact.
From its February low, the price of crude oil has jumped by the largest percentage amount since the current downward spiral began. Moreover, the WTI spot crude oil price is currently $46 and only about 4-5% below where it was in early January 2015. That is, rather than collapsing as it did in 2014, the price of oil has shown signs of bottoming since early 2015.
Another interesting data point, is the recent significant surge in raw industrial commodity prices. The CRB Raw Industrial Commodity Price Index has risen by about 12.5% from its low in late November. This is the largest increase in industrial prices since commodity prices peaked and it is indeed a very encouraging sign that those prices most sensitive to economic activity (i.e., industrial commodity prices) have been rising now for the last four to five months.
If this primary trend of the last couple years is finally ending, Investors now realize that the financial world is still intact, and their actions could become much more optimistic.
That could indeed be another spark for "risk-on" to once again be the trend that rules the day. Stock market leadership could then shift from defensive toward cyclical sectors. Indeed that could already be happening as the Utility sector (NYSEARCA:XLU) has been weaker during the month of April.
Individual Stocks
Drug spending was recently reported to be up over 12% overall in the United States in 2015.
Large cap biotech names in the sector are hardly expensive after hitting their lowest collective valuations in February since 2011 when the Greek debt crisis caused a significant "risk off" decline in global markets. Gilead (NYSEARCA:GLD) goes for eight times earnings and should deliver a free cash flow yield of over 10% in 2016 at these levels, yielding 2%. AbbVie (NYSE:ABBV) sells for just over 12 times this year's likely earnings and yields 3.7% via dividend payouts.
An opportune time to build or add to a well diversified biotech portfolio. Small and mid caps have their place only if one is willing to complete the hours of research involved and more importantly, accept the associated risk.
It is why I like to stay with the proven large cap names and recommend them as the way to go to gain exposure to the sector. They have the drug pipelines that spread their risk. Don't get me wrong I have seen some of these small biotech firms produce enormous gains. An investor does have to understand the risk associated with them as they can drop out of the sky because of a failed drug trial.
There are reasons that certain investors will understandably shun the sector. If one of those reasons is the constant bombardment by the media of the "political" overhang on drug pricing, then it is time to reconsider. In my view it is simple political grandstanding, and at the end of the day will have no impact on the long term picture for this sector.
Apple (NASDAQ:AAPL) reported disappointing earnings this past week and the stock was punished. It is currently trading down more than 27% from its 52-week high of $134.54 made nearly a year ago. Given the market saturation in smartphones, the days of Apple as a "growth stock" are over. It just could be that the only way for Apple to kick start things again is through acquisitions or the "new products" category.
The company has done it before, and it can do it again, but for now, Apple is a "show me" stock. As in "show me" the path for growth going forward. In my view, the company deserves the benefit of the doubt here
While Apple is no longer a growth stock, that doesn't mean it's not worth owning of course. Even though it's the largest company in the world, its relative valuation is extremely attractive, and yesterday's dividend hike gives it a yield that's higher than the yield of the S&P 500 and the 10-Year Treasury Note.
On valuation here are two charts that show Apple's stock multiple versus every other stock in the S&P. AAPL is cheaper than all but 58 stocks in the S&P 500. Not only is AAPL the largest company in the S&P 500, but it also has one of the lowest multiples, along with having the most cash on its balance sheet than all others.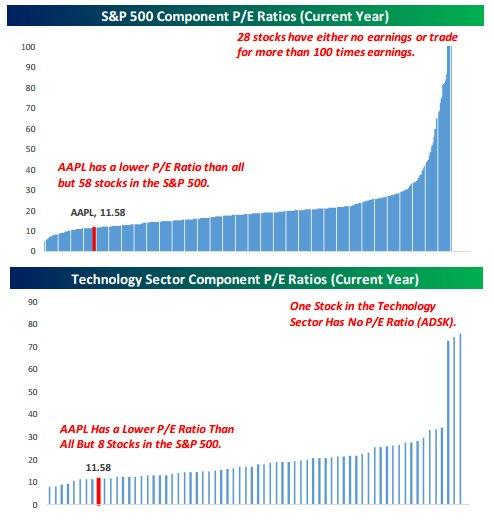 Source: Bespoke
Within the S&P 500 Technology sector, AAPL has a lower P/E ratio than all but eight stocks.
When the dust settles, investors will need to decide if Apple may be just another consumer staple. A great brand, great product, great dividend, with low single-digit growth, with a chance to once again show that it can innovate and develop new brands like "Apple Pay".
Carl Icahn's "Day of reckoning" remarks on Thursday didn't help the equity market, and he then specifically targeted Apple with more negative rhetoric. My guess he is short the market at the moment, and I find it amazing how the lemmings follow. Recent strong support at the $92- $93 level may be the time to take a closer look at these shares, as that level held during the tests of all of the S&P lows.
While the technology sector has taken a hit due to lackluster earnings reports from some of the bigger tech names, one stock that has caught my eye is Garmin (NASDAQ:GRMN). The company reported a positive quarter, their cash position is solid and the company has no LT debt. The 4.7% yield makes this an attractive income/growth situation.
When they throw a stock away because of what I deem as a one-time temporary setback, it gets my attention. The Costa Concordia incident impacted Carnival Cruise lines (NYSE:CCL) in a negative way. It represented an opportunity to use the fear of others as an advantage. After the shares were sold off to a new low in 2012, some 11 months later the stock rose to a new 2012 high rising 26%.
Target (NYSE:TGT) is another example of using the fear factor to your advantage. Their infamous credit card breach back in 2013 sent the stock reeling. This situation looked to me as a one-time event that could easily be rectified, given time. The shares closed at $56 one month after the headline; eleven months later the shares traded at $80. This was a dividend aristocrat that yielded approximately 4% at the time when investors assumed they could never get it right and survive.
This past week I took a look at Chipotle Mexican Grill (NYSE:CMG). A growth situation that has hit a speed bump with the E-coli scare in late 2015. The shares are down 44% from their highs, to a new low set this year at $399. The latest earnings report may have been the trough and the potential turning point that I was waiting for. After a brief rally for the $399 low, the shares are now back down to $420.
This too shall pass, as the company remains resolute in their growth plans and has done a good job of damage control during this rocky period. They have no LT debt. I started a small position after the earnings release and plan to build a full position in the next month or so.
Summary and Conclusion

After the market close on Thursday, this Bull market became the second longest bull run in history, lasting 2,609 days after Friday's close.
For the record, the longest Bull market in history is 4,494 days, from 1987 to 2000. For those that have disbelieved for quite some time now, it is yet another reminder that bull markets do not die of old age. There are no time limits, and perhaps that is why most have continued to disbelieve, instead believing that we are overdue for a bear market. It's "time" to transition into an official bear market. That fallacy has cost some investors dearly, as many have held onto that belief for some two years now.
Looking around the globe it appears there is some upside momentum building in most developed economies. Perhaps the world economy is finally beginning to respond to the extensive synchronized global stimulus introduced in the last 18 months. As Doug Short reports, the recent global market rally could also be signaling a positive change taking place.
A synchronized global economic uptrend, even if all are only growing slowly, could convince investors that the bull market is resuming. Indeed, this attitude could become pronounced should the global economy experience a synchronized bounce while commodity prices bottom and S&P 500 earnings improve.
While there's no reason a very strong equity performance over the last two months can't pull back a bit, the rally we have experienced so far is neither fragile, nor narrow. That wasn't true of "V" shaped bounces we witnessed off prior lows.
Several forces could help improve near term momentum in the stock market. The aforementioned deflationary undertone that dominated investor mindsets in the last couple years seems to be easing as commodity prices show signs of recovery.
The skeptics are firmly entrenched with their thoughts that earnings are in a downtrend that won't improve. I'm not in that camp as I have mentioned in past missives the factors suggesting earnings performance may begin to improve during the balance of this year. The profits cycle seems to be in the process of forming a trough and the price action with the S&P just 2% from an all time high during this process may indeed confirm that as the market is looking ahead.
Finally, economic surprise indices recently show that global economic momentum may be headed for a synchronized bounce as Doug Short wrote about.
There is no change in my stance regarding the equity markets, it is the same as it was during the first sell off last August, stay the course.
Since each one of us have varied "life" situations, I reiterate:
"While I put forth my ideas, I also maintain that investors should gather the data, make their own decisions, and not rely on others to make these decisions for them."
Best of luck to all!
Disclosure: I am/we are long AAPL,CMG,GILD,TGT.
I wrote this article myself, and it expresses my own opinions. I am not receiving compensation for it (other than from Seeking Alpha). I have no business relationship with any company whose stock is mentioned in this article.