c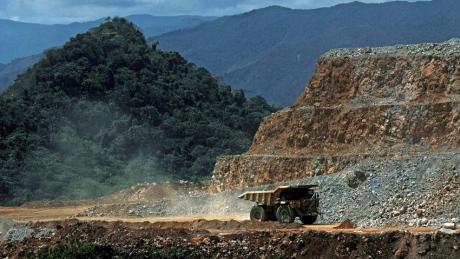 Goldcorp Inc. (NYSE:GG)
This article is an update of my preceding article about Goldcorp Inc. published on March 2, 2015.
Goldcorp released its first-quarter 2016 results on April 27, 2016.
Mines - Production and Location.
Location
Mines

2014 gold production

Estimated

Troy Oz

Production

Oz/2015

Reserve P1+ P2

in Troy oz

Canada & USA
Red Lake
400k to 425k
375,700

2.55M

12 years-Life

Éléonore

290k to 330k 2015E

575k-625k by 2018

268,100

4.03M

Commercial on 4/1/15

Porcupine

(Extension) Probe mine 01/19/15

300K to 320K
274,300

3.01M

13 years-Life

Musselwhite
230k to 240k
270,300

1.85M

13 years-Life

Development Projects
Cochenour (Red Lake)
225k to 250k
See above
-
Mexico
Peñasquitos
700k to 750k
860,300

reserve N/A

Gold/Silver

13-year Life

Los Filos
265k to 290k
-

7.95M gold and 54.52M Silver

14-year Life

Development Project
Camino Rojo
Completion Q1 2016
-

1.63M gold

32.07M silver

Central & South America
Marlin
175k to 185k
-

0.65M gold

30.09M silver

5-year Life

Alumbrera [37.5% JV with Xstrata and Yamana]
125k to 130k
-
Gold/copper

Pueblo Viejo

[GG 40% ABX 60%]

425k to 460k
381,700

16.15M gold

>25-years Life

Cerro Negro

425k to 475k

2015 Est.

507,400
5.75M gold
Development project
El Morro [70% GG, New Gold 30%]
In progress

6.7M gold

4.9 B lbs copper

[70% of basis]
A quick look at the financials:
Q1'16

Q4'15

Q3'15

Q2'15

Q1'15

Q4'14

Basics

Revenues

$ billion

944
1.072
1.098
1.188
1.017
0.835

Net income

in $ million

80
(4,271)
(192)
392
(87)
98

EPS

$/share

0.10
(5.14)
(0.23)
0.47
(0.11)
0.12

Cash and cash equivalent

in $ million

401
326
257
940
365
482

Impairment

in $ billion

0

4.906/

3.9 (net)

0
0
0
2,980

Dividend

$/sh

0.02
0.02
0.06
0.06
0.15
0.15

Total debt (long-term)

$ billion

2.727
2.476
2.522
3.361
3.670
3.442

Outstanding shares

in million

830.977
830.238
830.230
829.985
816.909
813.792
Mining highlights

Gold Production

in M Oz

0.7837
0.9094
0.9222
0.9080
0.7248
0.8909

Copper Production

in Lbs

17,200
21,400
12,300
8,600
9,200
27,200
Silver Production in K Oz
7,700
10,096
11,314
10,433
8,520
10,426

Gold price

Oz

1,203
1,098
1,124
1,189
1,217
1,203
Copper price Lb
2.11
2.07
2.29
2.67
2.45
2.82
Silver price Oz
13.61
13.14
13.01
14.00
15.30
14.31
AISC gold/oz
836
977
848
846
885
1,035
As of March 31, 2016 , the Company had total liquidity of approximately $3.2 billion, including $0.5 billion in cash, cash equivalents and money market investments and $2.7 billion in available credit lines.
Production guidance 2016 is confirmed between 2.8M ounces to 3.1M ounces at an AISC of $850-$925 per ounce: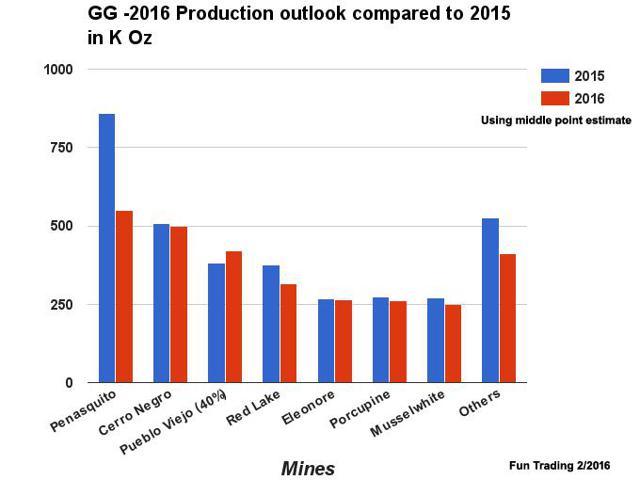 Click to enlarge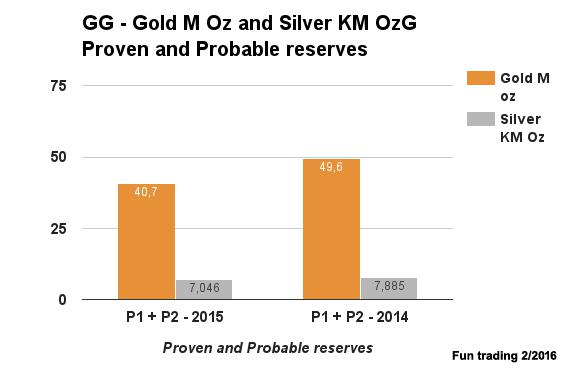 Commentary: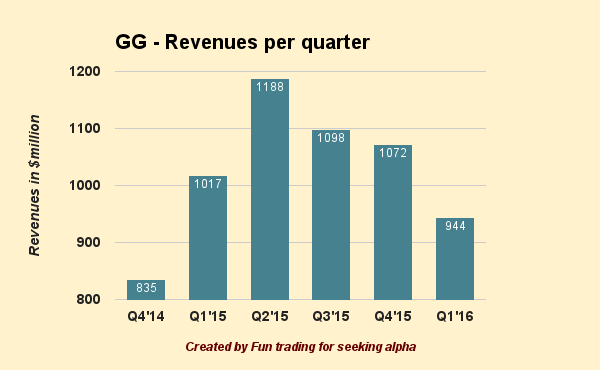 Net earnings were $80 million or $0.10 per share in the first quarter of 2016, compared to a net loss of $87 million or $0.11 per share in the first quarter of 2015. Free cash flow was negative for Q1'16, but it is expected to be $400 million for 2016 at $1,200 per ounce of gold. Any additional $100 rise in gold price will add another $300 million.
M. David Garofalo, CEO, said in the conference call:
One of our key priorities this year is to deliver on our guidance. With the first quarter completed, we are reconfirming our 2016 gold production range between 2.8 million ounces to 3.1 million ounces and remain comfortable with production at approximately 3 million ounces per annum over the next several years.
The 2Q'16 gold production is expected to be lower by approximately 15% due to a 10-day shutdown for preventative maintenance at Penasquito mine, and over two weeks of planned maintenance at Pueblo Viejo (two autoclaves). Consequently, AISC will increase in 2Q'16.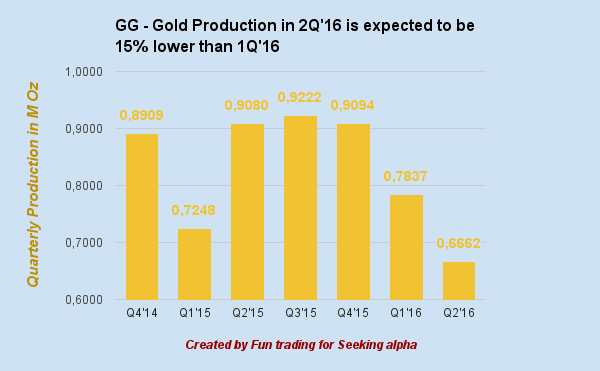 At Eleonore, the company is slowly getting back on track. At the Cerro Negro mine the stockpile has been exausted and the company expect about 3,300 TPD from the two undergrounds, with a total throughput rate for the year at 3,500 TPD expected.
The company has indicated that it is targeting $250 million in sustainable annual savings starting by 2018. The cost reduction will be focused, particularly, in Mexico by increasing semi automation or full automation. However it is mainly directed to the entire company assets: Operating side; sustaining capital, new projects, Labor productivity efficiencies.
Finally, M. David Garofalo said:
I mean we're generating at current gold prices, north of $400 million a year of free cash flow from the existing production profile and with natural maturities in debt, that'll consume about $700 million of that over the next three years. That leaves us more than enough to pay the dividends and fund these projects internally. The most significant project from a capital intensity standpoint will be Pyrite Leach and as you saw in our technical report, we expect that to be in the $400 million to $420 million range.
Conclusion:
Goldcorp's basic valuation has been improving in correlation with the gold prices. However, Goldcorp has still a multitude of technical problems to overcome before investors can be satisfied about the intrinsic financial stability of the company. Eleonore and Cerro Negro are getting a better outlook, which is encouraging.
The huge story here is the gold prices now trading around $1,250 (10-day moving average) with a close at $1,295/ Oz on Friday.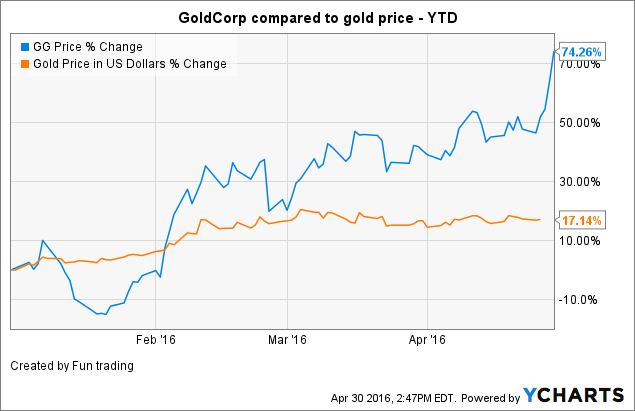 Note: YChart indicates +74.26% since January, however in reality it is over 100%.
At $1,250 the company will generate about $550 million in free cash flow in 2016, which is quite appreciable. At $1,300/ Oz it will be $700 million!
On the other hand, the stock price has recently skyrocketed, and is now nearly 100% up from early January level.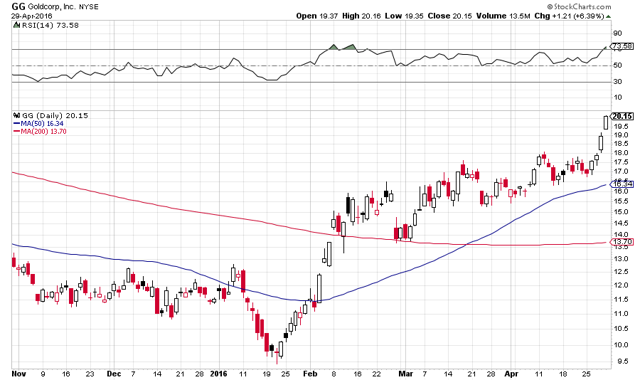 Click to enlarge
I do not expect this trend to go much further without a significant retracement. RSI is now at 74, which is definitely a red flag. The stock is now well overbought, and I recommend a sell until the $17 level is tested again. The only scenario that could eventually help the stock to increase further in value would be a strong increase in gold prices -- a retest of $1,350-$1,400, which is not likely, in my opinion.
Note: Do not forget to be one of my followers on GG and get updated on the most recent GG news (Production, sales and earnings results).
Disclosure: I/we have no positions in any stocks mentioned, and no plans to initiate any positions within the next 72 hours.
I wrote this article myself, and it expresses my own opinions. I am not receiving compensation for it (other than from Seeking Alpha). I have no business relationship with any company whose stock is mentioned in this article.