The event which everyone was waiting for this month has officially come and gone. The FOMC meeting ended with no rate hike but with a statement that suggested the Fed now viewed the global economic situation as being more stable. Whilst no overt mention of a June hike was in the statement, we think that the Fed is awaiting the results of the June 23 UK referendum before deciding on it's next hike.
In our opinion, the Fed was ready to hike but held back due to the disappointing preliminary Q1 GDP numbers and uncertainty over the UK referendum. The statement was likely kept neutral to prevent a rise in the greenback ahead of the June meeting, where we think a hike will happen if the probability of a Brexit is low. If the referendum results based on poll surveys is less certain, the hike will probably then be pushed back to July.
US preliminary Q1 GDP came in slightly below expectations which could have been another reason for the push back in the decision to hike rates and the mention that 'growth appears to have slowed' in the statement. Despite the preliminary GDP worries, it is important to note that US core inflation is currently running at 2.2% which is already above the Fed's 2% target. Whilst it is nothing to shout about, the lack of economic growth and steadily rising inflation is certainly somewhat of a worrying sign. What this will lead to in the future remains to be seen.
This week's big market moving events will undoubtedly be the US NFP numbers, which we expect a beat given the jobless claims trends. The RBA will also be announcing it's rate decision on Tuesday as well, where a rate cut is a very real possibility given the poor inflation numbers that Australia has reported recently. On the overall, we expect the USD to perform well against the EUR, AUD and CAD over the next one to two weeks.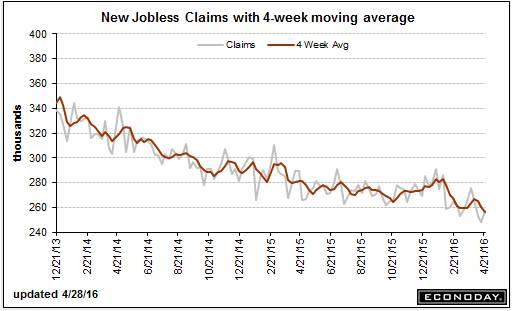 Trading and Technical Strategy for the week ahead:
| | | | | |
| --- | --- | --- | --- | --- |
| Instrument | Fundamentals | Short term bias (1-3 days) | Medium term trend (1wk-3mths) | Long term trend (>3mths) |
| EUR/USD | Bearish | Bearish bias being challenged | Bearish bias being challenged | Bearish |
| AUD/USD | Bearish | Bearish | Bearish bias being challenged | Bearish |
| USD/JPY | Bullish | Bearish | Bearish | Bullish bias being challenged |
| USD/CAD | Bullish but weakening | Bearish | Bearish | Bearish |
| WTI OIL | Bearish but improving | Bearish | Bullish | Bearish bias being challenged |
EUR/USD (FXE)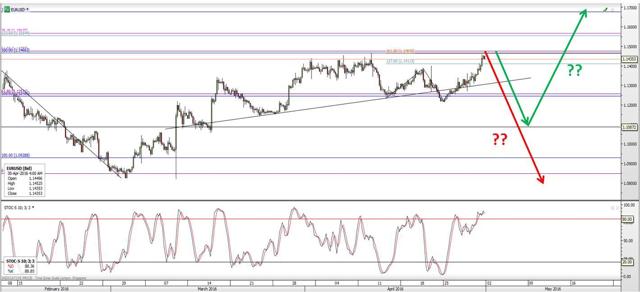 Click to enlarge
| | |
| --- | --- |
| Key Levels | |
| Support: | 1.1410/ 1.1380/ 1.1280/ 1.1240/ 1.1160/ 1.1110/1.1090 |
| Resistance: | *1.1460/ 1.1500 |
| | *Level to consider buying at for support & selling at for resistance for intra-day trades |
Eurozone GDP beat expectations with a Q1 GDP YoY growth of 1.6% vs. 1.4% exp. However, inflation numbers continue to show the Eurozone sinking deeper into deflation at -0.2% vs -0.1% year on year for April. The rally in EUR/USD during the Friday session following the poorer than expected Chicago PMI numbers has provided in our view a great opportunity to add to shorts for the EUR at this time. Whilst shorts have been frustrated so far, we think that they will eventually be rewarded given the Eurozone deflation fundamentals and the EUR being extremely overbought now on the weekly, 4 hourly and hourly time frames. We see any upside move from here limited and will be looking for downside in the week ahead with a good non-farm payroll number as a catalyst in our opinion.
Trading strategy:
We have been selling around current EUR/USD levels to add to our existing short position and expect downside in the EUR to resume in the next few sessions with a target of 1.1110/1.1090. Whilst fundamentals point to a lower EUR at this point, we prefer to take a cautious stance with regards to the EUR from a technical perspective and not play for anything past the 1.1110/1.1090 to the downside given that a rate hike by the Fed has now been pushed back to June and possibly July.
Given the current circumstances, we think the green path where the EUR tests 1.1110/1.1090 and then moves higher possibly towards 1.1700 thereafter is the primary scenario we are preparing for at this time to complete the long term corrective move to the upside that has been in play since March 2015. Whilst this seems contrary to the overall bearish EUR stance, it is important to note that the technical picture at times diverges from the fundamental picture and to ignore it in the currency markets is a risky thing to do, especially with current market conditions. To quote Keynes, 'The market can remain irrational a lot longer than you can stay solvent'. Given that currency trading is mostly done on leverage this quote is something to always keep at the back of your head, if you want to stay profitable in this asset class. Do join our free mailing list on our site to recieve daily updates on the tehnical and fundamental changes to keep up to date with what is happening in the market.
USD/JPY (FXY)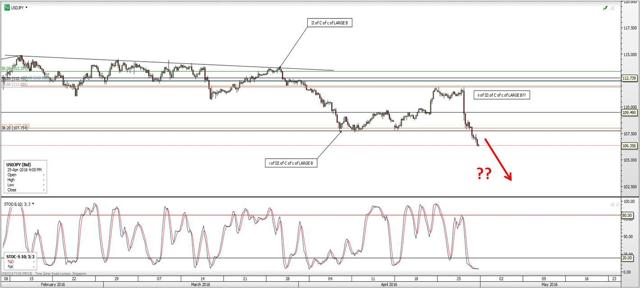 Click to enlarge
| | |
| --- | --- |
| Key Levels | |
| Support: | 106/ 105.50/ 105 |
| Resistance: | 106.50/ 107.10/ *107.75/ 108.70 |
| | *Level to consider buying at for support & selling at for resistance for intra-day trades |
The USD/JPY sliced through the 107.75 support like a hot knife through butter after the BOJ failed to add any new stimulus measures. The pair at this point has very little support on the way down toward the 105 level followed by the 100.77 level. We expect the pair next week to rebound from around the 106 level to work off the oversold conditions before continuing the decline to the downside. With recent rhetoric now suggesting currency intervention will take a back seat for the USD/JPY, selling pressure will remain on the pair until either the BOJ steps in or the Fed indicates a resumption of it's rate hike cycle. Two events we do not like betting on for the immediate term.
Trading strategy:
Given that the technicals are immediately bearish, short term traders can sell any rebound to 107.75, keeping a tight stop at 108.75. The target for this decline is currently the 105 level. We would be cautious on taking anything other than a short term trade for the pair at this juncture.
AUD/USD (FXA)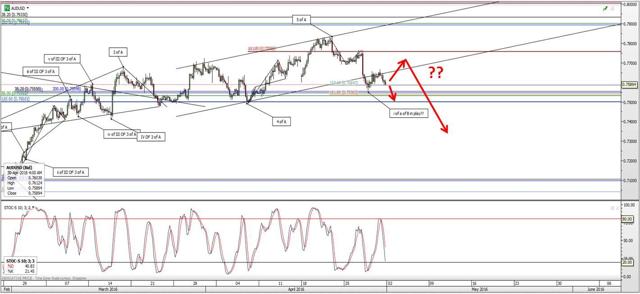 Click to enlarge
| | |
| --- | --- |
| Key Levels | |
| Support: | 0.7600/ 0.7560/ 0.7480/ 0.7420 |
| Resistance: | *0.7650/ 0.7670/*0.7760/ 0.7850 |
| | *Level to consider buying at for support & selling at for resistance for intra-day trades |
It is anyone's guess which of the red paths is playing out for the AUD/USD. Whilst technicals favor the red path toward 0.7530 before a rebound for now, the fundamental picture undoubtedly continues to point to the downside over a slightly longer time frame. Chinese PMI data is due over the weekend we should dictate which of the red paths the AUD/USD takes just before the RBA meeting on Tuesday where a rate cut is a very possiblity given the dismal inflation numbers released this week.
Trading strategy:
We would sell any rallies to 0.7650 and 0.7730 for a play on the 0.7525 level and lower. We would cut out of all shorts at the 0.7855 level. The profit targets would be the 0.7525 level first before a potential move back down toward the 0.7320 level.
USD/CAD (FXC)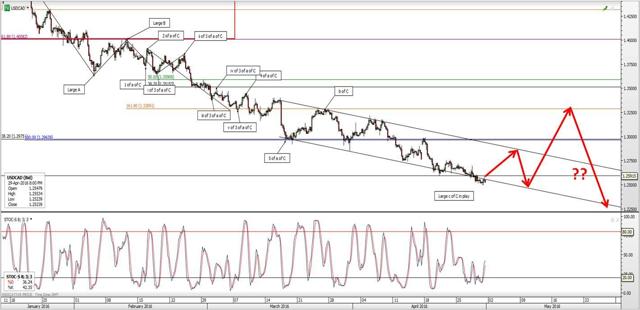 Click to enlarge
| | |
| --- | --- |
| Key Levels | |
| Support: | *1.2500/*1.2450/ 1.2320 |
| Resistance: | 1.2560/ 1.2590/1.2620/ 1.2800/ 1.2920/ 1.2980 |
| | *Level to consider buying at for support & selling at for resistance for intra-day trades |
The USD/CAD remains at the lower end of the channel at this point and is extremely oversold on the weekly, daily, 4 hourly and hourly time frames. As such, we expect a move up in the USD/CAD to materialize in the not too distant future especially into next week. Given that WTI looks to be in the beginnings of a correction we think the CAD will likely sell off in tandem with WTI oil.
Trading strategy:
We are looking to buy into the pair at the 1.2500 level now with an expectation that the pair will start a significant rebound this coming week in tandem with a likely correction in oil prices. We would cut out of all long positions on a break of 1.2400 with a target of 1.2800/1.2900 to the upside.
WTI OIL (USO)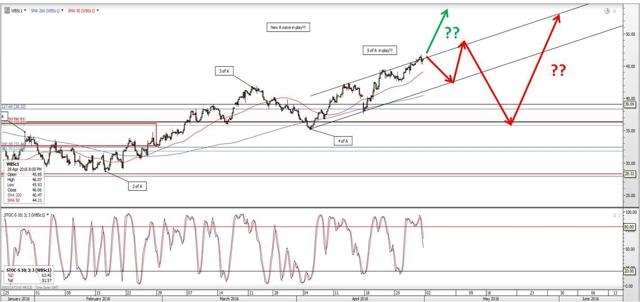 Click to enlarge
| | |
| --- | --- |
| Key Levels | |
| Support: | 45.60/ 44.60/ 42.80/ 41.90/ 40.00 |
| Resistance: | 46/ 47.15/ 48.30 |
| | *Level to consider buying at for support & selling at for resistance for intra-day trades |
*Note on our price chart: Before we dive into the WTI technical analysis, we have decided to use the WTI continuous futures price as a chart instead of the original spot price posted in our article. This price will match the nearest dated WTI Crude futures contract which will switch automatically once the contract settles, moving on to track the next nearest dated futures contract. We will also be only analyzing the technical aspect of the WTI price, given the fundamental aspect of WTI oil is well covered by many subject matter experts in the energy commodities section. At this time, the nearest dated futures contract being tracked by the above price chart is the May 2016 contract.
WTI oil looks to have begun a correction in the Friday session. The commodity is currently very overbought on the weekly, daily and 4 hourly time frames which tilts the risk toward a correction in the near term.
It is also important to note that the latest production numbers from OPEC suggests Iran has managed to grow their production faster than expected which puts pressure on supply fundamentals.
Whilst catalysts for a sell off next week are not very clear at this time, we are looking for short positions in USO to play the vulnerability of current prices to the downside in the short term. However, whilst we are bearish in the near term, we remain bullish for the medium to longer term at this point and will be looking for buying opportunities in the coming correction.
Trading strategy:
We are looking to short USO or WTI futures to play this expected short term move to the downside. We would place a stop loss for any short positions at $46.50. For reference, the red path is our primary expectation at this time.
Do follow us on our site and sign up for our free mailing list to recieve daily updates and changes to the technical pictures of these instruments and more.
RISK DISCLOSURE:
HIGH RISK WARNING: Foreign exchange, Futures and ETF trading, carries a high level of risk that may not be suitable for all investors. Leverage creates additional risk and loss exposure. Before you decide to trade any instrument, carefully consider your investment objectives, experience level, and risk tolerance. You could lose some or all of your initial investment; do not invest money that you cannot afford to lose. Educate yourself on the risks associated with trading, and seek advice from an independent financial or tax advisor if you have any questions.
ADVISORY WARNING: THEMARKETJOURNAL provides references and links to selected blogs and other sources of economic and market information as an educational or informational service to its clients and prospects and does not endorse the opinions or recommendations of the blogs or other sources of information. Clients and prospects are advised to carefully consider the opinions and analysis offered in the blogs or other information sources in the context of the client or prospect's individual analysis and decision making. None of the blogs or other sources of information is to be considered as constituting a track record. Past performance is no guarantee of future results and THEMARKETJOURNAL specifically advises clients and prospects to carefully review all claims and representations made by advisors, bloggers, money managers and system vendors before investing any funds or opening an account with any brokerages or dealers. Any news, opinions, research, data, or other information contained within this article and our website is provided as general market commentary and does not constitute investment or trading advice.
THEMARKETJOURNAL expressly disclaims any liability for any lost principal or profits without limitation which may arise directly or indirectly from the use of or reliance on such information. As with all such advisory services, past results are never a guarantee of future results.
Disclosure: I/we have no positions in any stocks mentioned, and no plans to initiate any positions within the next 72 hours.
I wrote this article myself, and it expresses my own opinions. I am not receiving compensation for it (other than from Seeking Alpha). I have no business relationship with any company whose stock is mentioned in this article.