Within a few days of Colgate-Palmolive Co. (NYSE:CL) announcing its earnings, Daniel Jennings published a piece titled "Can Colgate-Palmolive Survive?" I initially wondered upon reading the article's summary and numbers if I should ditch my shares in CL - was the report that bad?
Then I read his arguments, which were based on the reduced revenues that CL had seen on a year-over-year (YoY) comparison and what he painted as a dreary spiral. He concluded that a private labels combined with a reduction in retailers, such as several chains selling out or closing, show that CL and other big brands in the future will be the losers as they have lost their ability to make money.
But, the article seemed to not really dig into the CL report, and made some very broad assumptions. It did not consider de-consolidation and limited charges that CL had incurred. Thus, when you did deeper into the numbers, one can find several signs that CL will not only survive, but continues to thrive…such as:
Net sales of $3,762 million in the first quarter (Q1), a 7.5% decrease YoY
*However, this was including divested businesses and de-consolidation of its Venezuelan operations; if you take those out, unit volume was up 3.5%, pricing increased 1.5%, and that little headwind (little is sarcastic here) that all companies with foreign sales face - forex - had a negative 8.0% impact.
* In fact, on a currency-neutral basis and excluding charges from the 2012 Restructuring Program and Venezuela in both periods, Diluted earnings per share increased double digits.
Organic sales grew 5% - well ahead of the Procter & Gamble (NYSE:PG) 1% recently reported, and was led by a 7.5% increase in emerging markets.
Gross profit margin in Q1 grew from 58.8% to 59.8 percent
without restructuring considerations Operating profit increased to $867 million in first quarter 2016 compared to $860 million in first quarter 2015 Net cash decreased to $614 million from $727 million in the comparable 2015 period, but again reflected three events: Venezuela's de-consolidation, higher income tax payments, and a voluntary contribution to an employee postretirement plan.
Ian Cook, the CEO stated, "We anticipate another year of solid organic sales growth in 2016, driven by a full new product pipeline across all categories and geographies."
A Closer Look at the Arguments
The private label brand has some merit, as those same retailers such as Costco (NASDAQ:COST) and Walmart (NYSE:WMT) do have their own brands, with Kirkland being a high quality choice. But Colgate still owns 43.8% of the toothpaste market - about 1% down from 2015. While some might argue that 1% is evidence of a decline, the chart below shows that CL has remained very strong in this category with some expected fluctuations. The consistent numbers have also shown that even as private labels have appeared, CL has maintained its edge, likely through its new products that have fueled its growth and protected its prime shelf space, thus keeping competitors at bay.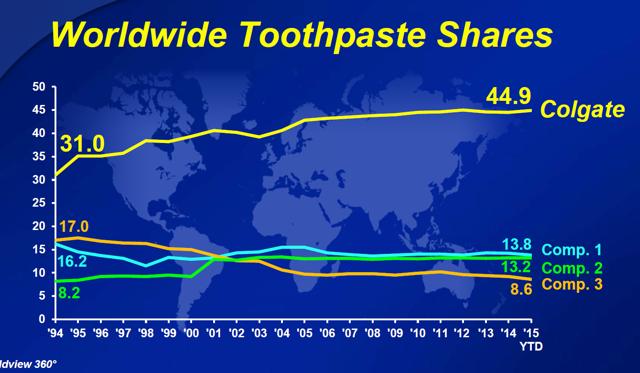 Click to enlarge
From CL's report to the Consumer Analyst Group of New York Conference, February 19, 2016
Additionally, the author and many readers can assume that CL's products are beat on price by the generics. But he seems to lack the understanding that CL's brands, especially toothpaste, are built on all price points. Thus, when he argues that Dollar General is selling their toothpaste at such a steep discount, he is absolutely correct - the Colgate they sell is specifically created for the consumer who goes to that type of outlet for toothpaste. And they can say the same for their dish detergent, which is sold simply in smaller bottles or more generic fragrances at those locations.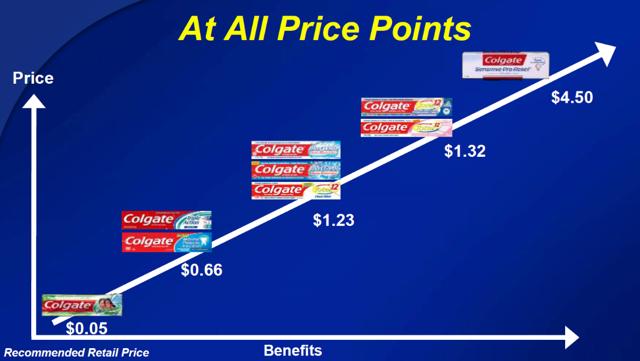 Click to enlarge
The second argument was that the lack of retailers diminish outlets for sales. But even as one grocer crashes or sells out to avoid the death spiral, the need for staples does not just evaporate. One continues to brush one's teeth, wash dishes, and need the basics of home. And once we have a brand we find we like and works, we tend to stick with it, regardless of the outlet, and even try out its newest products. It is not like my local Roundy's closes and I just stop brushing my teeth, or automatically switch brands - I now will find a Kroger or similar store and buy my necessities. All the stores mentioned stock their shelves with CL products, and clearly have seen no major shifts in sales.
A Thesis that Retailers will Rule
At the end of the article came out a real thesis - that value investors should buy the retailers as "Colgate-Palmolive proves the future of consumer-defense stocks belongs to big retail and not to big brands." While I don't disagree that these brands will be in a fight to jockey for position on the shelves and for pricing, it has two flaws. First, it assumes loyalty is an automatic swap to the alternative. The chart above and retained percentage of sales on a global basis say nothing of that assumption. Time will tell, but as long as CL makes products that differentiate themselves from the private labels and keep their marketing intact, survivability is not a question.
Second, R.H. Coase's theories of the firm will prevail. Retailers don't actually make the majority of their private label products - the big brands do, and it because Coase noted that mutually beneficial agreements will be reached when integration and/or acquisition is far too inefficient. Kirkland brand is the epitome of this - it does not have its own factories and distribution line; it simply contracts these items to other big names and they profit off the quantity of sales versus margin. CL may need to adapt by entering some of these agreements, but more likely management will continue to produce items of superior quality and prove their worth through performance and marketing.
CL's Thriving Considering its Headwinds
The author concluded with a push to dump consumer staples as they are not "reliable money makers." Basing this on a YoY report that showed decreases, but failing to account for the major forex headwinds and restructuring charges makes this a bit of a blemished statement. I am very content with CL's growth, and actually buy it on a weekly basis through my Sharebuilder Account. I feel it is a good anchor stock in a portfolio needing something that can weather a storm. Questioning its survivability is a bit presumptuous, as the company shows no signs of entering a death spiral.
Additional Disclaimer: I am a fan of most stock in XLP, and while my style of buying dividend and value stocks fits my life, it may not fit yours. Investors should always conduct their own due diligence before investing in any stock.
Disclosure: I am/we are long CL, PG.
I wrote this article myself, and it expresses my own opinions. I am not receiving compensation for it (other than from Seeking Alpha). I have no business relationship with any company whose stock is mentioned in this article.