Introduction
Exxon Mobil (NYSE: XOM) has long been considered the most significant of the oil majors. The company is the largest existing descendant of John D. Rockefeller's Standard Oil company. The company as it exists was formed in 1999 by the merger of Exxon and Mobil in what was one of the largest mergers for the time.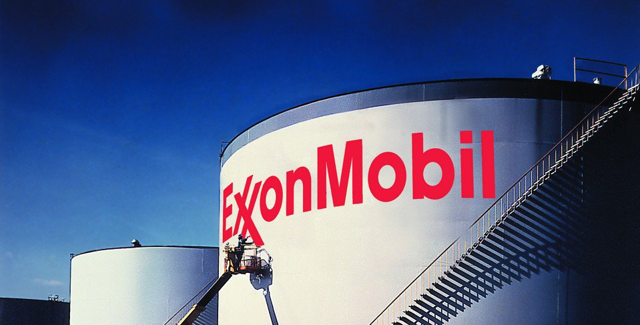 Click to enlarge
Exxon Mobil Oil Storage - Lippincott
Exxon Mobil is a dividend aristocrat currently yielding 3.39% with a market cap of almost $367 billion. The company has had a difficult time since the start of the oil crash with its price fluctuating. The company has dropped from its 2014 peak share price of over $100 per share down to August 25 lows of just over $70.
A 30% drop in a time when oil prices dropped 75% from their high to their peak shows Exxon Mobil's staying power. More so, the company's stock price has increased by 20% since these lows and is now only 12% below its 2014 highs during a time period when oil prices are less than half their 2014 peak.
While this will have many investors worried, as we move through the article, the reasons will become clear.
First Quarter 2016 Overview
Now that we have an overview of Exxon Mobil, it is now time to talk about its 1Q 2016 results. The company reported $1.8 billion of first quarter earnings during a time of average oil prices of $35. This comes out to average earnings of $7.2 billion giving the company a P/E ratio of 50, high, but not for the bottom of the cycle.
More so, with current oil prices at approximately $45 per share and Exxon Mobil's production for the next quarter estimated at 0.36 billion barrels, this will point to $3.6 billion in higher profits.
Let us assume for the short term that prices remain at $45 per barrel for a substantial portion of the downturn.
Based on the above numbers, we expect the company's earnings to average $21.6 billion per year which gives it a P/E ratio of 15. That is a relatively impressive P/E ratio for a dividend aristocrat when prices are less than half of what they were two years ago. And prices should continue going up.
More importantly, the company also reported $5.0 billion of cash flow from asset sales. Exxon Mobil is a company with top tier assets, and selling these assets at higher valuation will bring the company increased cash to cover its spending needs. The company has also continued to decrease its capex and has taken advantage of a strong downstream market spread.
Click to enlarge
Exxon Mobil Q1 2016 Earnings - Exxon Mobil Investor Presentation
The above image provides an overview of the company's earnings. On a per share basis, the company's diluted earnings per share was $0.43. However, on the negative side, the company had $3.1 billion of shareholder distributions along with $5.1 billion of capex spending for $8.2 billion. This $8.2 billion in costs significantly outweighed the company's $1.8 billion in earnings meaning the company had to bring $6.4 billion from asset sales and debt.
The company's $5.0 billion of asset sales covered the majority of the earnings cost leaving the company with $1.4 billion that had to be raised from debt. On an annual basis this means this company's debt load is increasing by 15% per year, a substantial amount. This can be seen as the reason for Exxon Mobil losing its spectacular position as one of the three companies with a AAA credit rating.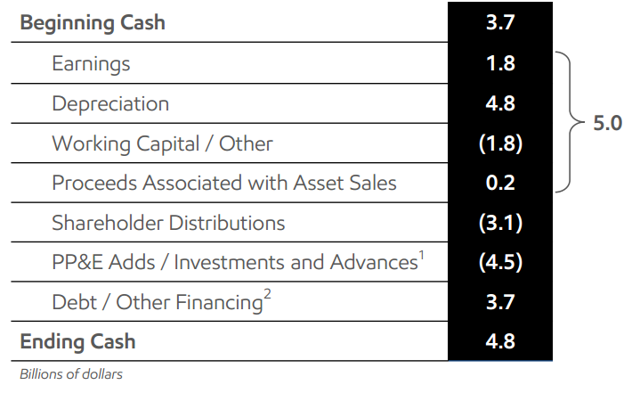 Click to enlarge
Exxon Mobil Cash Change - Exxon Mobil Investor Presentation
However, the company chose to take this a step further and actually increase its cash pile by $1.1 billion as it raised $3.7 billion in debt. This meant that the company's cash pile actually increased for the quarter from $3.7 billion to $4.8 billion. Most importantly, the company gained $4.8 billion in its cash pile from depreciation.
Volume Change
Now that we have an overview of the company's 1Q 2016 results, it is now time to talk about the company's volume change for production.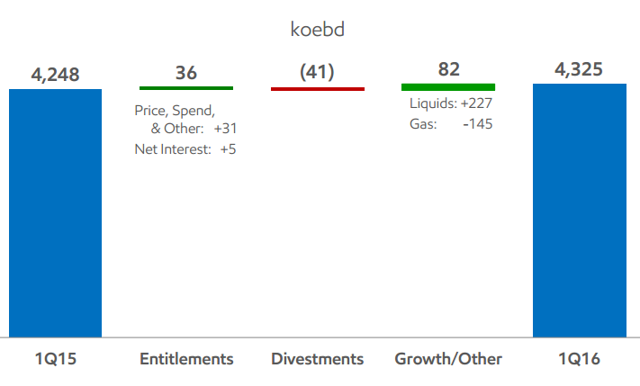 Click to enlarge
Exxon Mobil Volume Change - Exxon Mobil Investor Presentation
Over the past year, we have seen how the company's volume has changed with the company's production increasing by 1.5%. The company's entitlements brought 36 thousand barrels per day of production along with 41 thousand barrels of divestments. However, a significant increase in liquid production helped the company out.
The company's 4.325 million barrels of 1Q 2016 earnings brings a huge potential for a future earnings increase. The company produces 1.58 billion barrels of oil on an annual basis. That means should prices recover to a more stable level of $75 per barrel, that will bring the company an additional $30 per barrel of profits. That comes out to $48 billion per year in profits. With these profits that bring the company's P/E ratio down to eight.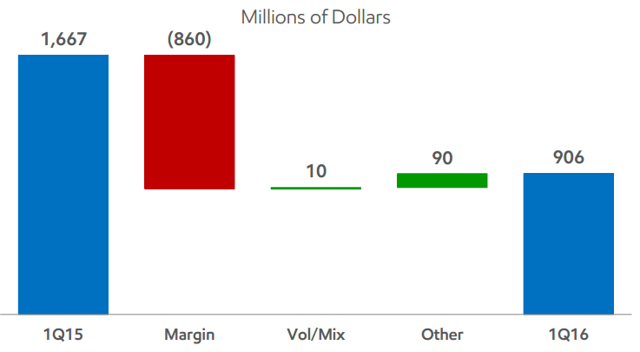 Click to enlarge
Exxon Mobil Downstream Earnings - Exxon Mobil Investor Presentation
However, there is a negative to be seen here. Since the start of the crash, most of the oil majors have been propped up by a rapid increase in downstream spreads allowing them to bring increasing profits.
However, this margin has been decreasing significantly over the past year which resulted in an almost $0.9 billion decrease in Exxon Mobil's earnings from margins.
This takes into account the company's increase in earnings from an increase of margins that provided it with a relatively minimal $0.01 billion earnings boost.
So while the company's increase in earnings from volumes have provided it with a small boost, these relatively small increases have been drowned out by more significant changes in the macroeconomic oil markets.
Projects
Now that we have discussed Exxon Mobil's 1Q 2016 earnings along with the company's volume change, it is now time to talk about the company's projects.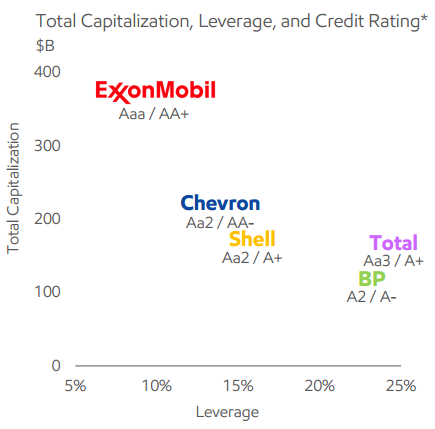 Exxon Mobil Credit Rating and Leverage - Exxon Mobil Investor Presentation
To start, let us talk about Exxon Mobil's financial flexibility, that is its ability to undergo future exploration projects. The company's current AA+ credit rating is a step down from its previously widely respected AAA credit rating. At the same time, the company's leverage remains between 10-15%.
This contrasts to its competitors that have a noticeably lower credit rating and higher leverage, meaning the company has less ability to expand. As a result, when competitors begin selling assets at fire sale prices to raise the necessary money, Exxon Mobil has the ability to issue debt to snap up these assets. These assets can help Exxon Mobil's long-term potential.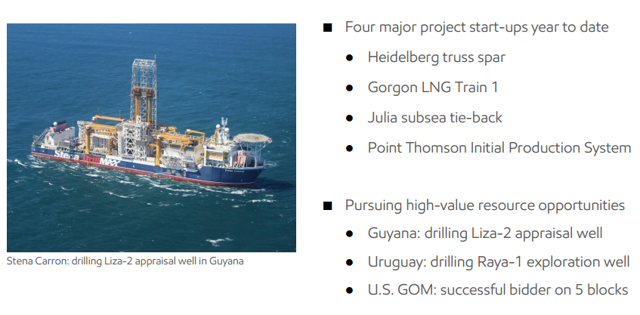 Click to enlarge
Exxon Mobil Project Startup - Exxon Mobil Investor Presentation
More so, the company continues to undergo major project startups including bidding on land in the United States and drilling in South America. The company has also had four major project startups that are accretive to the company's production. This support for the production coupled with the company's increase in reserves will help its long-term growth.
Exxon Mobil - The Growth Story
Throughout this article, I have talked about Exxon Mobil's 1Q 2016 results along with its volume change and its projects including its ability to use debt to expand compared to its oil major peers. Now I'm going to talk about the long-term potential of Exxon Mobil. This discussion will revolve around future growth in demand for oil along with Exxon Mobil's ability to continue growth as such a large company.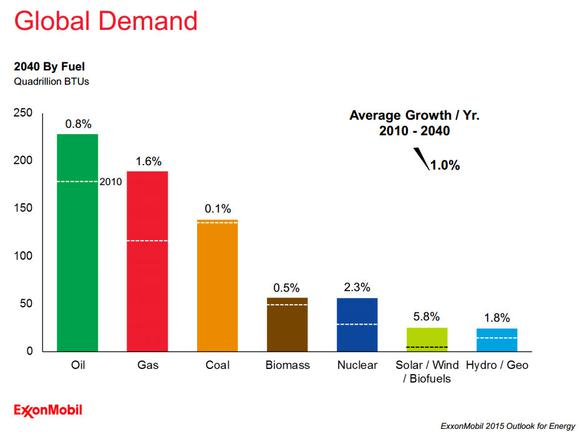 Global Oil Demand - Motley Fool
Let us start by talking about the overall increase in global oil demand over the coming decades. From 2010-2040, worldwide oil demand is expected to increase at 0.8% year over year, which should result in a 30% increase in oil demand over this time period. That means from now until 2040, we can expect oil demand to increase by approximately 25%, which means oil demand will go from 90 million barrels per day to ~120 million barrels per day.
This is a respectable increase in demand especially when taking into account that major sources of supply like the Ghawar Field in Saudi Arabia that produce 5% of the world's oil are expected to run out in the coming decades. As a result, major sources of supply will need to come online in the coming decades to make up for this shortcoming, sources that will likely come from Exxon Mobil.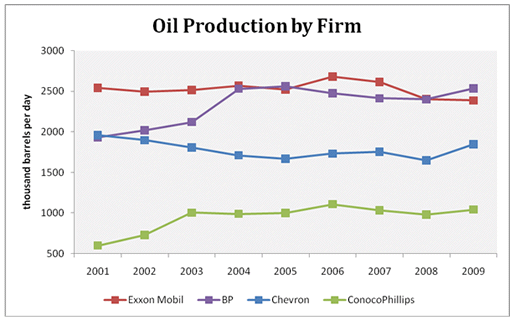 Oil Production By Firm - Street Authority
However, there is something disappointing to be seen here. Exxon Mobil's oil production has remained relatively constant over the past decade-and-a-half. And this year became the first time in two decades the company did not replace the oil it pulled out of the ground, hurting its long-term potential.
But what we did see earlier is Exxon Mobil's potential to make $10+ billion profits per quarter with a moderate recovery in oil prices. With ~$6 billion in sustainability capex as seen from history and $3 billion in quarterly dividends, this means the company still has room to significantly increase dividends.
Exxon Mobil has increased its dividends by 10% in the past two years since the start of the oil crash. That means with $10 billion a year in profit, the company can still handle 6 years of dividend increases, more than enough time to wait for a major oil price recovery.
Conclusion
Exxon Mobil has had a difficult time recently with the major drop in oil prices. Yet despite this, the company still remains more dominant than all other oil majors and has continued earning strong profits.
More so, as we have found, the company has the potential to earn billions more with a recovery in oil prices up to just $35. More so, with such an increase, the company can continue increasing its dividend, maintaining its impressive dividend aristocrat status.
As a result, I would recommend investors open a position in the stock unless they are already holding the stock, in which case, they should use downturns such as this one to increase their position.
Disclosure: I am/we are long XOM.
I wrote this article myself, and it expresses my own opinions. I am not receiving compensation for it (other than from Seeking Alpha). I have no business relationship with any company whose stock is mentioned in this article.