The Hershey Company (NYSE:HSY) has seen its stock price drop in the last year due to a Chinese investment - namely, Shanghai Golden Monkey. Issues with the Chinese firm's distribution network, and the well-known issues with the Chinese economy generally, led J.P. Bilbrey, the chairman, president and CEO of Hershey, to state that:
The sales forecast for the business in 2015, around $90 million is less than our initial expectations of at least $200 million.
Small wonder, then, that there was a stock sell-off in the fall of 2015. Still, the company believes that, in the long-run, the Shanghai Golden Monkey investment will pay off long-term. The question for common stock investors is, should they look at Hershey now?
Overview
Founded in 1894 by Milton Hershey, based in Hershey, Pennsylvania (a town founded by the same man) and incorporated in 1927, the Hershey Company is a chocolatier with a market capitalization of $20.16 billion, a workforce of 21,000 employees, and a huge portfolio of confectionery treats.

Click to enlarge
In addition to their own offerings (e.g. Hershey bars, syrups and spreads; Reese's peanut butter products; Milk Duds; Twizzlers; and the infamous Hershey's Kisses), Hershey have a licensing agreement with Nestlé (OTCPK:NSRGY) to make and distribute Kit-Kat and Rolo chocolate in the United States.
Hershey also have a licensing agreement regarding the manufacture and distribution of Cadbury chocolate in the United States, while internationally Cadbury's products are made and distributed by Mondelez International (NASDAQ:MDLZ).
The Hershey Trust Company, set up by Milton Hershey in 1905, retains a large ownership in the chocolate company, holding over 12 million shares in the firm. It uses the dividends derived from these shares to fund other concerns such as the Milton Hershey School for underprivileged children. Having a controlling factor such as this is a great market stabilizer which should reassure potential investors who may be considering Hershey as an investment.
Competitive Advantage
Hershey dominates the U.S. chocolate market, controlling 44.4% of the market. The privately held Mars Inc. is in second place with 28.9%, Lindt & Sprungli (OTC:COCXF) (OTCPK:LDSVF) controls 9.5%, Nestlé controls 5.6%, and the remaining 11.6% is divided among all others. This dominance is a huge part of Hershey's competitive advantage.
This market dominance means that the Hershey name has strong brand recognition. Their products clearly have strong customer loyalty, which provides the chocolatier with immense pricing power, allowing it to consolidate its market share still further.
The financial stability that their market pre-eminence gives them is underlined by their dividend payout history. Hershey has paid dividends for over forty years, and they have been consistently raised every year except one, in 2009 - and that was due to the uncertainty surrounding the Great Recession. Hershey is therefore a wide-moat dividend growth stock.
Furthermore, the company still has wide room for growth internationally. In 2015, Hershey's North American net sales were $6,468 billion, while their international and other net sales were $918 million. Clearly, therefore, there is still room for expansion with this $20.16 billion dollar company.
Valuation
Hershey is currently trading in the low $90 range at a forward P/E ratio of 20.10, sporting a dividend yield of 2.50% and a payout ratio of 54.9%. Using a discounted cash flow analysis, Hershey has earnings per share (trading twelve months) of $2.33, and earnings are expected to grow at a rate of 7.21% annually for the next five years, leveling off to a rate of 8.2% afterwards. Using an 11% discount rate (the average return of the stock market, adjusted for inflation and including dividends), I calculate fair value for Hershey at present to be $86.19.
Morningstar put Hershey at fair value of $103.00, and if the two results are averaged out, we get a final fair value of $94.60. Hershey is therefore currently trading at fair value at this time.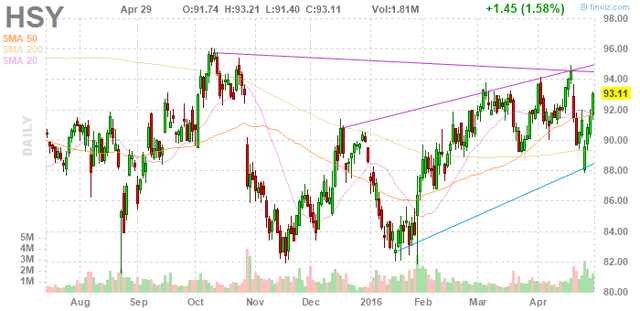 Click to enlarge
Conclusion
Hershey is an investment that you could literally buy and forget about, just allowing it to compound away. The company usually trades at a premium, and is currently trading for fair value. It is dominant in its market, still has significant scope for international expansion, has a decent payout ratio and stellar dividend history. None of these advantages look to be in any danger either. Consequently, now may be the perfect time to look into beginning an investment with this blue-chip chocolatier.
DISCLAIMER: I am not a financial professional and accept no responsibility for any investment decisions a reader makes. This article is presented for informational purposes only. Furthermore, the figures used are the product of my own research, and may differ from those of other analysts. Do your own due diligence when looking into investments.
Disclosure: I am/we are long HSY.
I wrote this article myself, and it expresses my own opinions. I am not receiving compensation for it (other than from Seeking Alpha). I have no business relationship with any company whose stock is mentioned in this article.
Editor's Note: This article discusses one or more securities that do not trade on a major U.S. exchange. Please be aware of the risks associated with these stocks.