Capstone Turbine (NASDAQ:CPST) remains one of my favorite clean energy picks. The company has been extremely undervalued by the market despite its record revenue growth, margin improvements, award-winning products and favorable "green" public policy. This article will highlight some key recent developments for CPST which may interest both traders and investors alike.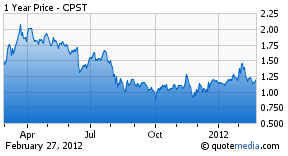 On February 27th, CPST announced that it received an order for the first C1000 Power Package from an oil & gas producer in Southern California. The application will be combined heat and power (CHP) which saves operating and maintenance costs and avoids flaring, one of the most challenging energy and environmental problems today at oil & gas sites and landfills.
"Nearly 150 billion cubic meters of natural gas are flared in the atmosphere annually," said Jim Crouse, Capstone's Executive Vice President of Sales and Marketing. "Flaring is a waste of natural resources and creates 400 million metric tons of CO2 equivalent global greenhouse gas emissions, which has a significant impact on the environment, not to mention the associated health issues. Capstone microturbines use associated gas to generate low-emission power, which eradicates flaring and enables producers to utilize otherwise wasted gas for production."
The rapid expansion of oil and gas drilling in recent years has helped drive Capstone's growth.
President Obama's push for renewable energy and his emphasis on expanding domestic oil production are extremely positive for Capstone. Business tax credits spur the demand for Capstone's certified microturbines. The President actually mentioned CPST by name publicly in March, 2011. And, on February 27, 2012 a research report was released detailing how Obama's newly proposed policies specifically benefit CPST.
In fact, the microturbine space in which CPST operates is much more energy-efficient than solar alone. CPST demonstrated the HelioFocus Solar Concentrator which focuses enough sunlight energy to provide heat to drive the microturbine.
According to the company,
This renewable solution offers higher solar conversion efficiencies over traditional solar photovoltaic systems. In addition the increased power density of this system should reduce the amount of land required by a traditional solar photovoltaic system.
Thus, I believe that CPST has much better potential than solar energy companies such as JA Solar Holdings (NASDAQ:JASO), First Solar (NASDAQ:FSLR), Suntech Power (NYSE:STP) and SunPower (NASDAQ:SPWR). Additionally, 42% of CPST's float is held by institutions whereas the largest institutional holding of the aforementioned solar companies is under 32%.
On Friday, February 10th, Ardour Capital analyst Walter Nasceo, a well-respected alternative energy analyst, raised his rating on CPST to "buy" with a $2 price target. The last time Nasceo initiated a buy rating on CPST, the stock rallied nearly 73% from the $1.45 level to $2.14 per share.
Approximately 17% of the float is short and I expect a major short squeeze to occur. The technicals on the stock are very positive for the near-term with a strong 3-day bullish chart pattern and extreme accumulation. For traders, the stock looks like it will test its next resistance point of $1.44 over the next few days. And for long-term investors, I believe the stock will offer much greater upside.
Disclosure: I am long CPST.