Shares of Apple (NASDAQ:AAPL) closed significantly lower after reporting disappointing Q2 2015 results. With shares finishing the week at $93.74, they failed to break below the January 27 intraday low of $93.42, but that break may be coming in the near term. Let's face it, the warning has been written on the wall for AAPL shareholders for some time now and the stock is now validating former prescient thoughts regarding the share price performance. With Apple, if iPhone sales keep shrinking, it would be only natural that results would follow in kind.
On January 26, I authored an article titled "Dallas Fed's Manufacturing Survey Clashes With Earnings Season" which also served as a preview of Apple's Q1 2016 results. Within the article was the following chart that depicted a pretty steep decline ahead for shares of AAPL.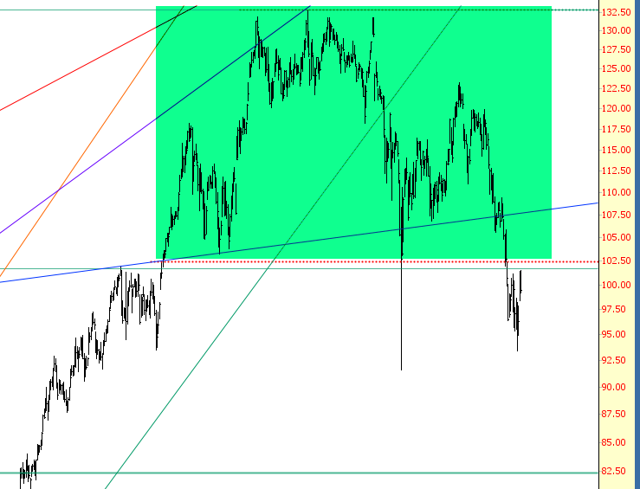 The chart and technical analysis was provided by Slope of Hope blogger Tim Knight. He goes on to say the following:

Now here's the going-out-on-a-limb part: I suspect that Apple is more likely to be down on Wednesday than up. I further think that, in the months ahead, Apple is going to find itself at a place no one dare imagine: in the 70s.

With regards to trading or investing in shares of AAPL, it is hard to distract from the inevitable surrounding a slow down in its core iPhone business. This is what has largely suppressed the share performance and has been validated by analysts to the degree they can achieve sales reads during the quarter. But the iconic Apple Inc. balance sheet offers the company and its shareholders a great deal of flexibility to improve share performance in the future. For longer-term consideration, shareholders of record would likely be wise to lock in profits, but keep cash on hand to deploy if a decline in AAPL share price becomes available post the company's quarterly release.
The basic principle I tend to follow regarding technical analysis is simple: See if the fundamentals support the developing technicals. If the fundamentals do support the technicals then it is generally a good idea to go with what is forecasted in the technical analysis.
Moreover, based on Apple Inc.'s latest quarterly results, I would be of the opinion that shares will likely fall into the $80s in the near term. Obviously, from where shares finished the week that is not a long way off and calls for little predictor forecasting. What is more important is where shares of Apple will bottom and what will bring about a bottoming for AAPL shares.
The iPhone 7 will likely be out this summer or fall. I would propose Apple Inc. releases the device in the Back-to-School season when millions of handsets are sold. The iPhone 7 and any other iteration for that matter is a "have to" occurrence for Apple from here on out as market saturation appears to have been found for smartphones. The user base isn't going to grow all that much for the foreseeable future. Smartphone ownership has reached peak levels in key markets worldwide, Carolina Milanesi, chief of research at Kantar Worldpanel ComTech, said in a report back in late February. In North America, 65 percent of consumers own a smartphone. In Europe, that number jumps to 74 percent. In China, the figure rests at 72 percent. This translates to markets with fewer and fewer first-time buyers. In order for Apple to grow iPhone sales again, they need to not only advance the product into new regions and offer a less expensive handset, but they also need to grab market share from the competition…at least.
Of course the iPhone 7 has to be the next big "iThing" for 2016, but rumors surrounding the improvements to the handset don't sound too compelling thus far. The iPhone 7 upgrade cycle, therefore, will be fortunate if it even performs to the level of the latest iPhone 6 cycle, which has been found wanting in its own right. It is hard to imagine the iPhone 7, thus far, being the 2016 savior for Apple Inc. and/or its shareholders. It's going to take something much more in my opinion.
Apple has made several acquisitions as noted in their most recent quarterly transcript. But in that we don't see anything new that might move the needle for Apple, as this is quite typical for the company. Apple at the turn of the century found itself a profit machine with high-end products that contrast to that of its competing products and manufacturers, and with great style and function. Within that context, it might be time for Apple Inc. to consider moving downstream and serving more of the mass-market consumer world with mid-level priced hardware equipment. This doesn't mean that Apple has to reduce quality, form or function, but rather source the appropriate infrastructure and materials to do so. While this might ruffle some feathers of the Apple faithful, if revenue and profit benefit from such a strategic business model shift, I'm sure the fan base will adapt.
It has been suggested that in the likeness where Apple Inc. acquired Beats Electronics, they should buy another product manufacturer in a category for which they participate. If that category is wearables, Apple might need to move more quickly as Nokia (NYSE:NOK) has made the first big splash with regard to acquisitions in the wearables space. But before we get further into this subject matter, it's a good idea to recap Apple's Apple Watch, their wearable smartwatch.
In the latest quarterly results, we come to very much understand that the Apple Watch simply isn't living up to expectations. The Apple Watch falls into Apple's "Other" category and accounts for the greatest sales within the category.
Other sales grew 30% YOY, but fell dramatically by 50% sequentially and contributed $2.2bn to net sales. The Apple Watch contributes significantly to the "Other" category, and with retailers not reordering the product at a meaningful rate due to poor sell-through results, the sequential declines become extremely magnified as they have in the currently reported quarter.
Given that there is still a long runway of distribution for the Apple Watch to find, quite frankly, the Watch only one-year "new" should not see any sequential declines. Any aspect of seasonality should be offset by distribution gains…and then some. Other products in the wearables space like Fitbit (NYSE:FIT) fitness trackers and smartwatches have not experienced sequential declines due to this very reason of distribution gains. So with that said, Apple has made a conscious decision not to push too deep into its distribution chain with the Apple Watch. That's not to say the product hasn't advanced distribution, but not to the extent whereby the product's sales would offset sequential revenue declines. Along most any lines of logic, it becomes painfully obvious that all actions put forth by Apple regarding the Apple Watch indicate the product is performing poorly and the next iteration will need to show vast improvements. Rumors surrounding such improvement recently came from 9to5Mac.
The article from 9to5Mac suggests that the Apple Watch 2 will come with cellular connectivity. One of the problems today with the Apple Watch is that it lacks independent cellular connectivity, rendering it tethered to the iPhone. Having a cellular connection just like the iPhone would allow Apple Watch to directly send and receive data when off Wi-Fi without using the iPhone as a pass through. While this may seem like a big deal for the Apple Watch to finally be untethered, I would exercise cautious optimism. With such an improvement and implementation of cellular connectivity will come a separate access charge from that of your iPhone. Where this an advance in technology there is a charge that comes with it, which may not find consumers changing their mind in favor of the device.
Circling back to Nokia and their recently announced acquisition in the wearables space, this came as somewhat of a surprise. Nokia acquired the wearables company Withings for a reported $191mm. The deal is reported to close in Q3 of this year.

Withings is a large player in the wearables and connected fitness categories. Given Apple's hiccups in terms of function and pricing with the Apple Watch, it may serve Apple's purpose to acquire another major player in the wearables category. Fitbit has a range of products within the wearables category, but will likely demand a pretty healthy price and term offer from Apple that would no longer make Beats Electronics the highest priced acquisition by Apple. If not for any other reason, I don't think Apple will go down this road. I say this because Fitbit has maybe another 18 months worth of revenue growth ahead of it before the company finds itself in a like situation to that of Apple, a saturated marketplace with declining revenues. At least Apple has a Services business segment that completes the ecosystem loop and is growing nicely and contributing to total sales at greater than 10 percent now. Fitbit does not have an ecosystem -it very much is a hardware-specific company. Fitbit offers premium services for which the company generates less than 1% of total revenues from. So while the Apple Watch may prove to be of less importance down the road, maybe this time Apple shouldn't make an acquisition in the wearables space like that of Nokia. Truth be told, much like the smartwatches, fitness trackers face similar problems regarding total addressable market hype. These products may not find themselves a longstanding growth story that many are proposing them to be. The steep Fitbit revenue growth deceleration on top of the sequential drops in Apple Watch sales (as identified in Others category for Apple reporting) signal that the greater portion of wearables sales come from distribution gains, as retailers need new products and new categories to entice shoppers.
Apple has a tough road ahead and market saturation is not something the company can fix within a couple of quarterly reporting cycles. Additionally, market saturation is just one of the company's issues presently as competitive as the computing and communications hardware industry is and likely will be for the foreseeable future. Sales will likely continue to decline until they reach equilibrium with the addressable market and/or until the company creates the next big iThing. The technical analysis noted within this article suggests investors should be cautious regarding their AAPL participation as shares may exhibit greater declines in the coming months, but that remains to be seen.
Disclosure: I/we have no positions in any stocks mentioned, and no plans to initiate any positions within the next 72 hours.
I wrote this article myself, and it expresses my own opinions. I am not receiving compensation for it (other than from Seeking Alpha). I have no business relationship with any company whose stock is mentioned in this article.