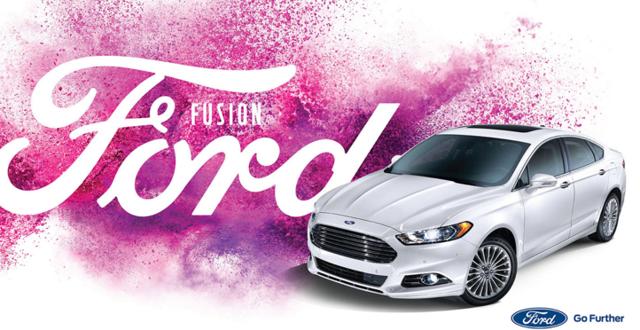 Click to enlarge
Being long Ford (NYSE:F) over the past few years has been a frustrating proposition. The stock continues to jostle about without making any meaningful progress to the upside. This, despite a ludicrously low PE and very high yield, but the fact remains that in my bullishness, I've been proven wrong by the market. I thought Ford would be near 20 bucks or so at this point, but here we sit, staring down $13 and change as we continue to be stuck in a range. Ford hasn't broken out and while the other majors have the same problem despite the auto industry absolutely booming, it doesn't make it any less painful. Ford delivered its best quarter in the history of the company with its Q1 earnings but it seems nobody cares. Such is the plight of the Ford shareholder; is it time to admit that I was wrong about Ford?
As a housekeeping note, I'll be referencing charts from Simply Wall St. throughout.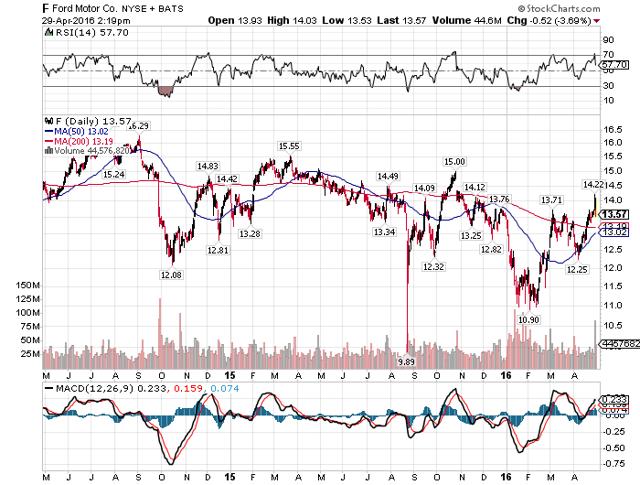 Click to enlarge
Ford has continued to absolutely crush it fundamentally for the last several quarters; sales continue to fly and profits are up even more. Ford is generating very respectable FCF at this point as well, and the fact that investors are so pessimistic is somewhat baffling to me. The auto industry is highly cyclical and requires an enormous amount of capital to run but Ford is doing it very well. But the fact is the stock price is still in a gentle downtrend and that cannot be ignored.
I won't read the press release to you but suffice it to say that Ford's results were very impressive. The company made a record quarterly profit of almost $4B as revenue flew higher and operating margins almost doubled to 9.8%. In addition, the only segment that posted a pre-tax loss was South America as North America continues to produce billions upon billions of dollars in profits and the rest of the world is "less bad" than it used to be. In other words, more of the same and then some from what we've seen from Ford in the past few quarters and in a good way.
But yet again, here we find ourselves off of an amazing quarter with the stock performing weakly as investors shrug off results that couldn't possibly be any better. What is an investor to do in this situation? It's frustrating to be sure, but let's take a look at what analysts think is coming down the road.
This chart shows a few years' worth of revenue projections from analysts and the picture, shall we say, uninspiring.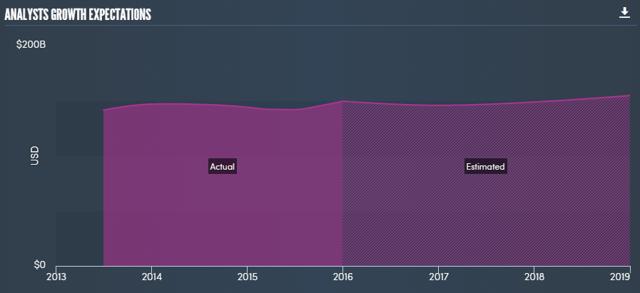 Click to enlarge
There is to be a lull this year and next, and then the year after that and a slight increase in 2019. That's not great, but remember, Ford isn't a revenue growth story; it is one of improving profitability and dividend payments. Still, this doesn't exactly make investors want to run out and buy this stock as revenue is expected to be roughly flat for the foreseeable future.
With the auto market as strong as it has been, I do question just how much revenue growth Ford can produce in the coming years, and as far as upside potential to this chart, there likely isn't much. But as I said, revenue growth is not why investors own Ford.
The problem is that analysts aren't respecting Ford's ability to continue to grow its profitability either, as we can see from this chart of analysts' predictions for absolute profit levels through 2019.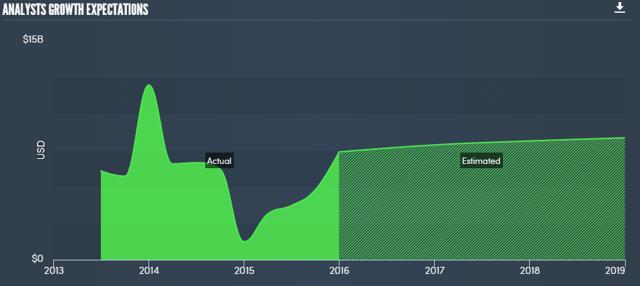 Click to enlarge
The profit picture looks almost exactly like the revenue one before it which is sort of curious; analysts are predicting no improvement in Ford's long-term profitability despite the fact that it continues to do just that. Q1's operating margin was ridiculous (in a good way) and yet, again, nobody cares. I think the bias to this number is clearly to the upside because Ford can post small losses in revenue and hit this trajectory for profits; such is the strength of its margin improvement efforts. And this isn't a new development either; this has been going on for some time.
And in case you were wondering how far Ford has come since the financial crisis that nearly sent it into bankruptcy (or bailout from Uncle Sam), this is a chart of Ford's book value and it is quite impressive.

Click to enlarge
Ford has grown its book value by almost $40B in the past seven years after it was deeply negative coming out of the crisis. This company's sustained profitability has been around for a long time, and as Ford continues to make money, this number will continue to grow despite the fact that it is also returning massive amounts of capital to shareholders.
Speaking of capital returns, Ford continues to pay out a gigantic dividend that is well in excess of 4%.

Click to enlarge
Not only is Ford's current yield huge but it is also a continuation of its growth in the yield since the crisis. Ford, like many others, had to stop paying a dividend in order to save itself financially, but since that time, it has continued to ramp its payouts. That, in fact, has proven the only reason to own the stock in recent years as shares themselves have underperformed. Nonetheless, a 4.3% yield is nothing to sneeze at and many Ford owners, I have no doubt, are plenty happy to collect it for a very long time to come.
But given all of this progress, all of this terrific news, why is Ford continuing to languish? In short, I wish I knew. The fact that I don't know why Ford and the other automakers continue to struggle with their share prices isn't important; it only matters that it looks set to continue. To answer the question I posed in the open regarding whether or not I was wrong about Ford, the answer is both 'yes' and 'no'.
I have been spot on about Ford's business in terms of it producing higher revenue and creating margin leverage as new models come online. However, none of that matters because I was flat out wrong about the share price. Ford's share price has failed to follow the company's fundamentals and as frustrating as that is, it is reality. In addition, being right about the business is no consolation when you're wrong about the share price, so please don't think I'm spiking the ball here; I was on the wrong side of this one.
So we've established I've been wrong about Ford; what do we do now? I was holding Ford mainly for the appreciation I thought I saw coming with the share price. I thought the market would respect Ford's progress on improving not only revenue but profitability as well. That hasn't materialized, so the only reason to own Ford at this point is the dividend. That is a very fine reason in and of itself at 4.3% and growing, but I honestly thought we'd see at least the high teens or $20 by now, and we aren't even close; we're going the wrong direction.
Going forward, it seems Ford has been relegated to a bond equivalent and nothing else. There are no further catalysts on the horizon for the share price to appreciate, so it seems this is what we're dealing with until proven otherwise. Ford's dividend is a very safe and growing payout, so if income is your thing, you can do much worse than Ford. If, however, you're looking for capital appreciation, please learn from my mistake and look elsewhere.
Disclosure: I am/we are long F.
I wrote this article myself, and it expresses my own opinions. I am not receiving compensation for it (other than from Seeking Alpha). I have no business relationship with any company whose stock is mentioned in this article.