This environment has been very difficult for income investors. With inflation high and interest rates really low, it has become extremely difficult for investors to get a nice yield.
With the Fed's decision to keep interest rates low for a longer than expected period of time, income investors are jumping aboard high yields, which is inevitably pumping up the price of stocks and bonds.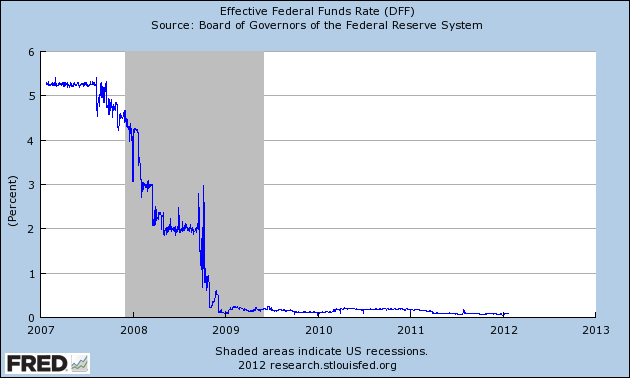 Click to enlarge
(Click to enlarge)
I do not see the Fed keeping interest rates low for too long though. With unemployment falling and consumer sentiment rising, the U.S. economy may be getting its act together. Once the Fed finally begins to see fit to raise rates, they will. The Fed has announced that they only see yields being lower for the next two years, then they will jump back up.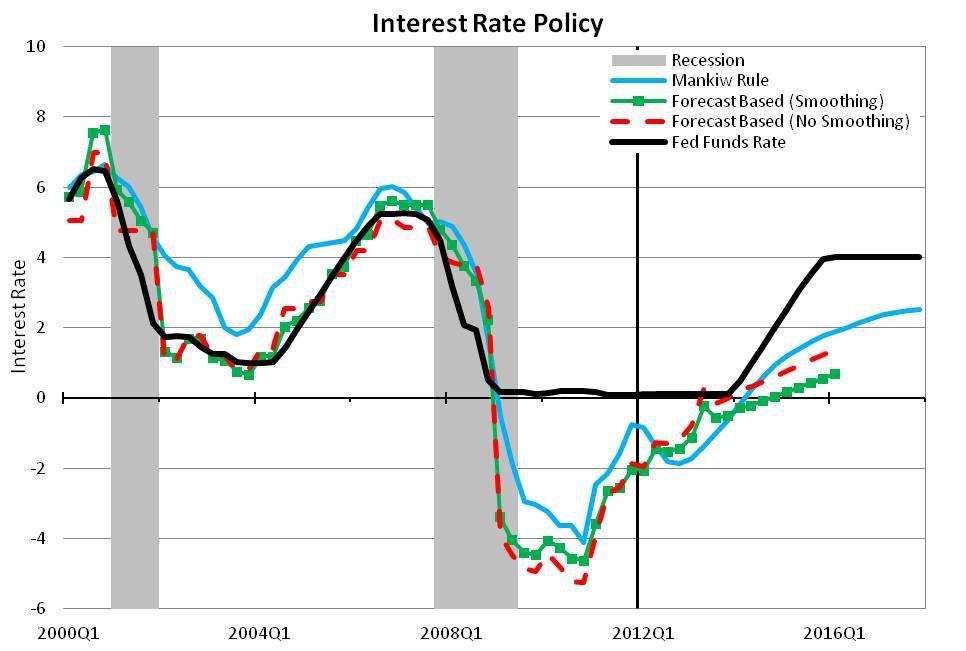 Click to enlarge
(Click to enlarge)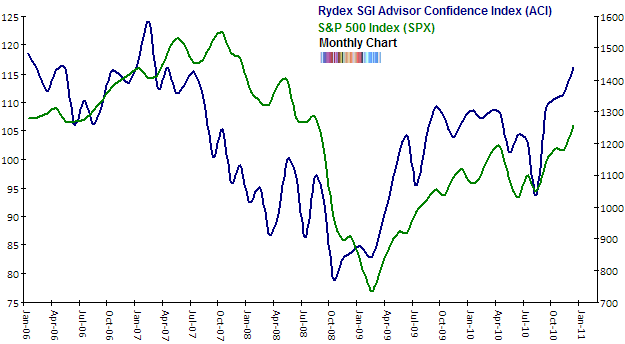 Click to enlarge
(Click to enlarge)
We expect that the Fed's elaboration of its longer-term policy goals will enhance the stimulative effect of its announcement that the federal funds rate is likely to remain at exceptionally low levels at least through late 2014.

- Bank of Canada President, Mark Carney

Actually, in the environment we are in, having a more normal interest rate might be good for the economy. It might be good for those people trying to save. It might be good for the elderly.

- John Ryding, chief economist and co-founder of RDQ Economics.

Little justification to further ease monetary policy.

- Philly Fed President, Charles Plosser
Once this happens, it will end up being really bad for those holding on to high yielding securities. When rates rise, the price will go down.
Now for those willing to hold long-term and just collect interest payments, this may not necessarily apply to you, but for those just looking for some interest in the short-term (1 - 5 years), it will.
Buying a security that yields 8% is great, but what if the principal value declines 30% and stays around that area?
It would take years worth of payments just to recoup your investment. There are some great companies out there that have solid yields, but after the announcement, the prices of these securities have run up considerably.
Take for example, Duke Energy (NYSE:DUK), Verizon (NYSE:VZ), Altria (NYSE:MO), and Consolidated Edison (NYSE:ED). While these are fundamentally sound companies, there is nothing to really indicate that their stocks should be trading at these levels. They have very little growth ahead, but there stock prices have been climbing rapidly with most of them hitting multi-year highs.
With investors getting yield-hungry, valuations of these companies have gone up considerably.
| | |
| --- | --- |
| Company | Forward P/E |
| Duke Energy | 14.2 |
| Verizon | 13.7 |
| Altria | 12.5 |
| Consolidated Edison | 15 |
While its hard to judge valuation just on P/E ratios, the ratios are out of sync with the future growth rates of the companies.
For example, last month Altria reported poor earnings. Fourth-quarter profit came to $836 million, or 41 cents a share, down from $919 million, or 44 cents, a year earlier. Altria's strongest brand, Marlboro, is seeing sales decline and overall the company grew revenue by 3.6%, which is nothing stellar. The growth rate makes sense since the company is so well established, but there is no reason to believe that the company should be given such a valuation.
Consolidated Edison earnings could be described as boring. Consolidated Edison reported operating revenue of approximately $3.0 billion, a decrease of $173 million over the year-ago quarter. While numbers were essentially flat, the company did one major thing. It increased the dividend again.
The general theme for these companies is that their valuations are fairly rich compared to their growth projections. Income investors seem to be caring more about yield than the actual fundamentals of a company.
Stocks are not the only securities that are getting bid up. Junk bonds are too. The Barclays High Yield ETF (NYSEARCA:JNK) has seen significant cash inflows and the price has remain stable even in a down market.

Click to enlarge
(Click to enlarge)
Last week's net inflow measured $1.77 billion, nearly identical to the $1.79 billion net inflow seen a week earlier. For the past six weeks the weekly net inflows have scarcely varied, with each week's tally weighing in between $1.35 billion and $1.88 billion.

- Lipper, a division of Thomson Reuters
Investors need to be careful before jumping onto a stock with a high yield. When interest rates rise, their principal values could decline significantly. However, for those looking to hold these securities for years, this may not necessarily apply to you. Investors need to make sure that the stocks they purchase, not only have good yields, but also solid fundamentals as well.
Disclosure: I have no positions in any stocks mentioned, and no plans to initiate any positions within the next 72 hours.