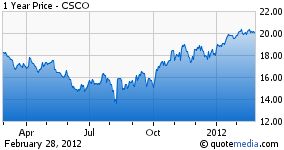 Networking giant Cisco (NASDAQ:CSCO) continues to have its share of critics on Wall Street. There are many who remain unimpressed by what the company has been able to do of late - a feat that includes three consecutive earnings beats. But nevertheless, as the stock currently sits right at its 52 week high, the major question for analysts continues to be, where is the value? This of course goes against my prediction that the stock is now heading to $30 - clearly from my vantage point there is $10 worth of equity to be had. But the challenge for Cisco is convincing the market that it can get there.
Show Me the Growth
Wall Street has an insatiable appetite for growth and for companies such as Cisco which is trying to get back to its once dominant level. It seems that its performance comes with even more scrutiny that it deserves. It seems to me that only Microsoft (NASDAQ:MSFT) is examined more closely when it comes to performance. However, to Cisco's credit, the company continues to worry about only what It can control, as evident by its recent performance.
In its latest quarter which ended January 28, Cisco reported net income that climbed 44% and arrived at $2.2 billion, or 40 cents per share. This compares with earnings of $1.5 billion, or 27 cents per share year-over-year. If you factor out that the costs associated with stock-based compensation as well as some acquisition-related amortization, the company actually earned 47 cents per share - 4 cents per share above analysts' expectations based on polls by FactSet. Revenue was $11.5 billion, up 11% from $10.4 billion a year ago and compares favorably to the $11.2 that was projected.
Its results clearly demonstrate that the company is keen in improving its margins as the metric improved a full point from the previous year while also exceeding analyst estimates. However it seems that area of performance is not growing at a rate that appeals to the most ardent bears - at least to the extent where it can prove that it can reclaim some of the market share that it has lost to the competition over the years. As impressed as I am with the report, there continues to be many who are simply unwilling to give the company much (if any) applause for what continues to be a remarkable turnaround from the depths of last summer where Cisco showed little to no focus.
I continue to think the company is doing exactly what it needs to in order to get back on track especially when considering its operating income, where it reported better than 60% growth and nearly 29% growth on an adjusted basis. Investors have to be pleased with the progress that the company is making, while also appreciating that there is still a lot of work left to be done. I say this because though the company reported 7% growth in orders, it did however demonstrate a decrease from the previous quarter where orders then climbed to 13%. It seems that competitors such as Juniper (NYSE:JNPR) and Riverbed (NASDAQ:RVBD) fared moderately better in that regard, though it continues to outperform Hewlett Packard (NYSE:HPQ).
I think analysts have every right to be skeptical, but they should also cut the company some slack and appreciate the plans that the Cisco has made regarding the future. I was pleased to see how open Cisco was to the idea of reinvesting its capital to make a few more acquisitions. My only concern is that it has to be one that makes sense. For it to make such a statement leads me to think that it has already started assessing which deals make sense and which ones don't. But as I have said previously, if it is truly thinking about an acquisition it needs to think about Brocade Communications (NASDAQ:BRCD). It would be reasonably priced and the synergies are there. If nothing else, it would be a perfect defensive move to keep it out of the hands of rival Dell (NASDAQ:DELL). But this is just one area to look forward to.
Summary
It is a good time to be a Cisco investor. As disappointing as the past couple of years have been, there are certainly plenty of reasons to suspect that the worst is behind the company and it deserves a tremendous amount of credit for what it has been able to accomplish in a relatively short period of time. There are still challenges that lie ahead, but I now have several reasons to expect a continued rise not only in the company's execution but also in its share price.