P&C Insurer CNA Financial (NYSE:CNA), after many years of mediocrity, is finally responding to turnaround efforts. Currently trading at a P/B of 0.67, and a forward P/E of 10.51, it has the potential to reach a valuation much closer to book. At a recent price of $28.60, and book value of $42.92, a 1.0 multiple would yield a 50% increase in share price. This article reviews the historical issues and corrective action to date, finding sufficient progress to support an optimistic view about future valuation.
A History of Under-reserving
Back in May 2010, Seeking Alpha contributor David Merkel did an article on under-reserving at American International Group, which includes an extremely useful table tracking long-term reserve development for 12 P&C insurance companies writing long-tailed business. CNA was the worst of the group, with AIG coming in second. CNA had to increase its existing reserves an average of 2.5% per year, while AIG averaged 1.5%.
By way of comparison, Chubb (NYSE:CB) and Travelers (NYSE:TRV) were in the position of being able to reduce prior reserves by 1.0% and 0.3% respectively. Companies that consistently achieve favorable reserve development are more profitable and make better investments.
Lack of Underwriting Profit
From 2002 through 2008, CNA posted a combined loss and expense ratio that averaged 115.2, never once going under 100. For the same period, Chubb averaged 92.2, with one year over 100.
Insurance companies invest the float, and when investment returns are high, they may be willing to write business at a loss, planning to make up the difference from investment profits. Of course, the temptation to chase yield develops quickly in this type of a business model, and in due course, it ends badly.
When an insurer that writes long-tailed lines suffers adverse reserve development combined with deteriorating investment results, considerable destruction of shareholder value ensues. Part of CNA's difficulties arose from Asbestos and Environmental liabilities, the dregs of which were taken off their hands by Berkshire Hathaway (NYSE:BRK.A).
Investment Returns
From 2007 to 2008, CNA's investment income decreased 33.5%. For the same period, Chubb's decreased by less than 1%. CNA's book value, reflecting its investments, fluctuated wildly, while Chubb's held steady. From 2002 to 2010, CNA increased its tangible book value by 0.5% per year, vs. 13% for Chubb. Best practice in the P&C insurance industry is to match the maturity of liabilities and the assets that support them, investing on a conservative basis to avoid loss of capital.
Life Insurance in Runoff
Continental Assurance Company, CNA's life insurance subsidiary, has been classified as non-core and is in runoff. It has been able to pay its parent a dividend on an annual business, although it did require an adjustment that affected profits for 2011.
The Turnaround
CNA is an insurance holding company, 90% owned by Loews (NYSE:L). In 2008, Loews purchased $1.25 billion of CNA preferred stock. CNA, in turn, used most of the proceeds to buy $1 billion of surplus notes from Continental Casualty, the primary P&C subsidiary. The preferred has since been redeemed, funded by the issuance of debt and the partial repayment of the surplus note. $250 million of the surplus note was still outstanding as of 12/31/2011. The statutory capital situation has been stabilized.
As of 1/1/2009, Thomas Motamed was brought in as CEO. Motamed was previously COO of Chubb for 8 years, and has excellent credentials and credibility in the business. If he is able to raise CNA's performance to something approximating Chubb's, shareholders (mainly Loews') will be rewarded for their patience. In August last year, as the stock tanked, Motamed stepped up to the plate and spent $970,400 of his own money buying the shares, at $24.36.
By early 2010 Motamed had changed many of the top jobs, in addition to hiring some 70 specialty lines underwriters. He comes across as having a good understanding of the people to people relationships necessary for success in the business. From an interview in the Insurance Journal:
So are there structural and personnel changes underway?

Motamed: We have made a bunch of, number one, strategy changes, from an underwriting perspective. What we're interested in, we're taking much more of a customer-centric approach to the business, focusing on approximately 10 industry segments that we like, for both property/casualty business as well as specialty business. With that, we are aligning our structure to support the strategy, both in the field and the home-office operation. And with that, we are bringing in talent. We have changed seven of the top 14 jobs, well, since 2008. So we're making more changes, and we're hiring lots more people to help us execute the strategy in the branches at the point of sale.
Segment Results
CNA operates in four segments: Commercial, Specialty, Life and Group non-core, and Corporate and other non-core. Our concern here is with Commercial and Specialty, which are grouped together as P&C. Here's a table showing recent combined ratios and reserve developments for the two segments: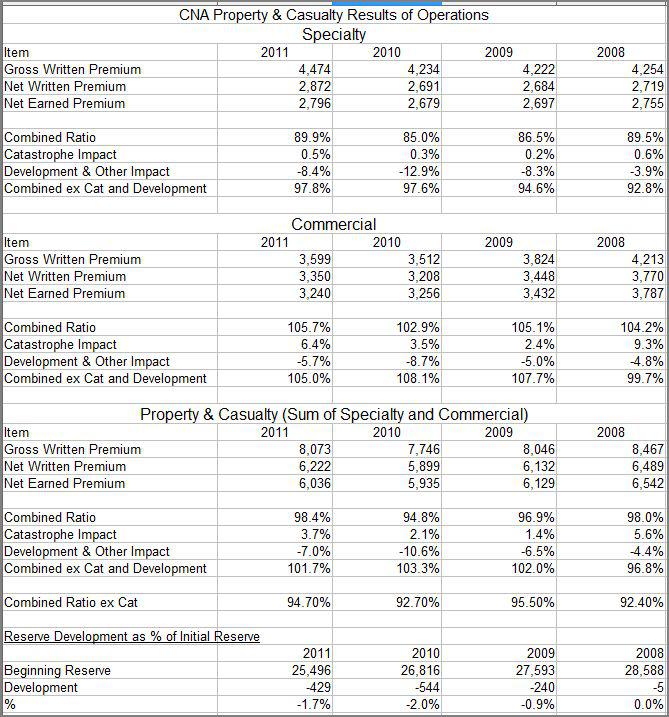 Click to enlarge
Specialty has performed better than Commercial. From a strategy point of view, the company should be able to improve results by increasing Specialty writings and refusing to write Commercial at a loss. For Property & Casualty as a whole, the combined ratio has been staying under 100. Looking at Commercial, the combined ratio ex cat and development improved 3 percentage points from 2010 to 2011, the first sign of progress on the ongoing task of raising rates and improving risk selection.
Finally, the reserve development, presented in the same terms as Merkel's study, now places CNA P&C on a par with Chubb and Travelers.
Valuation and Target Price
Consensus earnings estimates stand at $2.72. Looking at the last two years, taking out charges that are unlikely to recur, and adding a small improvement in combined ratio, I arrive at an estimate of $2.80. Merkel, after studying the relationship of P/B and ROE for the insurance industry, concludes that all a P&C company has to do to merit a P/B of 1.0 is to hit an ROE of 6.6%. Estimated earnings of $2.80, and when divided by a book value of $42.42, works out to an ROE of 6.6%. Feathering that down in consideration of the quality of the investment portfolio, a P/B of 0.9 suggests a target price of $38 by the end of the year. It could take longer: two years to reach target would still return 15% annualized.
There is evidence that the P&C industry cycle is turning up, as discussed in my November article here on Seeking Alpha.
Strategy and Tactics
Investors buying CNA at today's prices have a realistic expectation of receiving the dividend, currently 2.10%, together with eventual share price appreciation, as mentioned above.
CNA is 90% owned by Loews, which is a chronic value candidate, based on a history of trading at a discount to a sum of the parts valuation. CNA represents about a third of Loews' value. I'm playing this situation by means of deep in the money calls on Loews, in the expectation that CNA's turnaround will make its way into its parent's share price. The leverage afforded by the use of options will magnify the returns. I intend to do a separate article on Loews, dealing with the other aspects of that company's valuation and prospects.