At the 2012 Mobile World Congress in Barcelona Monday, Nokia (NYSE:NOK) rolled out two new phones it hopes will boost worldwide sales and awaken dormant investor enthusiasm.
Nokia's goal of building a third ecosystem around Microsoft's (NASDAQ:MSFT) operating software has shown timid signs of paying off. In the fourth quarter, shipments of Windows powered smart phone's increased 36% as Nokia, which garnered 33% market share, overtook HTC to become the top seller of Mango phones, according to Strategy Analytics.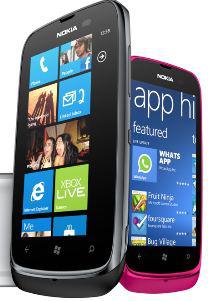 The newly announced Nokia phones barbell the buyer spectrum, with the Lumia 610 targeting the faster growing low end and the 41 megapixel Nokia 808 targeting high end technophiles. The launch of these two disparate phones reflect the company's ongoing struggle to redefine itself.
Nokia needs low end buyers to recapture the 40% market share it held in the late 90's. Yet, it also needs to re-exert itself as an innovation leader - something Apple (NASDAQ:AAPL) has done relentlessly.
In the short term, Nokia's expanding product line may prove better for Microsoft and suppliers, such as Qualcomm (NASDAQ:QCOM), than for Nokia itself. The company remains the globe's biggest cell phone maker and its market might grow if firmly behind advancing Windows based phones - despite the 808's initial launch on Nokia's Symbian. Nokia's Lumia line remains powered by the Snapdragon family of processors, bullish for Qualcomm chipsets.
Nokia will likely sell a lot of its low end Lumia 610's. The phone's low cost and a solid list of high demand features including a micro USB port, WiFi, Bluetooth, a 5 megapixel camera and integration with Xbox Live, will be attractive to entry level consumers. Whether sales will be enough to move the needle on revenue and earnings at Nokia remains to be seen. If shares cross above significant resistance near $6, it may reflect institutional investors finally believe a turnaround is at hand. If not, then the incremental sales growth supports owning both Microsoft and Qualcomm instead.
Disclosure: I have no positions in any stocks mentioned, but may initiate a long position in QCOM over the next 72 hours.