Concordia Healthcare Corp. TSX:CXR or (NASDAQ:CXRX) reported earnings this morning before the market opened.

The high-growth low-dividend acquisitor has racked up a large debt to buy AMCo, an asset to set them up for tacking on future purchases to reach an international market. Concordia Healthcare shares have had a rocky time in the markets over the last year, but much of the problem has been in sympathy with other companies, most specifically Valeant Pharmaceuticals (VXR) not due to the execution of Concordia's talented team. I became interested in the company after the precipitous drop and first purchased shares on November 13th, after writing a put. I have written several more puts, some assigned, some not and have acquired a large holding that way.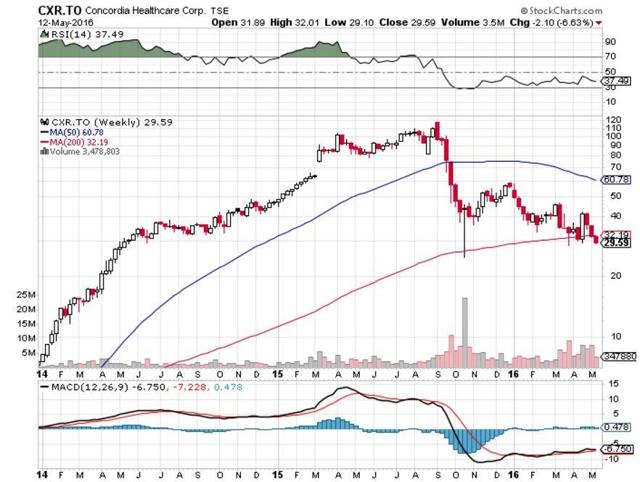 Click to enlarge
This graph shows the volatility over the approximate time period of my holding, after the huge September drop and represents a range of about 50%.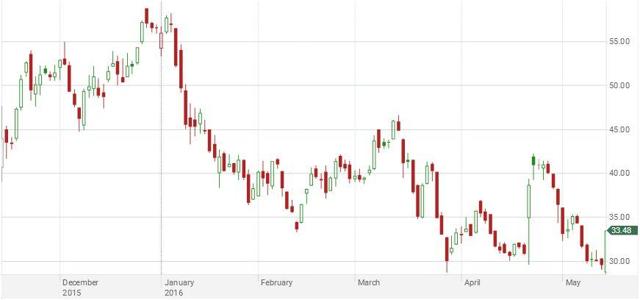 Click to enlarge
On April 21, 2016 the stock surged after rumors of a takeover by Blackstone Group (NYSE:BX). Concordia formed a special committee "to consider various strategic alternatives potentially available." The company admitted it has had discussions, but that is as much as we know. There have been a variety of speculations about the price, but it is very likely to be significantly higher than the current price if it does get bought out.
The Executive Summary from the Management's Discussion and Analysis from March 23, 2016 gives you an introduction to the goals and strategies of the company.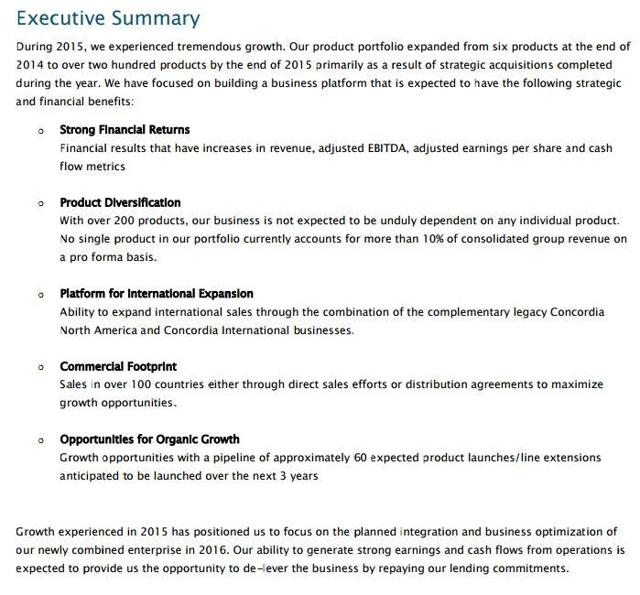 Click to enlarge
Q1 2016 revenue was up 570% to $228.5M over Q1 2015, however it is hardly a fair comparison to me, as Concordia is now quite a different company than it was then. A better comparison is the 19% increase from the last quarter.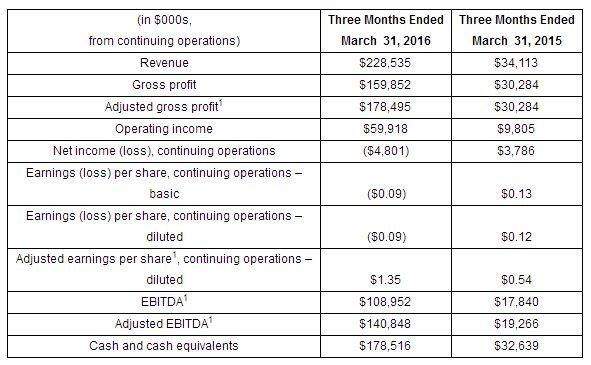 EPS was expected to come in at $1.40 (though the analyst estimate 30 days was $1.36) and was $1.35 instead, so technically, this quarter was a miss. Even though it is less than a hour into the trading day, CXR shares are up 8.5%. This is because of what is underneath the numbers. The call was very positive and the CEO Mark Thompson had some great lines such as "Business has never been better!" and "The company is firing on all cylinders!"
From the earnings release:
"The Company also announced today that subsequent to quarter end, it entered into an agreement to acquire the global rights to four generic products, for the treatment of anemia, depression and urticaria, for a £21 million initial payment and up to £7 million in subsequent earn-out payments that would be payable in the first quarter of 2017 if certain performance and supply targets are achieved. The Company paid a revenue multiple of 2.6 times for this acquisition. The transaction is expected to close on or about May 31, 2016. The Company intends to pay for the acquisition with cash on hand."
The announcement of an acquisition surprised me, but shows that business is continuing as usual and as planned. Discussion was about the integration of these products into the AMCo platform and their expansion into new markets throughout the UK and Europe. "When we acquired AMCo in October 2015 we were very excited to gain an international platform for M&A beyond North America. We firmly believe that AMCo and its outstanding team will continue to demonstrate the value of that expanded reach and is consistent with our plans to acquire products where the multiples present attractive opportunities." Edward Borkowski, Executive Vice President.
Plans are proceeding well for AMCo and the integration plan of AMCo itself is on track.
Mr. Borkowski continued, "We are very excited about our first quarter consolidated and segment results because they continue to demonstrate the strength and diversity of the outstanding execution of our employees"
He went on to discuss the North America segment which performed as expected with prospects of low single digit growth. The International segment which delivered strong sales and is expected to produce 60% of total revenue with mid-teen growth.
Guidance was reaffirmed yet again and has remained unchanged from its original announcement on October 26th, 2015. They expect revenue will be between $1B and $1.06 Billion. EBITDA from $610 to $640 Million and earnings per share from $6.29 and $6.77. It has been reaffirmed multiple times, including the earnings announcement on November 12, 2015 as well as company presentations February 16th, 2013 at the CIBC Institutional Investor Conference and the RBC Capital Markets Global Healthcare Conference, February 24, 2016 and the year end and last quarter's results on March 24, 2016.
10 new products have been released since October 21, 2015. They remain on track for their goal of 60 new launches over the next few years.
Mr. Borkowski concluded with: "We believe we are in a unique and strong position in the specialty pharma industry because of our global footprint, efficient cost structure, advantageous operating structure, our ability to seamlessly integrate opportunities, and our experienced management team. We look forward to building Concordia and delivering long term growth for our business and shareholders."
Mark Thompson's conclusion of the call was, "Business has never been better. It is operating as it should be. The results speak for themselves and we're going to continue to do what we said we're going to do and results will follow."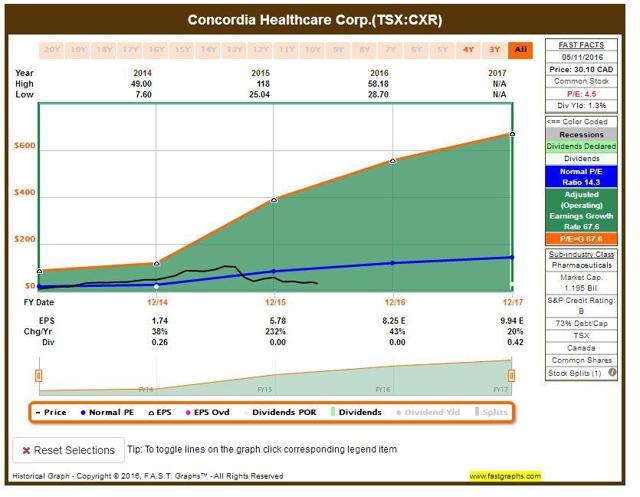 Click to enlarge
If I did not already own an overweight holding in this company I would be tempted to buy more. For now, I will continue to hold Concordia shares and try to enjoy the wild ride!
Disclosure: I am/we are long CXRX.
I wrote this article myself, and it expresses my own opinions. I am not receiving compensation for it (other than from Seeking Alpha). I have no business relationship with any company whose stock is mentioned in this article.