Freeport-McMoRan (NYSE:FCX), the world's leading publicly listed copper producer, has been hit hard by the commodities rout. The Phoenix, Arizona-based company has reported six consecutive quarterly losses. But despite the tough environment, Freeport-McMoRan is on track to improve its financial health by the end of this year.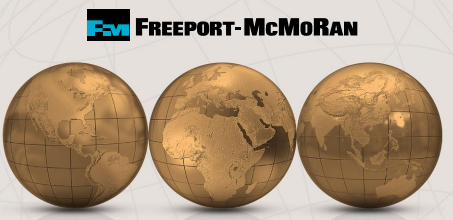 Updates
Earlier this week, Freeport-McMoRan said that it has agreed to sell its stake in the biggest African copper mine - its 70% interest in TF Holdings which owns 80% of Tenke Fungurume Mining located in the Democratic Republic of Congo - to China Molybdenum for $2.65 billion cash. The US-based miner will also receive $60 million if average copper price exceeds $3.50 per pound and an additional $60 million if cobalt price exceeds $20 per pound, during the 24-months ending 2019.
In addition to this, Freeport-McMoRan will enter into exclusive negotiations with China Molybdenum to sell its stake in Arizona-based Freeport Cobalt, whose flagship asset is the Cobalt Refinery in Finland, for $100 million and Congo-based Kisanfu copper and cobalt exploration project for $50 million.
Freeport-McMoRan has also agreed to pay $540 million to London-based offshore drilling contractor Noble Corp. (NYSE:NE) to not to use two of the latter's drillships. The contracts were set to expire in 2017. The miner can make the payment through a combination of cash, stock and up to $200 million in near-term Noble bonds. Noble can also receive an additional payment of up to $75 million depending on the oil price environment over the next one year.
Commentary
Freeport-McMoRan is paying more than half a billion dollars to cancel the drilling contracts, it will still end up saving hundreds of millions in future cash flows. That's because Noble Corp. has released Freeport-McMoRan from roughly $800 million in payment obligations related to the two drillships. That figure is significantly bigger than what Freeport-McMoRan is paying.
The big news, however, is the sale of Tenke Fungurume which may appear surprising given it was one of the Freeport-McMoRan's core assets. As per most recent estimates, the mine holds 7.2 billion pounds of copper and 874 million pounds of cobalt recoverable reserves, making it one of the largest copper mines in the world. Last year, the mine's consolidated sales were 467 million pounds of copper and 35 million pounds of cobalt. The project represents 7% of Freeport-McMoRan's total copper reserves, 11% of annual copper production (2015) and 8% of annual attributable earnings (EBITDA,2015). The sale is expected to close in the final quarter of the current year.
However, Freeport-McMoRan has already shown that it is willing to sell its core assets in order to shore up its balance sheet. Earlier this year, in February, Freeport-McMoRan sold 13% stake in Morenci copper mine located in Arizona for $1 billion. The Arizona mine, in the words of Freeport-McMoRan's co-founder and chairman emeritus James Moffett, was one of Freeport-McMoRan's "trove of treasures."
Morenci made greater contribution to Freeport-McMoRan's annual production, reserve base and bottom-line than Tenke Fungurume. Moreover, Morenci, which is the largest copper mine in North America, also carried considerably less geopolitical risk as compared to Freeport-McMoRan's other projects in South America, Indonesia and Africa. If the miner is willing to reduce its stake in Morenci, then it certainly can put any of its core assets on the block.
More importantly, Freeport-McMoRan needed to announce asset sales of $3 billion by the end of the second quarter in order to meet a collateral test and maintain the current levels of financial flexibility. The company has now eliminated that risk by announcing $4.2 billion of asset sales, including Tenke Fungurume, Morenci and other small assets. These sales are forecasted to close in the current year. If Freeport-McMoRan spends all of the proceeds on repaying debt, then its net debt will decline almost 20% from $20.45 billion at the end of Q1-2016 to $16.25 billion at the end of this year.
And there is room for further debt reduction. Freeport-McMoRan's chief executive Richard Adkerson has said on the backdrop of a recent conference that the company is mulling over selling minority interest in other assets as well.
In addition to the above-mentioned mines, Freeport-McMoRan also owns the giant Grasberg copper miner in Indonesia, home of one of the largest copper and gold deposits, and has a large Cerro Verde copper project in Peru where it has recently done major expansion work including construction of the world's largest concentrating plant. Sale of minority interest in any of these two assets could allow Freeport-McMoRan to further lower its debt by the end of the year.
Meanwhile, oil's outlook has also improved considerably. The US benchmark WTI crude is currently hovering near $45 per barrel, significantly higher than the average of less than $35 per barrel seen in the first three months of this year. The US Energy Information Administration has recently lifted its oil price outlook for 2016 and 2017. Perhaps the supply disruptions in Libya, Nigeria and Americas and declining production from US and other non-OPEC producers is having a bigger impact on the oil market than the government agency expected. The improvement in oil price environment could work out well for Freeport-McMoRan since it will make it easier for the company to sell its oil and gas assets at a decent price.
Conclusion
The debt reduction measures will have a positive impact on Freeport-McMoRan stock. In the absence of any support from commodity prices, with copper hovering near seven-year lows, I believe Freeport-McMoRan has primarily become a play on its financial health. The company made an ill-timed, debt-powered expansion in the energy patch, just a year before oil prices collapsed. Since then, it has been talking about improving its financial health, but its debt levels have remained stubbornly above the $20-billion mark. But with the asset sales announced so far this year, and potential for additional divestments in the coming months, Freeport-McMoRan seems to be heading towards a turnaround.
Disclosure: I/we have no positions in any stocks mentioned, and no plans to initiate any positions within the next 72 hours.
I wrote this article myself, and it expresses my own opinions. I am not receiving compensation for it (other than from Seeking Alpha). I have no business relationship with any company whose stock is mentioned in this article.