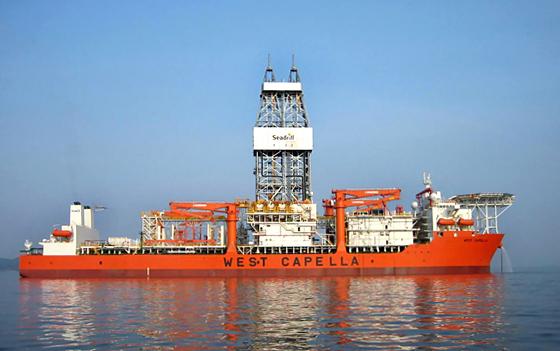 Source: oilrig - Drillship West Capella.
Seadrill Partners, LLC (NYSE:SDLP)
Seadrill Partners is a limited liability company. The company was formed primarily to own, operate and acquire offshore drilling units from Seadrill Ltd. (NYSE:SDRL).
The company's subsidiaries, including Seadrill Operating LP, Seadrill Capricorn Holdings LLC and Seadrill Partners Operating LLC, own 100% interest in the drilling units.
Seadrill Ltd. owns 42,819,100 total common (26,275,750 shares) and subordinated shares (16,543,350 shares) of SDLP, or 46.6% (Minority holder).
This article updates my preceding article on SDLP on April 20, 2016, about the West Capricorn placed on standby.
SDLP: Fleet Status as of February 2016
Semi-submersibles
#

Name

Class

Year built

Client

Location

Day rate in $K
End of contract
1

6th HE

2008

[BP]

USA

297 paid by BP over the contract terminated.

7/17

Cold-stacked ($10k/d cost)

2

6th HE

2009

[Hibernia]

Canada

615

4/17

3

6th HE

2011

[BP]

USA

526

Includes the mob. fee of $30 million.

Contract swapped with the West Sirius.

7/19
4

6th HE

2012

[Tullow oil]

Ghana

605

Mob. $18 million taken over a period. Includes 95% utilization bonus.

7/18
Drillships UDW
#

Name

Class

Year built

Location
Day rate in $K
End of contract
1

2008

[Exxon Mobil (NYSE:XOM)]

Nigeria

627.5

Early termination 5/13/16

4/17
2

2013

[BP (NYSE:BP)]

USA

565

Mob. $37.5 million taken over a period.

10/20
3

2013

[BP]

USA

565

Mob. $37.5 million taken over a period.

11/20
4

2008

[Exxon Mobil] Angola
653
3/18
Others
#

Name

Year built

Location
Day rate in $K
End of contract
1

2010

[Petronas]

Myanmar

100

4/16 or 8/16

(3 wells contract)

2

2013

[Chevron (NYSE:CVX)]

Thailand

110
7/19
3

2013

[Chevron]

Thailand

110
8/19
Order backlog of $3.75 billion and average contract duration of 2.5 years as of May 13, 2016 (Estimated by Fun Trading.)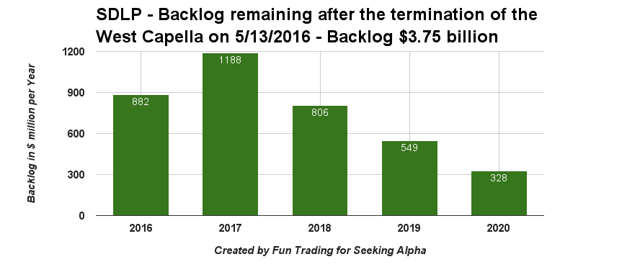 Click to enlarge
Today, Seadrill Partners LLC announced the following:
has received a notice of termination from its current operator for the contract for the West Capella.

In accordance with the cancellation for convenience provisions in the West Capella contract, Seadrill Partners will receive a payment of approximately $125 million in two equal installments, the first in the second quarter of 2016 and the second in the first quarter of 2017, plus other direct costs incurred as a result of the early termination.

The West Capella is currently being marketed for new work and is expected to be in Tenerife during its idle period.
Commentary:
SDLP announced today the early termination for convenience of the Drillship West Capella in Nigeria by Exxon Mobil. However, the company will receive $125 million for early termination fee, and it seems a little light, at first glance?
The Drillship West Capella was built by Samsung Heavy Industries at Samsung's South Korea shipyard. The rig can operate at 10,000ft underwater and has a maximum drilling capacity of 37,500ft. The rig was positioned in the Usan Offshore field in April 2009.
The drillship had a contract until April 2017 with Exxon Mobil.
SDLP indicated in its 3Q'13 the following:
Total S.A. exercised their option to convert the contract extension for the West Capella from 5 years to 3 years. As a result of this change in contract terms, the dayrate has increased from US$580,000 per day to US$627,500 per day.
Thus, the contract was supposed to end in April 2017, and Exxon Mobil who took over the operations decided to terminate the contract today.
I calculated 338 days remaining from 5/13/2016 to 4/15/2017. This is a backlog of $212 million. The termination fee represents 60% of the backlog remaining, which is quite light. I was expecting about 85% of the backlog remaining or $180 million.
This is another termination for the deepwater segment. Recently, I commented on the two Noble Corp. (NYSE:NE) Drillships working in the Gulf of Mexico for Freeport-McMoRan (NYSE:FCX) that were terminated for convenience as well. The future outlook for 2016 and a large part of 2017 is not looking great and I expect this negative trend to continue.
Note: Do not forget to follow me on SDLP and get updated on the news and events of the company.
Disclosure: I/we have no positions in any stocks mentioned, and no plans to initiate any positions within the next 72 hours.
I wrote this article myself, and it expresses my own opinions. I am not receiving compensation for it (other than from Seeking Alpha). I have no business relationship with any company whose stock is mentioned in this article.
Additional disclosure: I trade SDLP