Rex Energy (NASDAQ:REXX) is one of the more interesting names in stressed equity. It's under-tooled, working-with-less-than-perfect-mechanisms management team has executed superbly on behalf of investors. All the while, with each passing quarter, navigating the E&P away from bankruptcy from an operations standpoint. To say that management hasn't done a job worthy of a future case study, regardless of how the story at Rex Energy ultimately ends, is to be misled. Management has, again, done all it could do in this commodity crisis and I've long championed them for their efforts.
But is it and will it be enough, management's "table setting" efforts? That's the question on all interested parties' minds. Will management's efforts, coupled with what is a somewhat low-visibility operational structuring, be enough? To be able to address this question you have to be able to understand the remaining financial-engineering levers that management has left to pull (to aide it in de-stressing efforts); you also have to be able to understand the financial-engineering levers that have already been pulled and how those levers are 1) playing out, and 2) what usage they have left.
I believe, once a granular understanding of the Rex Energy Credit Facility and all its restrictions and allowances is had, the highest level of importance at this point should be placed on understanding how "tight" (or not tight) Rex Energy's 2020 senior secured second lien notes are and what they will and will not allow from a flexibility and optionality standpoint. Quite literally, optionality at Rex Energy currently equals viability. This will be the focus of the below presentation -- a granular breakout of the second lien and how exactly this mechanism works in relation to the existing and remaining financial-engineering levers.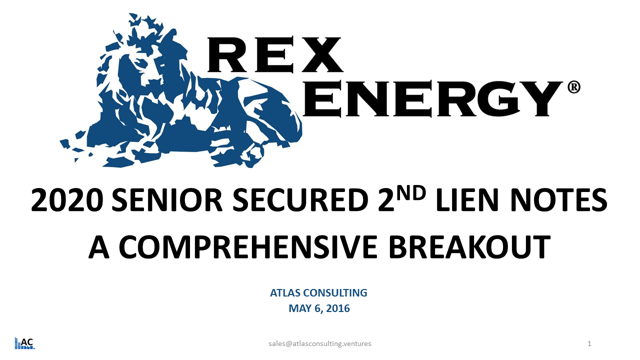 Click to enlarge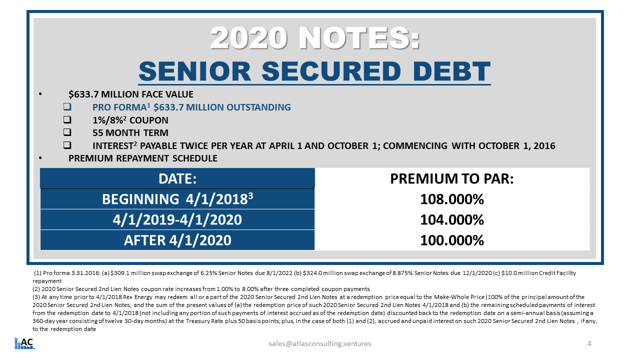 Click to enlarge
I'll also address, within the context of the second lien breakout and within the context of the financial-engineering levers, the following questions, which I proposed to Rex Energy Investor Relations on May 11, 2016 (shortly after Rex Energy concluded its post-earnings conference call):
Recent debt equity swaps have been punitive; is this a transaction set that you'll continue to pursue? Of the options listed in the 10-Q for de-stressing, is there an internal preference or a general commentary you can give on preferences from a mechanism standpoint? At some point would the company consider monetizing its hedges? Is it legally able to monetize its hedges -- i.e., is there anything in the Credit Facility that would restrict monetization, etc.?
Can you talk about the conversations, if any, that the company is having with debt holders and how they're being structured from an architecture standpoint? Are folks generally interested in equity? In other potential avenues -- like payment deferrals, etc.?
Is there a general commodity pricing-to-EBITDA creation formula you can express to investors? So, for instance, if natural gas pricing moves "X" amount of cents, EBITDA moves "X" amount?
Disclosure: I/we have no positions in any stocks mentioned, and no plans to initiate any positions within the next 72 hours.
I wrote this article myself, and it expresses my own opinions. I am not receiving compensation for it (other than from Seeking Alpha). I have no business relationship with any company whose stock is mentioned in this article.
Editor's Note: This article covers one or more stocks trading at less than $1 per share and/or with less than a $100 million market cap. Please be aware of the risks associated with these stocks.