Nordstrom (NYSE:JWN) reported first-quarter results before the market opened on Friday that missed Wall Street's expectations. The retailer had earnings per share of $0.26 on revenue of $3.25B, missing estimates by $0.20 and $30M, respectively. Shares of Nordstrom were down more than 13% intra-day following the release as investors fled the stock.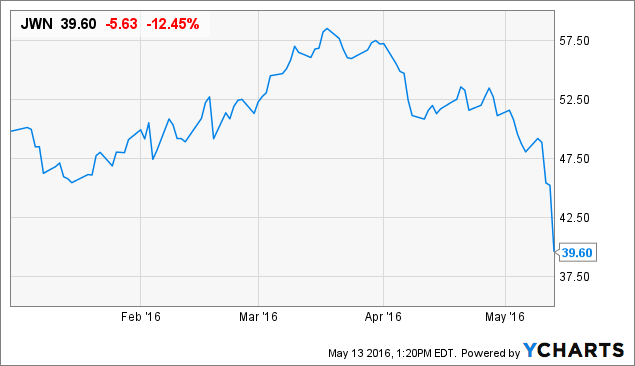 JWN data by YCharts
The company's report was full of disappointing metrics and headwinds, with same store sales leading the way. On a comprehensive basis, same store sales declined 1.7%. However, net sales were able to grow 2.5% thanks to an increase in store count with 26 new stores being opened since last year's Q1.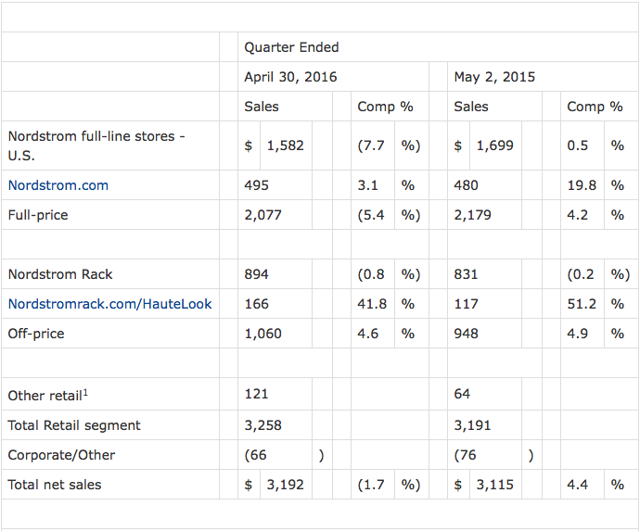 Click to enlarge
Looking at the sales breakdown above, it is clear that the retailer is struggling to maintain sales at its physical locations, especially at full-line Nordstrom stores. These locations saw an astounding 7.7% decline in same store sales. What makes this number even more concerning is the relatively easy comparison the company had from a year ago, with sales only increasing 0.5% in 2015.
Nordstrom.com's growth also appeared to stall a bit. However, given the tough comparison from last year, 3.5% growth is still very sound. Growth in this online platform was not enough to offset the major decline in physical full-line locations. Comparable sales for the segment declined 5.4%. One area in which the company was encouraged at full-price locations was beauty and women's apparel which remained strong in the quarter.
Turning to off-price locations, same store sales at Nordstrom Rack locations declined by 0.8%. While a much lesser decline than the physical full-line locations, it again was against a very easy comparison of (0.2%). Online sales within the off-price segment appeared to shine for yet another quarter, jumping 41.8%.
The takeaway from all of this should be that sales at Nordstrom's physical locations have declining sales momentum, while their online counterparts are beginning to thrive. However, the online parts of Nordstrom's business are not large enough to make up for the declining comps at physical locations.
One way the company is attempting to drive sales and foot traffic at retail locations is through its rewards program. Nordstrom added 240,000 new members to its loyalty program to take the total number of members to 4.7M. This is a large, reliable customer base that made up 38% of the company's total sales in the quarter. Therefore, efforts to increase new membership and maintain existing members should be supported without question.
Moving on, the company's margins also took a hit this quarter. EBIT margin declined 460 basis points to 3.3% of sales as markdowns were taken to reduce inventory levels of out-of-season products. Despite the markdowns, inventory levels still jumped 5.4%, much more than the 2.5% reported uptick in sales. This means the spread between the company's inventory growth and sales is just under 3%. While this is better than the 7% spread posted in the preceding quarter, it is still not ideal as higher than normal inventory levels tie up more cash. In order to normalize inventory levels, more cost reduction may be seen moving forward, negatively impacting margins.
Guidance for the fiscal year was also negatively revised. The ranges for sales growth and comps were each trimmed 100 bps to 2.5-4.5% and (1)-1%. Meanwhile, expectations regarding retail EBIT margin were reversed. It is now estimated to fall (10)-(20)%, compared to prior guidance for a 3-10% increase. The combination of these revisions have led to a major reduction in EPS guidance for the year, now estimated between $2.50-2.70, down from $3.10-3.35. This will force analysts to revise their estimates for the year as the consensus on the Street had been $3.20.
Despite all of the negatives, one positive can be drawn from Nordstrom's results regarding the company's return of capital to shareholders. Nordstrom currently pays a quarterly dividend of $0.37, which it is easily able to cover with its operating cash flow. It should be noted that OCF did decline 17.8% year-over-year, but with an OCF-to-payout ratio of 263% the dividend is not in jeopardy of being cut. Additionally, JWN has an astounding $761M left under its authorized share repurchase program. This is enough to swallow up just over 10% of the company's outstanding shares at their current market price.
Overall, Nordstrom's declining comps and margin pressure is concerning to say the least. However, many other retailers are facing the same issues this year. Given the challenging environment for all retailers, Nordstrom's ability to still produce some top line growth is actually impressive, though it is not enough to ease my other concerns. Based on management's updated guidance for 2016, the stock is now trading around 15x this year's earnings, which seems fair. However, with notable headwinds and declining earnings this may still be too expensive. The stock must come down more before I can recommend an investment in it. Additionally, I would like to see management be more aggressive with their share buyback before initiating a position in Nordstrom.
Disclosure: I/we have no positions in any stocks mentioned, and no plans to initiate any positions within the next 72 hours.
I wrote this article myself, and it expresses my own opinions. I am not receiving compensation for it (other than from Seeking Alpha). I have no business relationship with any company whose stock is mentioned in this article.