In the latest Commitment of Traders report (COT), we saw a slight decrease in speculative long positions, while speculative shorts started to rise. For the week ending on the report date (5/10), gold dropped a little over 2% from $1294 to $1263 per ounce which suggests that speculative longs are holding on tightly to their positions and are not taking profits yet.
We will get a little more into some of these details, but before that let us give investors a quick overview into the COT report for those who are not familiar with it.
About the COT Report
The COT report is issued by the CFTC every Friday, to provide market participants a breakdown of each Tuesday's open interest for markets in which 20 or more traders hold positions equal to or above the reporting levels established by the CFTC. In plain English, this is a report that shows what positions major traders are taking in a number of financial and commodity markets.
Though there is never one report or tool that can give you certainty about where prices are headed in the future, the COT report does allow the small investors a way to see what larger traders are doing and to possibly position themselves accordingly. For example, if there is a large managed money short interest in gold, that is often an indicator that a rally may be coming because the market is overly pessimistic and saturated with shorts - so you may want to take a long position.
The big disadvantage to the COT report is that it is issued on Friday but only contains Tuesday's data - so there is a three day lag between the report and the actual positioning of traders. This is an eternity by short-term investing standards, and by the time the new report is issued it has already missed a large amount of trading activity.
There are many different ways to read the COT report, and there are many analysts that focus specifically on this report (we are not one of them) so we won't claim to be the exports on it. What we focus on in this report is the "Managed Money" positions and total open interest as it gives us an idea of how much interest there is in the gold market and how the short-term players are positioned.
This Week's Gold COT Report
This week's report shows a slight drop in gold speculators as longs decreased their gold positions while shorts started to increase their own positions.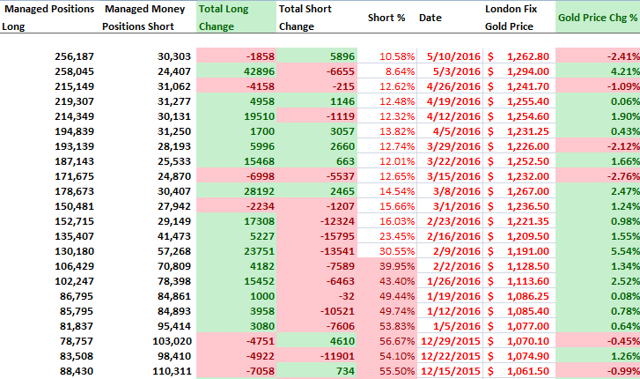 This report closed on Tuesday, so it doesn't include any of the subsequent action in gold (Wednesday through Friday), but as is clear from the speculative positioning above, longs dropped 1,858 contracts for the week while shorts increased their own positioning by a little under 5,900 contracts.
With a gold drop in excess of 2%, we actually would have expected a much larger increase in either speculative shorts or more longs closing their positions - but we saw neither. To us this suggests that longs are holding pretty tight on their positions and are fairly firm, which is a positive for the bulls.
The net position of all gold traders can be seen below: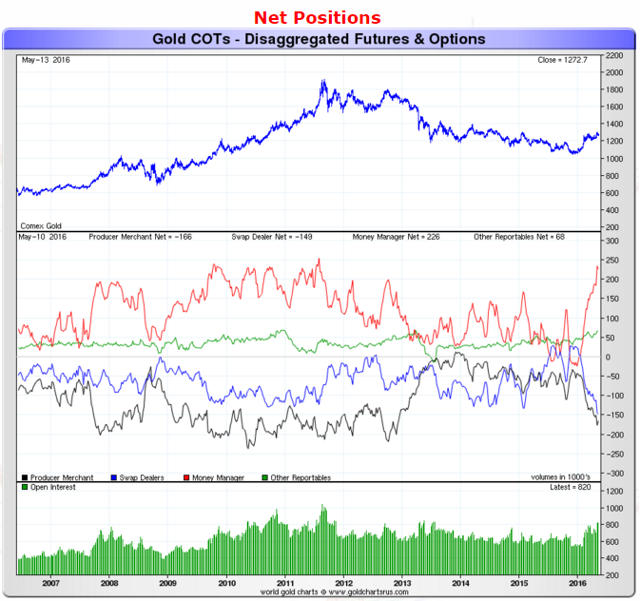 Source: Sharelynx Gold Charts
The red-line represents the net speculative gold positions of money managers (the biggest category of speculative trader), which have taken a break from their parabolic rise. But we still are seeing historically large net long positions for speculative money, and as we have reminded investors before, that can be dangerous as these speculators tend to reverse sentiment fairly abruptly.
As for silver, the action saw a net increase in longs for the week: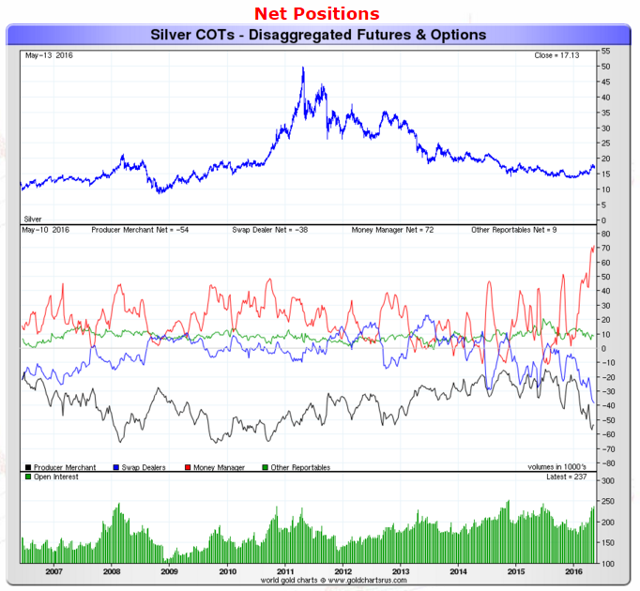 Source: Sharelynx Gold Charts
The red line which represents the net speculative positions of money managers, increased by a little over 5,000 contracts while adding a little over 1,000 shorts, to end in a net long increase of a little over 4,000 contracts on the week. Regardless, we are still way above the net speculative positioning seen during the 2011 silver peak, so investors need to be very careful here and watch for a reversal in speculative net long sentiment.
Our Take and What This Means For Investors
Despite the very large amount of speculative trader sentiment on the long side, gold and silver prices are stubbornly strong as it seems any drops are buying opportunities for the longs. As is clear from those investors reading our analysis over the past few weeks, we are very hesitant to increase positions here as all-time highs in speculative positions are usually not a good time to buy - we would rather wait and see a pullback and a little more balance in these positions.
RBC Capital made some interesting points about the gold market in a research report issued Friday which echoes out sentiment, as they said:
"In fact, investment demand seems to be the only leg driving this one-legged rally. For us to turn positive, we would need to see this strength replicated elsewhere. Investor sentiment has turned amid a flight to safety, but that seems to be the only sentiment that has in fact shifted."

Based on the World Gold Council's latest demand report, released Thursday, gold demand increased by 21% in the first quarter, mostly driven by extreme inflows in exchange-traded funds. Gold-backed ETFs saw inflows of 363.7 tonnes, which more than reversed the outflows seen in 2014 and 2015 combined. However, demand from the two largest gold-consuming nations - India and China - fell in Q1, declining by 39% and 12%, respectively.

The analysts also warned that investor demand, although being the main driver behind gold's momentum, is often the quickest to turn and the rapid increase seen so far this year will be hard to replicate if market turmoil subsides.
To be bullish here despite the record-highs in speculative positioning we would need to see strong physical buying in India and China, and it seems we aren't seeing that - at least not yet. One report we are waiting for is the Swiss gold trade data that is due to be issued next week. We really want to see how much gold China and India imported for the month of April as it will give us a good idea of the demand for physical gold at the new $1250-$1300 gold levels. We will issue a piece as soon as we can so investors interested in seeing this data can go ahead and follow us by click the Follow button above.
Until we see some strength in physical demand to help supplement the strong investment demand, we recommend investors deal with this investment environment by lowering risk and taking profits while waiting for speculative long liquidations, more chaos in the financial markets, or a drop in gold and silver prices. Thus we are holding off on increasing gold positions in ETF's and miners such as the SPDR Gold Trust ETF (NYSEARCA:GLD), iShares Silver Trust (NYSEARCA:SLV), ETFS Physical Swiss Gold Trust ETF (NYSEARCA:SGOL), and Randgold (GOLD) - we are waiting for a better entry point that we think will come over the next few months.
Disclosure: I am/we are long SGOL, SIVR.
I wrote this article myself, and it expresses my own opinions. I am not receiving compensation for it (other than from Seeking Alpha). I have no business relationship with any company whose stock is mentioned in this article.