Kate Spade & Co (NYSE:KATE) is a fashion retail company that sells a wide range of women's and men's wear designed in-house via its own retail boutiques strategically located at high end shopping streets. Its apparel, accessories and fragrance products are marketed under its flagship Kate Spade New York labels. The share price has been trending upwards since 2012 from $9.61 to an all-time high of $39.69 at the end of July 2014. The share price began trending downwards and hit a recent low of $16 per share in February 2016 before recovering. Currently, it is trading at around $23.70 per share. Weak business fundamentals in the coming quarters could spell trouble for its share price and limited upside is foreseen for Kate Spade.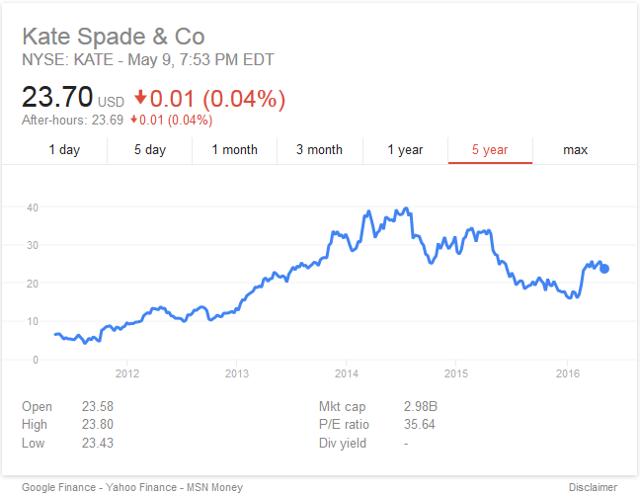 Click to enlarge
From a valuation standpoint, Kate Spade is definitely a sell and overvalued with a TTM P/E of 33.1 compared to an industry average P/E of 23.2. Its P/S ratio of 2.3 is also above the industry average at 1.8. Moreover, Kate Spade has a history of losses recorded in FY2011 an FY2012, which shows the cutthroat competition in the fashion accessories segment. It showed a brief turnaround in earnings but the growth was not sustainable where EPS went from $0.59 to $1.25 from FY2013 to 2014, only to fall back to $0.13 in FY2015.
Its peer Michael Kors (NYSE:KORS) is more reasonably priced and is currently trading at a TTM P/E of only 9.7. Another peer Coach (NYSE:COH) is also trading at a cheaper P/E of 27.1. This reinforces the high multiples that Kate Spade is trading at. Even with full year optimistic estimated EPS of $0.80 achieved for FY2016, forward P/E will still be at a whopping 28 for the year with lackluster growth prospects. Its earnings are not consistent on an annual and quarterly basis, which should count against it. Investors usually pay premiums for earnings consistency, not earnings volatility.
Kate Spade has net debt amounting to $134 million as of 31 March 2016. Its debt to equity ratio of 1.5 times is among the highest compared to the industry average of 0.5. This may restrict its ability for future store expansions. With a limited cash war chest, Kate Spade can only grow at a slow pace which does not justify its expensive valuations. Shareholders will not be able to enjoy the benefits of improving cash flows until the net debt levels are pared down or fully repaid.
Another risk on the macro front is the slowdown in US retail sales. Consumers are increasingly wary of spending and a sharp slowdown in spending will hurt the fashion segment. As consumers cut down on discretionary spending, sales for Kate Spade will be under more pressure. The slowdown in spending is not just attributable to the US but also in the global markets that Kate Spade operates in. The huge threat can be seen from a widespread effect of the Chinese economic slowdown, which has adversely affected Kate Spade. Sales from international markets constitute about 15% of total company sales and have declined 12% over the last fiscal year.
Conclusion
In short, Kate Spade is under immense pressure due to competition and an overall slowdown in consumer spending. Its stock is currently trading at expensive valuation levels on a relative basis. All the combined factors make Kate Spade a sell. For risk-loving investors, the expensive valuation combined with the deteriorating business fundamentals could make Kate Spade a good short candidate as well.
Disclosure: I/we have no positions in any stocks mentioned, but may initiate a short position in KATE over the next 72 hours.
I wrote this article myself, and it expresses my own opinions. I am not receiving compensation for it (other than from Seeking Alpha). I have no business relationship with any company whose stock is mentioned in this article.