Retail Sales are Up
Retail sales advanced 1.3% in April from the prior month to a seasonally adjusted level of $453.44 billion. What happened in May?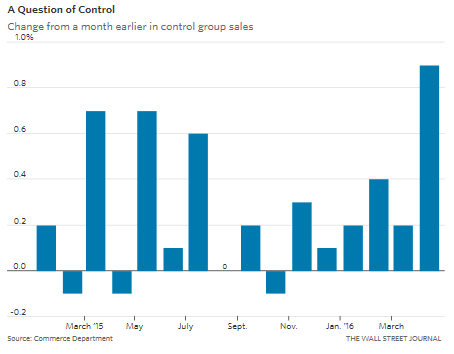 Courtesy of the Author
A quiet Evening At the Mall
Have consumers stopped spending, or are they just not buying apparel consumer goods?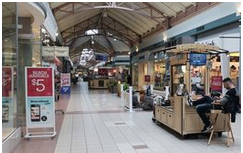 Courtesy of the Author
This was a bad week for retailers
The earnings season has not been kind to traditional retailers sending the retail sector crashing this week.
Weaker first-quarter sales have dominated the picture for many of the nations top retailers through Friday, May 18.
Stocks values have dived. Some commentators have called it the Brick and Mortar Retail Massacre, as big players have been crushed.
Something is terribly wrong and the answer to current woes may not be a quick fix.
Looking at This Week's Carnage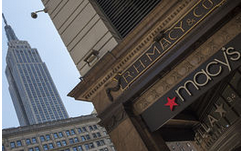 One month charts are presented below for many of the apparel retailers to show much share value was lost. Pay close attention to selling volume and losses during the last three days.
Macy's (NYSE:M) quarterly profits have declined 40% through may 11, down 44% for the year. Where did the shoppers go?
The company slashed profit expectations for the year after a notable drop-off in spending since mid-March.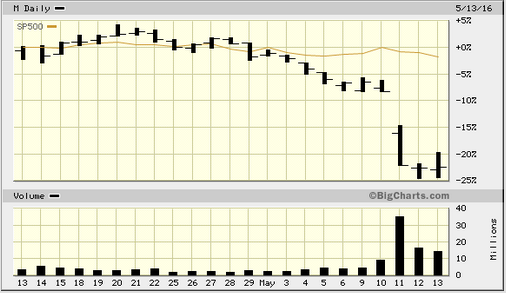 Courtesy of the Author
This market slide for the big brick and mortar retailers this week has been widespread, an eye opener. Taking a look at some of the other major companies, a similar pattern is clearly evident.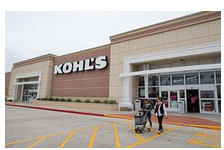 Kohl's (NYSE:KSS)posted an 87% decline in sales one day after Macy's dismal earnings report rocked the retail sector. Kohl's joined the gloomy parade after missing Q1 earnings results due to dropping sales.
For three months, February through April, Kohl's Corp. earned only $17 million, or 9 cents per share. Compare this to a year earlier when the company earned $127 million, or 63 cents per share for the same time period.
They, too, are part of the spring funk which has hit this retail group very hard.
Courtesy of the Author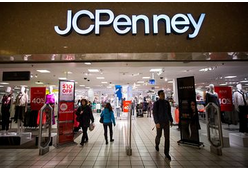 JCPenney (NYSE:JCP) has had a rocky road in May as shares began falling at the beginning of the month and are down approximately 20%.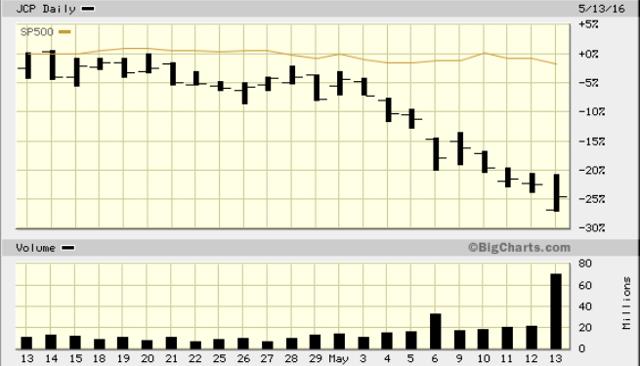 Courtesy of the Author

Target (NYSE:TGT), was not excluded from the spring rout in an approximate 8% share decline starting on May 10. This week has been brutal for retailers.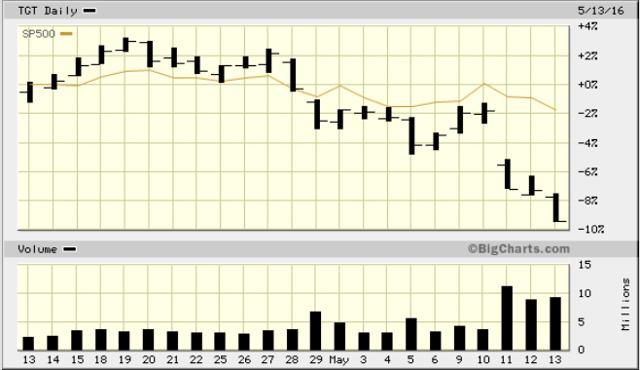 Courtesy of the Author
High End Retailers Suffer the Same Fate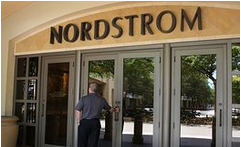 Nordstroms's (NYSE:JWN) sales have been plunging at its full-price department stores.
Morgan Stanley analysts, in an ominous report titled "High-End Recession" indicated that full-price business fell 5.4%, including a 7.7% drop in U.S. department stores. Both results are the worst noted since 2009.
They further stated that "notably, this shortfall was entirely driven by lower trips/transactions." The graphic for the month of May speaks volumes of share loss.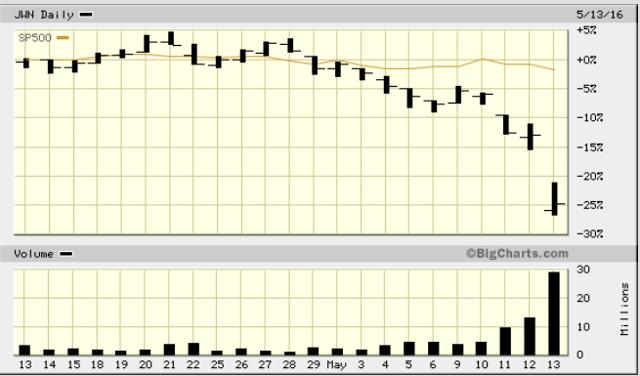 Courtesy of the Author
High-End Retail Risk May Be Greater
Nordstrom's showed a bifurcation between its high-end retail stores and off-price brands. Nordstom Rack, which sells deeply discounted clothes and accessories grew 4.6%. This could prove to be a warning indicator for high-end retailers.
Morgan Stanley analysts stated "we think retailers exposed to the high-end consumer are most at risk to a further sales step-down in 2016."
Nordstrom has forecast a 30% loss in profit share for the first half of 2016.
Gap Inc. (NYSE:GPS) has been feeling the heat. March sales fell 14% followed by another 11.5% in April and have fallen further during the first half of May. The graphic below is not a pretty sight for a higher end fashion retailer.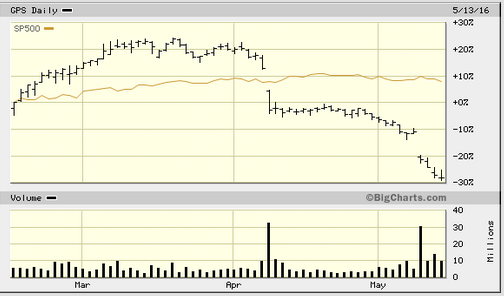 Courtesy of the Author
Retail Massacre
There can be no question that consumers have stopped spending in the sector. A number of reasons have been suggested to explain the impact. They include:
Consumers are doing most apparel retail spending in online shopping which is reaching a critical mass for American households.
In April consumers purchased more online. Lower prices and convenience are cited as reasons for the shift from in-store retailers.
The rise of Amazon (NASDAQ:AMZN) has shifted a great deal of shopping from malls to online. Trailing only Walmart (NYSE:WMT), Amazon is the second largest U.S. apparel retailer.
Amazon.com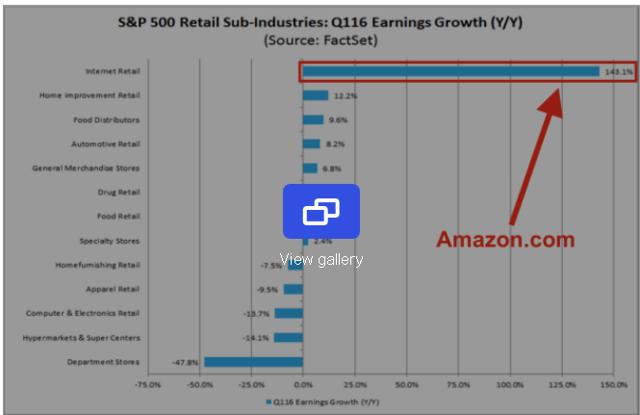 Courtesy of the Author
Brick and mortar spending to compete with online outlets has produced dull boring stores that are no longer attractive to buyers. Fitch Ratings summed it up nicely: the "apparel sector has been characterized by a lack of a strong product cycle and a bifurcation to higher-end aspirational brands, lower-end fast fashion and off-price channels."
This was one of the topics during the annual shareholder meeting for Berkshire Hathaway (BRK-A, BRK-B) that stressed the importance of companies continuing to evolve, maintaining connectivity with ongoing trends.
A slowing economy with consumer fears of recession due to low growth, fewer jobs and a shrinking middle class weigh heavily on consumer spending options.
Stocks tumbled Friday, May 13, to finish the third straight down week with major U.S. stock indices closing at their lowest level in about a month. Economists at BNP Paribas point out that "real income growth is slowing and we would expect consumption growth to follow."
The breakdown in retail sales may be one more indicator that slow global and U.S. growth is seriously impacting consumption. The world Economic Outlook (WEO) forecasts a sluggish 2016 growth rate of 3.2%, with a Q4 U.S. GDP showing growth at 0.5%.
Greater volatility in stock market indices show triple peaking at resistance levels that are not surpassed.
This is compounded in my opinion by a delusional Yellen Fed concerned about a strengthening economy and the need to raise interest rates. Policy makers at the Fed may require more convincing evidence than this week's retail rout to declare that U.S. consumers have awaken from their sleep.
Lastly, it may be that consumers are directing their spending elsewhere on travel, food, entertainment and home goods. They have become more need-based rather than accumulation-based in their spending patterns. Millennials are opting for services, entertainment and dining out.
Take-away
When the market speaks, investors listen!
Note: Thank you for reading and commenting. You can follow my articles on SA by going to the top page of the article and clicking the circle button directly after my name and preceding the word (follow).
Disclosure: I/we have no positions in any stocks mentioned, and no plans to initiate any positions within the next 72 hours.
I wrote this article myself, and it expresses my own opinions. I am not receiving compensation for it (other than from Seeking Alpha). I have no business relationship with any company whose stock is mentioned in this article.
Additional disclosure: The information and data that comprise the content this article came from external sources that I consider reliable, but they have not been independently verified for accuracy. Although I reserve the right to express points of view, they are my reasoned opinions and not investment advise. I am not responsible for investment decisions you make.