On Friday, U.S. intelligence officials told reporters they saw the potential for an economic and political meltdown in Venezuela. The fact that it predicted President Nicolas Maduro was not likely to complete his term led him to declare, "Washington is activating measures at the request of Venezuela's fascist right, who are emboldened by the coup in Brazil."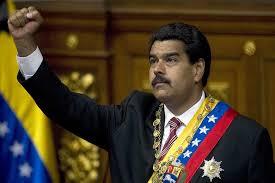 Maduro signed a state of emergency and extended a state of economic emergency to protect the country from foreign and domestic threats. He said the measures would be in place for three months but would likely be extended over 2017. An economic state of emergency has been in force in Venezuela since January, including rationing of food and other goods.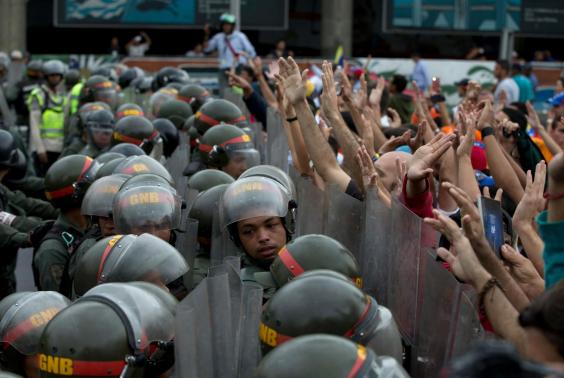 Soldiers fired tear gas at protesters (AP).
Dilma Rousseff, president of Brazil, was impeached last week. In Venezuela, a recall referendum obtained the necessary signatures to remove Nicolas Maduro from office. Opposition activists say authorities are not letting them proceed to the next stage when they must collect another four million signatures.
Mr. Maduro has sworn he will not be forced out before his term expires in 2019. He accuses the opposition of seeking a coup against him to destroy the socialist legacy of his predecessor, Hugo Chavez.
Today, he has ordered the seizure of factories that have stopped production and the jailing of their owners. The move to seize closed factories came after Venezuela's largest food and beverage company, the Polar Group, halted production of beer, blaming government mismanagement for stopping it importing barley.
Oil Price Impact
The Venezuelan economy is largely based on the petroleum sector and manufacturing. Revenue from petroleum exports accounts for more than 50% of the country's GDP and roughly 95% of total exports.
In 2015, GDP dropped by 5.7% and it is forecast to decline by 8% in 2016, the biggest contraction of any country in the world, according to the International Monetary Fund (IMF). The inflation rate is officially 180% and the Venezuelan bolívar has lost about 98% of its value since 2013 when Maduro took office.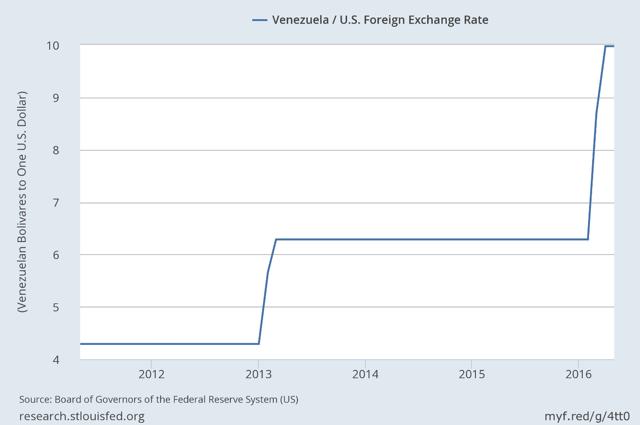 Click to enlarge
Effect of the Drought
On top of the oil price crisis, Venezuela is experiencing the worst drought in 47 years. Water levels at the Guri dam in the south, which produces about 60% of the country's electricity, fell to a record lows. The result has been a brutal electricity and water crisis. Yellow water, power outages and dirty air have led to violent crime and stomach illnesses.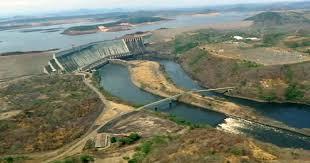 Life in Caracas, one of the world's most dangerous cities, is a nightmare. Riots, protests, and looting hit the city one night in late April as the city was blanketed in darkness. Chronic shortages of basic goods, including food and medicine, are routine.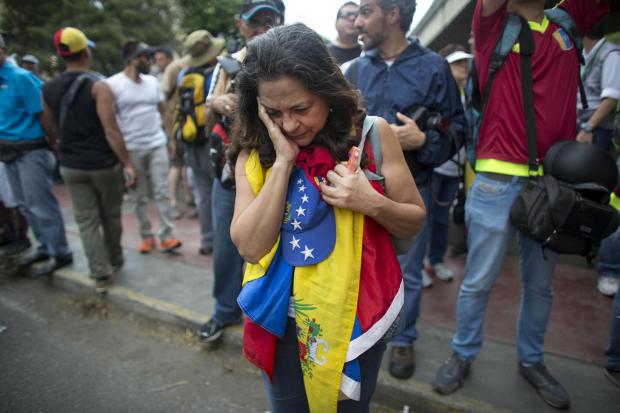 The Venezuelan capital has been rocked by protests AP.
Impact on Oil Production
Petróleos de Venezuela, S.A. (PDVSA) is the state oil company of the Bolivarian Republic of Venezuela, and is responsible for the exploration, production, refining, transportation and trade in hydrocarbons. The Venezuelan State is PDVSA's sole stockholder under the provisions of the Constitution and represents the economic and political sovereignty exerted by the Venezuelan people over oil, their main energy resource.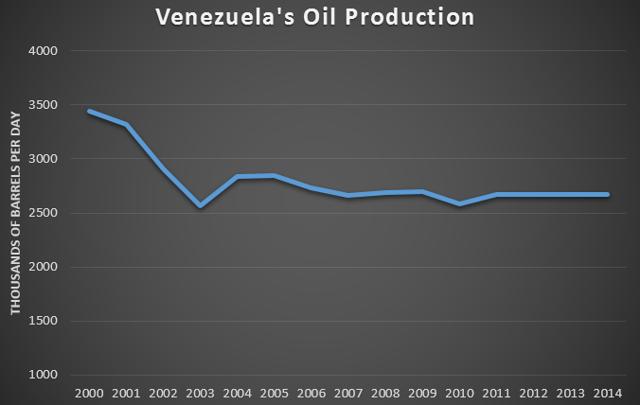 Click to enlarge
Oil production has steadily declined from 3.4 million barrels per day (mmbd) in 2000 to just 2.78 mmbd in 2015. Despite having the world's largest oil reserves, PDVSA has been unable to reverse the decline.
The combined effect of the economic collapse, lack of maintenance at oilfields and refineries, and power shortages could cut off 250,000 to 500,000 b/d this year, according to consultancy IPD Latin America. There is a long list of problems. Instead of using natural gas to help pressurize oil fields, it is being diverted for power generation. A scarcity of diluents is making it difficult to process heavy crude.
Oilfield services giant Schlumberger (NYSE:SLB) began shutting down operations in Venezuela because the company said it had not been paid. FGE, an energy consultancy, estimates that the loss of Schlumberger alone could lead to the disruption of 150,000 barrels of daily oil production by the end of the year. IPD says that the time it takes to complete a well has ballooned from 15 to 60 days on average.
"They have not kept up on maintenance and it is showing everywhere: Oil production, electricity problems," Ray Zucaro, the chief investment officer at Miami-based RVX Asset Management, told Bloomberg. "The place is falling apart. There's no beer for god's sake!"
The shortfall in electricity is impacting downstream operations more than it is upstream, since PDVSA generates most of its electricity itself. In the last week of April, Venezuela's Amuay oil refinery saw production cut in half because of a shortage of electricity, according to Reuters, slashing output from 645,000 barrels per day to just 360,000 barrels per day. "At the weekend we were producing at around 25 percent, nothing more," a worker at Amuay said in an interview with Reuters.
Conclusions
The oil price collapse has hurt the Venezuelan producer hard. It had been holding together, but the impact of the drought has thrown the country further into crisis.
Based on the reporting available, it appears that oil production disruptions have already started. And the second half of 2016 appears more dismal for its energy industry.
Disclosure: I/we have no positions in any stocks mentioned, and no plans to initiate any positions within the next 72 hours.
I wrote this article myself, and it expresses my own opinions. I am not receiving compensation for it (other than from Seeking Alpha). I have no business relationship with any company whose stock is mentioned in this article.
Additional disclosure: I have consulted to PDVSA and their U.S. subsidiary, CITGO, but have no on-going business relationship.