So far, Volkswagen (OTCPK:VLKAY) has set aside 16.2 billion euros for the diesel issue. While VW's unit sales overall were up -- barely -- in the first quarter of 2016 (0.8%) year-over-year, sales in the U.S. were down 5.7%. In a market that's growing, that's a very bad result. VW's U.S. market share is down, materially.
When we dig into Volkswagen's U.S. sales numbers year-to-date (January-April), we find some peculiar things. The first thing that strikes you, is that 13 of the nameplates are down year-over-year. Ten out of those are down by over 10%. This includes names such as Passat, Touareg, Beetle and Jetta. Basically, a widespread disaster.
Only four nameplates are up -- all four of them by over 10%, by the way. Three of those four are variants of the Golf: eGolf, R and Sportwagen. The eGolf is the battery-electric Golf and sold mostly in California, where the lease prices have headline numbers that appear to be heavily subsidized, such as $89 per month (plus a down payment, etc.). Meanwhile, the R and Sportwagen versions of the Golf were introduced in the first quarter of 2015 and therefore had near-irrelevant year-over-year comps.
That leaves us with Volkswagen's outlier in U.S. sales: Tiguan. This is the small SUV which has been available since 2007 and benefiting from only one meaningful refresh. Even by Volkswagen's long model cycle standards, it's a relic. On its tenth year of production, its sales numbers ought to be dropping sharply.
As it turns out, it has not.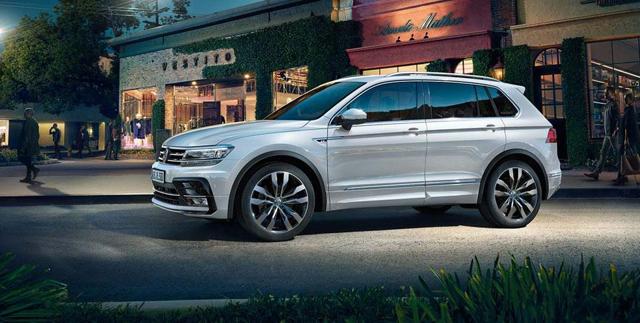 Source: Volkswagen
In fact, Tiguan's U.S. sales are increasing faster than all of its relevant peers in the small SUV market. Let's take a look at twelve of the main competitors in the small SUV market for the year so far, January-April 2016:
| | | | |
| --- | --- | --- | --- |
| US sales | Jan-Apr 2016 | change y/y | Jan-Apr 2015 |
| Jeep Renegade | 31681 | 514% | 5157 |
| Hyundai Tucson | 28102 | 86% | 15147 |
| VW Tiguan | 13096 | 64% | 7994 |
| Kia Sportage | 25112 | 58% | 15918 |
| Chevrolet Trax | 18237 | 39% | 13137 |
| Buick Encore | 23808 | 21% | 19623 |
| Toyota (NYSE:TM) RAV4 | 106274 | 18% | 89924 |
| Nissan (OTCPK:NSANY) Rogue | 92209 | 7% | 86253 |
| Ford (NYSE:F) Escape | 95514 | 3% | 93042 |
| Subaru Forester | 52917 | 3% | 51613 |
| Honda (NYSE:HMC) CR-V | 100101 | -2% | 102579 |
| Chevrolet Equinox | 80486 | -15% | 94469 |
At 64% year-over-year growth, the Volkswagen Tiguan is beaten only by the Jeep Renegade and Hyundai Tucson. The Jeep Renegade was brand new in early 2015, with no predecessor at all, so it is hardly a relevant comparison. The Hyundai Tucson, while it had a predecessor model, was all-new starting in the middle of 2015. Therefore, a comparison with the Volkswagen Tiguan is not fair either.
In other words, adjusting for the impact of new models, the relatively ancient Volkswagen Tiguan showed the highest growth rate in the industry, in terms of these small SUVs. Considering that the Tiguan is the oldest model of the competitive set, it ought to have been the other way around. As you can see in the table above, the other old models in the competitive set -- Chevrolet Equinox and Honda CR-V -- were both showing this natural trend of decline, in what is now becoming their last year of service before replacements arrive.
Some might argue this is a temporary phenomenon. In four months, there could have been an anomaly, such as heavy rebates or other factors. To look at a longer trend, let's do the same exercise for the full-year 2015 performance as well, comparing sales to 2014 for the same cars:
| | | | |
| --- | --- | --- | --- |
| US sales | 2015 | change y/y | 2014 |
| Chevrolet Trax | 63030 | 8429% | 739 |
| Nissan Rogue | 287190 | 44% | 199199 |
| VW Tiguan | 35843 | 43% | 25121 |
| Buick Encore | 67549 | 38% | 48892 |
| Hyundai Tucson | 63591 | 34% | 47306 |
| Kia Sportage | 53739 | 25% | 42945 |
| Toyota RAV4 | 315412 | 18% | 267698 |
| Chevrolet Equinox | 277589 | 15% | 242242 |
| Subaru Forester | 175953 | 10% | 159953 |
| Honda CR-V | 345647 | 3% | 335019 |
| Ford Escape | 306492 | 0% | 306212 |
| Jeep Renegade | 60946 | n/a | 0 |
As you can see, the Volkswagen Tiguan's class-leading growth in 2016 holds up very well when we look at full-year 2015 growth too. Looking at 2015 growth over 2014, and comparing with the competitive set, we find that Tiguan grew 43% in 2015.
This phenomenal full-year growth rate was beaten by two all-new cars that had essentially zero year-over-year comparisons -- Chevrolet Trax and Jeep Renegade. So we can safely discard those comparisons.
What's left is the impressive Nissan Rogue, which grew 44% in 2015, and from a much larger base. Very impressive indeed. However, as you can see from the first table above, Nissan's growth did not extend to a significant degree into 2016, with "only" 7% growth. That's in-line to slightly better than the U.S. auto market as a whole -- although lower than its competitive small SUV set, as you can see in the table above.
In contrast, the VW Tiguan not only kept up its near-record 43% growth rate in 2015, but accelerated it to 64% in 2016 thus far. This is truly remarkable.
Some will object: The Tiguan is one of the few Volkswagen nameplates to never be sold as a diesel in the U.S. Therefore, it had no problem growing.
It is certainly true that the Tiguan was never sold as a diesel in the U.S., but it is hardly relevant to the argument here. Not a single one of the Tiguan's competitors has been sold as a diesel in the U.S. market either!
This brings us to the second part of the equation: Valuation of a growth story.
With a 43% growth rate in 2015 and 64% in 2016, that's Tesla (NASDAQ:TSLA) territory. Tesla has been growing unit deliveries generically at, around or a bit above 50% -- the same as the Volkswagen Tiguan in the U.S. Tesla's 2016 global unit guidance is for 68% at the mid-point of its guidance range (most Wall Street analysts estimate it will be less), just barely above the Tiguan's 64% U.S. unit growth year-to-date. Tesla's 1Q global unit growth was "only" 47% -- far slower than the Volkswagen Tiguan's U.S. growth rate.
In 2015, the U.S. Tiguan franchise was just over two-thirds the size of Tesla's global unit sales, which today carries a fully diluted market cap (over 150 million share count) of just over $30 billion. That would imply that the U.S. part of the Tiguan franchise would be worth $20 billion.
Of course, some will object and rightfully point out that a Tesla average selling price is on the general order of 3x as high as a Tiguan's transaction price. That's true. However, Tesla also loses money, whereas Volkswagen is a very profitable company on an operating (ex-one-time-charges) basis.
There is no objective way to "cancel out" those two factors -- the discrepancy in average selling price, and the discrepancy in operating profitability (and loss, for Tesla). Some will emphasize one factor over the other.
However, this is a financial site, and we are discussing the valuation of a security. The end goal is profitability -- not maximizing the average selling price of a car. Selling $90,000 cars and losing $19,000 apiece is not financially more impressive than selling cars for under $30,000 and doing so at an operating profit.
We know the market isn't valuing The Volkswagen Group on Tesla multiples. That's obvious. The same goes for all other automakers. Volkswagen delivered 200 times as many cars as Tesla in 2015, and applying a Tesla valuation to Volkswagen would imply a market cap of $6 trillion. Yes, that's trillion. Clearly not happening.
It's understandable why an automaker such as Volkswagen should not enjoy a valuation of that lofty nature. Overall, the company is not growing materially. In comparison with a company that's growing units at 50% or more, it's basically standing still. Those near-zero-growth companies can trade close to 1x revenue and 5x-10x earnings, if they're lucky.
But that's not the point here. The point is that not all of Volkswagen is growing equally slowly. Some parts of Volkswagen are experiencing growth that is every bit as impressive as Tesla. However, it's buried inside one of the largest companies in the world, so it's hard for the investor to detect.
But that's what I have done here: I have detected one product which is growing in the U.S. market at essentially the same pace as Tesla does globally, and has done so not just for a few months. In theory, it could be broken out of Volkswagen and be assigned a $20 billion valuation, as shown above. It isn't, and Volkswagen most likely won't spin out this product -- for that matter any other product. Not for now, anyway.
But it could. If pushed against the wall, all sorts of things could be on the table. Volkswagen hopes and insists that it will not be in that position.
That said, the shareholder should know, that inside the huge company with more product lines than any normal person will ever remember, resides a slice of the business that is two-thirds of the size of Tesla, and has been growing approximately as fast. Will the shareholder ever see that $20 billion of value realized, either inside Volkswagen's overall valuation, or in a future structure?
Disclosure: I am/we are long FCAU.
I wrote this article myself, and it expresses my own opinions. I am not receiving compensation for it (other than from Seeking Alpha). I have no business relationship with any company whose stock is mentioned in this article.
Additional disclosure: Positions can change at any time. Volkswagen paid for travel logistics around its annual press conference and meetings with management near a Volkswagen factory. The author regularly attends press conferences, new vehicle launches and equivalent by most major automakers, and sometimes travel logistics around those events are paid for by the hosts.
Editor's Note: This article discusses one or more securities that do not trade on a major U.S. exchange. Please be aware of the risks associated with these stocks.