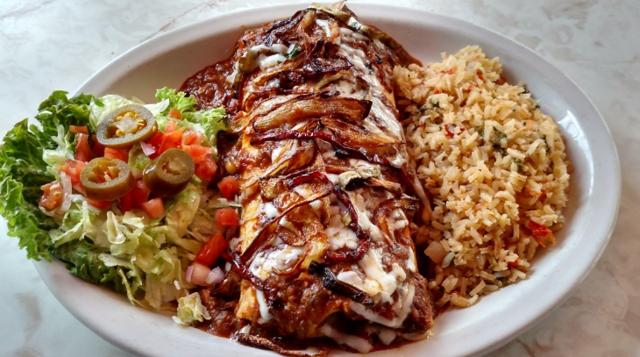 Click to enlarge
Chuy's (NASDAQ:CHUY) has been another example of a restaurant stock that has seen tremendous volatility since coming public. I've been both bull and bear on CHUY at different times in its relatively short life as a public company as I began a steadfast bear, turned bullish in the teens and have since returned to believing Chuy's is overinflated once more. The company is growing the top line at a rapid rate but to my eye, there are cracks in the armor that simply don't justify the ludicrous valuation the company sports. But 2016 is a new year; will the Q1 report sway me back to the bulls' side?
I'll be using some charts from Simply Wall St. to help me out.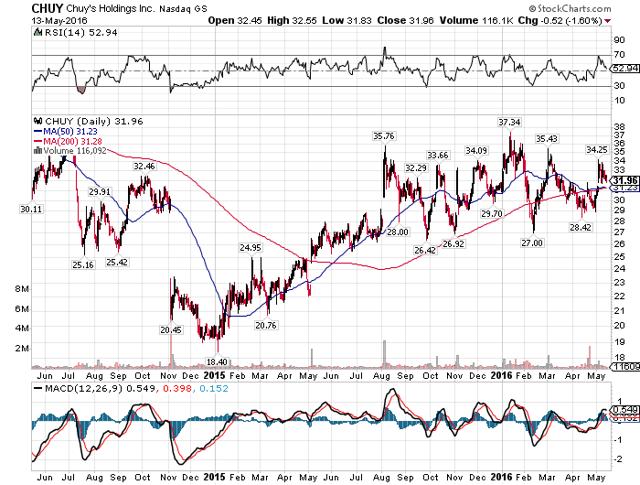 Click to enlarge
Chuy's has been blowing it out of the water on the top line basically forever; a rapid unit count expansion will do that for you. But my problem with Chuy's in the past has been that its traffic counts are very weak for a company that is still very much in its growth stage and that the valuation didn't properly take it into account. But before passing judgment on Chuy's as it trades near its highs, let's see how the chain fared in Q1.
Top line growth was impressive once again at nearly 17%, something Chuy's has been doing for a long time. It is still making very meaningful progress towards expanding its unit count because this is still a relatively small company. This kind of top line expansion is going to be here for a while but opening new units is not a sign of overall long term demand; anyone can open units. It takes a truly successful chain to do so while adding traffic at existing locations, something Chuy's has simply failed to do in the recent past.
To its credit, Chuy's produced much better comp sales numbers in Q1 than it has in recent quarters. The total comp gain was 3.2% as average check contributed 2.1% and traffic produced the balance. This is a far cry from the weak numbers Chuy's was producing last year where negative traffic wasn't out of the question; this is a marked improvement and to be fair, it caught me off guard. I thought Chuy's would struggle with traffic this year as well as it showed no signs of things picking up last year but I was wrong. Has Chuy's fixed its traffic problem? Perhaps, but we'll need more than one quarter's worth of data to prove that out. At any rate, Chuy's is off to a flying start this year.
Slightly higher occupancy costs were no match for the variety of savings the company saw on the expense side in Q1 as total restaurant operating costs fell 130bps. That helped push unit-level EBITDA up 24.5% during the quarter, well in excess of revenue growth. CHUY's level of ultimate profitability is still very low but with improvements like that, it shouldn't take long to get to a reasonable level.
The strange thing is that Chuy's produced only a marginal raise in its full-year guidance despite the very strong start to the year. Management may be sandbagging a little here but after reading the rest of the press release, the small bump in guidance was surprising.
Moving forward, what do analysts think Chuy's can do? This chart gives us a depiction of where revenue is slated to go in the coming years.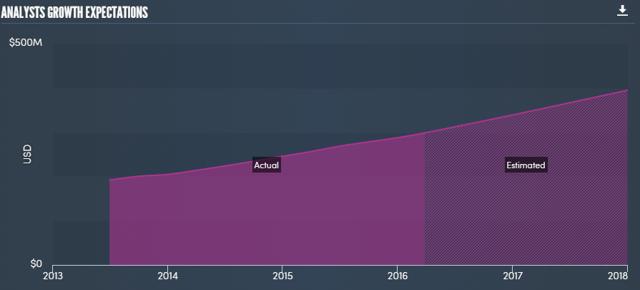 Click to enlarge
We see a nice, smooth trajectory upwards and this of course comes as no surprise; Chuy's is going to continue its strong unit development for the foreseeable future. And with the addition of nice comp sales gains that now include traffic increases, it seems CHUY's revenue growth path is clearer than ever. Still, analysts are building in high-teens revenue growth for the next couple of years and while much of that will be unit count, Chuy's has to keep up the good work on comps to have a chance at hitting these numbers. And right now, while Chuy's has a better chance than it did prior to Q1, I think upside to these numbers is very limited or nonexistent; sentiment is too high for that right now as everyone is bullish.
On the profit side, we should see additional improvement as well.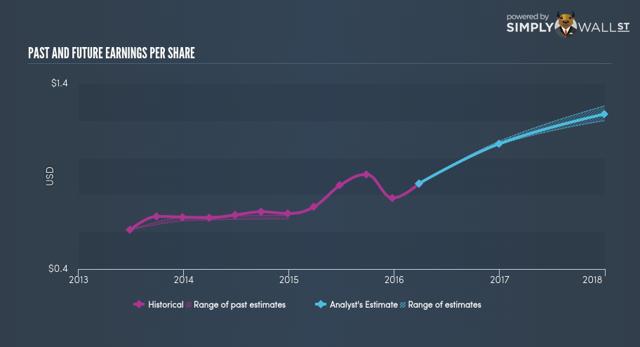 Click to enlarge
Analysts are just above what Chuy's guided for this year and next year, they collectively expect a further mid-teens gain in profitability. Astute readers will note that EPS growth is actually slightly less than revenue growth, something that does not bode well for the company's valuation. And given that its profit level is still just 5.8% (in Q1), I would think there is a fairly significant runway for margin expansion for CHUY. But apparently, analysts don't think so and that is very interesting. If analysts are right then Chuy's is way overvalued right now. But if Chuy's can produce some sort of margin expansion, bulls have a shot.
The problem is that even after the guidance raise, CHUY is still trading for 30 times this year's earnings. That's steep by any measure and in particular, for a still-small restaurant chain without a long term track record of traffic gains. Unit count growth is nice but that is nowhere near enough to justify the current valuation. If Chuy's can produce some margin gains it could potentially grow into its current price but analysts that seem uber-bullish at this point don't think that is going to happen. The bottom line for me is that while Q1 was a nice improvement on the traffic front, we are still talking about a chain whose primary source of growth is unit count and one that's PEG is right at 2. That's too steep for me as there are bargains in the restaurant space; one needn't overpay for a chain that doesn't offer anything special to justify a PE that starts with a 3.
Disclosure: I/we have no positions in any stocks mentioned, and no plans to initiate any positions within the next 72 hours.
I wrote this article myself, and it expresses my own opinions. I am not receiving compensation for it (other than from Seeking Alpha). I have no business relationship with any company whose stock is mentioned in this article.