When industry conditions are tough, that is when shareholders find out how good the company management really is and whether or not the experience on all those resumes of senior management is really worth anything. Chesapeake Energy Corp. (NYSE:CHK) finished the first quarter touting several accomplishments including trading some debt, eliminating some debt and lowering costs. Shareholders should rightfully be questioning the value of those accomplishments.
For Example: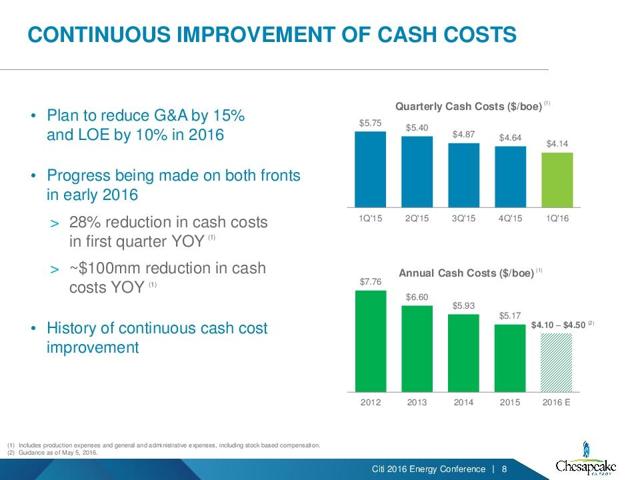 Click to enlarge
Source: Chesapeake Presentation in May 2016, Citi Global Energy and Utilities Conference
The company management (click on the presentation) has trumpeted the improvements made, especially since this progress is supposed to be a good thing. However, there are other competitors with a different idea as to what constitutes progress.
- "1Q16 domestic lease operating expense per BOE was down nearly 40% year-over-year"
This announcement was from the heading of the first quarter report for Newfield Exploration (NYSE:NFX). While the management of Chesapeake has been publicly busy praising themselves for their "progress," the industry appears to be making more progress as is shown by the headline quote above.
"Granite continues to improve its capital cost structure. The Company is pleased to announce that in the second quarter it drilled and completed its lowest cost well to-date, with an all in cost of approximately $1.5 million. This represents a 47% decrease year over year, and a 17% decrease as compared to Granite's 2016 budgeted well costs. The well was a re-entry of an existing well and was successfully drilled deeper in the reservoir to optimize oil recovery within the EOR scheme.

The Company continues to optimize operations and anticipates it can drill and complete new wells for similar costs."
This is another first-quarter announcement, although admittedly from a much smaller but far more profitable Granite Oil (OTCQX:GXOCF). The key difference between these quotes and the Chesapeake slide is the emphasis these two companies put on cost reduction when communicating with the public. Both companies emphasize cutting specific costs to specific goals. When reviewing the presentation of Chesapeake, there are really about three slides above emphasizing costs and a few others referring to costs. Both companies with larger cost reductions spend a far greater percentage of their communications to the public and their shareholders emphasizing their cost reductions. Plus emphasizing that they intend to cut costs and improve operations until profitability is satisfactory. Chesapeake management is very vague about the profitability goals and achievements.
Really Chesapeake should be showing costs by major projects and where it stands in relation to industry leaders in each project. Then by project, the company should be noting management's future plans relating to those costs and production. But really the company does not provide much in specifics and it certainly does not state an intention to be a low-cost leader. That difference in communication would lead to a belief that Chesapeake is sliding further behind the industry in its cost structure, despite some progress made in reducing its costs.
Costs can easily vary based upon geology and other area characteristics. The costs reported by the company overall are weighted average costs that really don't tell the shareholder all that much. But the more transparent the costs, the more accountability management has to bring those costs in line with the competition.
Many companies in the industry participate in cost comparisons with competitors where an outside company presents the data to management and demonstrates to management where the company stands in relation to the competition. Such comparisons can be helpful to management in guiding them to the necessary budget proposals and long-term goals to compete. Of course there are other tools to help. But the key here appears to be that while management has cost reduction goals, those goals may be insufficient to solve the company's continuing profit challenges in a very low-cost environment.
Birchcliff Energy (OTCPK:BIREF) just announced operating costs for the first quarter of C$3.71 BOE. When taking into account the currency differences, the difference between the Chesapeake slide above and Birchcliff is nearly $1 BOE. That is a large difference in operating costs that could prove to be a significant hurdle if there is no production difference (resulting in superior or more valuable products to sell) that would cancel this difference.
In short, it is hard to see Chesapeake having any kind of a profitable future for long-term investors until management shows a very high priority to low costs and high cash flow. The number of slides in the presentation really needs to be more than half the presentation to demonstrate the importance of this priority.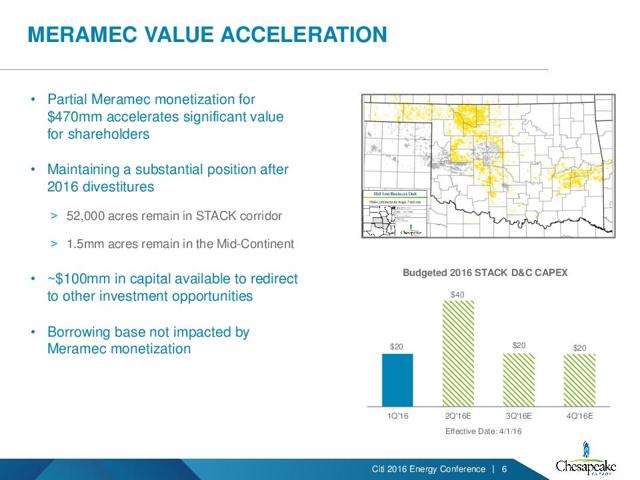 Click to enlarge
Source: Chesapeake Presentation in May 2016, Citi Global Energy and Utilities Conference
The company management (click on the presentation) made a decision to sell some of the acres in the Meramec monetization. But the question remains as to whether the remaining acres can be handled efficiently by management. Those 52,000 acres are a very small position for a company of Chesapeake's size. So despite the assumed potential profitability of this acreage, they may turn out to be a management distraction.
A better plan of action could be to sell that remaining acreage and focus on the areas with a much larger amount of acreage to become a low-cost operator in those areas. Quite possibly the company should focus on three or four major projects where it can be the low-cost leader and liquidate or spin off the remaining holdings. Such a strategy could easily accelerate the turnaround process by simplifying that process.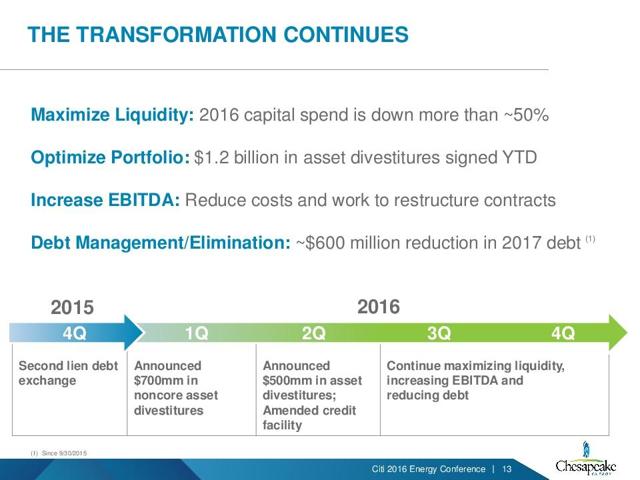 Click to enlarge
Source: Chesapeake Presentation in May 2016, Citi Global Energy and Utilities Conference
The company management (click on the presentation) is moving relatively slowly to tackle future liquidity challenges. Companies such as Energy XXI (NASDAQ:EXXI) and Sandridge Energy (OTCPK:SDOC) were heavily indebted and retired or traded far more debt in about the same period of time. Yet Energy XXI is now in bankruptcy and Sandridge Energy is probably close to filing. Chesapeake does have considerably more breathing room from its banks, and it has sufficient liquidity for the time being. But the losses need to turn to profits and the cash flow needs to increase considerably from its present level. The banks have granted the company some waivers, but are expecting to see significant progress towards profitability one way or another. Otherwise, the company's bankers at some point will put pressure on the company by decreasing the credit they are willing to extend.
Summary
The company needs far more transparency in the form of reporting costs by major project. Management also needs to establish some very aggressive and specific cost reduction goals to catch up and then lead the rest of the industry in low costs. The current presentation does little to encourage the shareholders that Chesapeake is reducing the current high cost production to a leading low-cost production. The progress that management does admit to may not be sufficient for the stock to have any future value.
The company has considerable assets that management may not be able to produce at a profit because of the number of projects that the company currently has to drill and produce. Therefore, it should probably simplify the lease situation by focusing on three or maybe four main geographic areas, and scaling down enough to handle those areas efficiently enough to become a low-cost producer. Trying to turn around too much at one time has doomed more than one company, so the cash proceeds from selling some of these lease areas could be more valuable to the company than the leases.
Similarly, the company needs much more urgency on the debt structure. Announcing a few hundred million in debt restructuring deals that are really not very significant for a company this size does not help management credibility much, if at all. In this area, as in the others, management needs to demonstrate a new urgency both in actions taken and in communications to the shareholders.
Until investors see significant progress towards profitability and maintaining proper liquidity, this stock will remain a trading vehicle based upon the periodic press releases from the company. The long-term picture is currently too murky and too challenging for most if not all long-term investors. Frankly there are far better investment opportunities out there. Newfield Exploration, Advantage Oil & Gas Ltd. (NYSE:AAV), Encana (NYSE:ECA) and Murphy Oil (NYSE:MUR) all have far better prospects than this company with much less risk. A batch of companies such as these will easily outperform an investment in Chesapeake. It could actually be a few more years (if ever) for Chesapeake to become an investment suitable for long-term investors.
Disclaimer: I am not a registered investment advisor and this article is not advice to buy or sell stock in any company. The investor needs to do his own independent investigation that includes reading the company governmental filings and press releases, as well as anything else relevant to determining if this company fits the investor's risk profile.
Disclosure: I am/we are long GXOCF, SDRXP, EXIXF.
I wrote this article myself, and it expresses my own opinions. I am not receiving compensation for it (other than from Seeking Alpha). I have no business relationship with any company whose stock is mentioned in this article.
Editor's Note: This article covers one or more stocks trading at less than $1 per share and/or with less than a $100 million market cap. Please be aware of the risks associated with these stocks.