Welcome to the energy sector's first edition of "Buy on Weakness?" a series of articles that sifts through the underperformers of the week to find potential investment opportunities in the large-cap energy world. The idea is to help investors, particularly those focused on value plays, unearth ideas in energy for the coming week.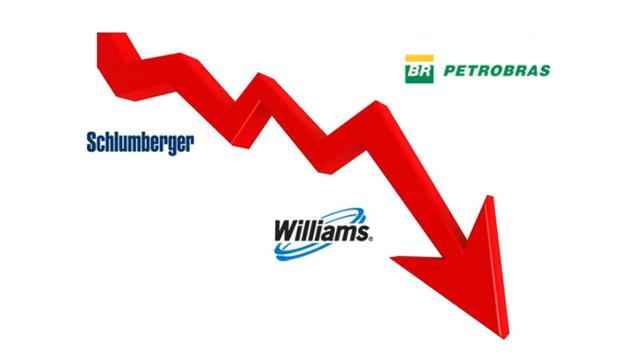 Click to enlarge
Credit: DM Martins Research montage using company logos
The table below highlights the top 20 energy companies - worth $10 billion or more in total equity value - that have performed the poorest in the previous five trading days.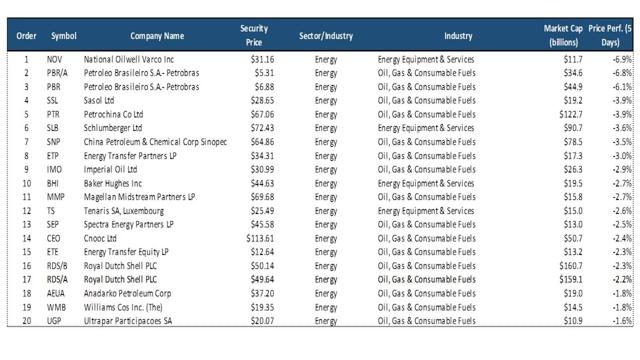 Click to enlarge
Source: DM Martins Research, using market data compiled from Fidelity
Energy sector pulls back
The week of May 9th saw the large-cap energy group erase nearly $29 billion in market value. The Energy Equipment & Services was the biggest losing subsector, highlighted by National Oilwell Varco's (NYSE:NOV) and Schlumberger's (NYSE:SLB) respective 6.9% and 3.6% share price drops. The Oil, Gas & Consumable Fuels subsector was negatively impacted by further drop in Brazilian's Petrobras (NYSE:PBR) share price post its Q1 loss announcement on May 12th.
Let's take a closer look at some metrics.
Diving deeper into the data
The top 20 energy losers of the week have an average median forward P/E of 23.4x compared to the S&P 500's median trailing P/E of 23.7x. This week's top 20 group is expected to grow EPS in 2017 by a respectable 76.5% (driven by expectations for a rebounding energy sector), and the companies generate a high median dividend yield of 4.1% (18 of the 20 stocks are dividend-payers).
The table below highlights, in green font, the three best-positioned tech companies in each of the following categories: projected EPS growth, dividend yield, forward P/E and forward PEG (P/E divided by percentage-point EPS growth).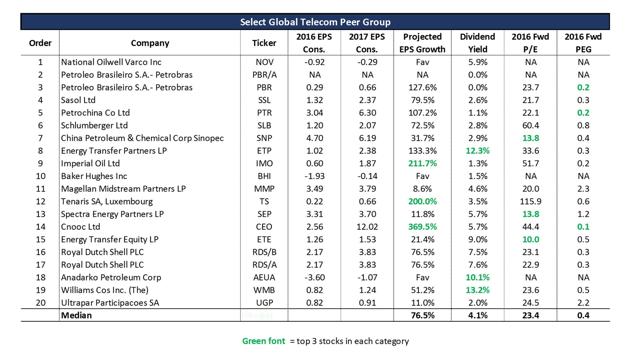 Click to enlarge
Source: DM Martins Research, using data from Yahoo Finance, Nasdaq and Market Watch
So which short-term losers should investors consider adding to their portfolio to take advantage, in the long run, of the price pullback? And which should they avoid, despite the price drops?
Let's take a closer look at some select names that featured on energy's top 20 "biggest loser" list last week.
Petrobras : third consecutive quarterly of net loss, focus on reducing leverage
Down almost 7% in the past five trading days, the company reported its third consecutive quarterly loss this week of 1.25 billion reais ($347.5 million), vs. a net profit of 5.3 billion reais in the year-ago quarter. Revenues of 70.3 billion reais were down 5% year-over-year and below analyst's estimates. Amidst continued political turmoil in Brazil, the state-controlled company's management is focused on asset sales as a way to reduce the company's extremely high debt load. PBR's CFO, Ivan Monteiro, referred to continued asset sales as a way for the company to cut its "cholesterol levels".
- The bull case: The state-owned PBR has been hit by a perfect storm in 2015, which implicated the company's senior management and high profile government officials in the ongoing corruption scheme, aptly referred to as Operation "Carwash" (a.k.a. Lava Jato) by the Brazilian media, and the continued oil price rout. Oilprice author Irina Slav makes a case that PBR's asset sales were off to a good start in the first quarter, albeit the $1.4 billion in assets sold being a small portion of its $15 billion divestiture plan. Either a continued long-term recovery in the oil price, or unexpected swift resolution of the "Operation Lava Jato" complexities could result in an improved stock valuation for PBR.
- The bear case: The continued mismanagement of state-owned PBR, the tie-up of the company's fate to the broader Brazilian politics scene, and the operational difficulties facing the company in 2016 present a difficult picture for the investors trying to look for value beyond Q1 results. The company is expected to continue selling off assets, cutting capex, and pursuing layoffs, amidst continued "noise" coming from Brazil's macro landscape that can hinder management's ability to execute on its plans.
Schlumberger : relatively quiet week, interesting relative underperformance
Another note-worthy name that made it to the "biggest loser" list was SLB. The stock, down 3.6% last week, has retreated about 6% in the last month. The Energy Equipment and Services subsector has been impacted by lower spending by energy companies in the upstream segment. Nevertheless SLB, the world's largest oil and gas services provider, posted Q1 revenues of $6.5 billion on April 21st, which were slightly above analysts' expectations. At first glance, therefore, SLB is worth a closer look following the dip.
- The bull case: Compared to other major companies in the Energy Equipment and Services sector, SLB has outperformed in the first quarter of this year. A pick-up in the North American region activity, where SLB derives the majority of its revenues, could result in outperformance in the second quarter. Experts overwhelmingly maintain either a buy or strong buy view on the company, according to data compiled by Yahoo Finance.
- The bear case: The retrenchment in the upstream segment will continue to impact the revenues prospects of companies in the Energy Equipment and Services subsector. The key question is how much of that reduction is already priced in, and whether there is additional downside in the stock. From a valuation metrics perspective, the 0.8x forward PEG seems inflated compared to the group's median 0.4x, and suggests that additional weakening and reversion to the mean are a possibility. SLB is expected to report a further 21% year-over-year top-line decline in the current quarter.
Williams Companies Inc. (NYSE:WMB) merger considerations with Energy Transfer Equity
Lastly, number 19 on this week's "biggest loser" list is an intriguing one. For all the risk-takers out there: how about a company that has a dividend yield of 13.2%, trades at forward 0.5 PEG, and is dealing with a recently-filed lawsuit which can potentially derail the takeover of WMB by a potential acquirer? Let's take a closer look into some of the pros and cons of owning WMB.
Tulsa-based WMB is a provider of energy infrastructure services. Since last year the company is also in talks to be acquired by Energy Transfer Equity (NYSE:ETE) in a deal worth $38 billion in cash and stock. On Friday, WMB filed a lawsuit to prevent ETE from terminating its merger agreement, reports SA's Carl Surran.
- The bull case: The proposed acquisition by ETE seems likely to move to renegotiation phase, with many investors continuing to short the ETE stock. Any restructuring will still be favorable for Williams Cos. stock and the recent lawsuit is likely to force the two companies to form consensus prior to the end of June.
- The bear case: If the acquisition does fall through by the end of next month, expect more emphasis on WMB's standalone credibility, its ability to maintain high level of dividend payout, and the likelihood that the company will remain open to other M&A offers. All of these factors are likely to contribute to increased stock price volatility in the near term.
Research report authored by Aleksey Marchuk and co-authored by Daniel Martins
Disclosure: I/we have no positions in any stocks mentioned, and no plans to initiate any positions within the next 72 hours.
Business relationship disclosure: Research report authored by independent researcher Aleksey Marchuk and co-authored by Daniel Martins