Action: Accumulate
Matson, Inc. (NYSE:MATX) has witnessed a volatile year so far during 2016. There is no clear publicly traded company to compare Matson with, as its core competitors Pasha and TOTE are both private. But looking broadly at the S&P 500 Transportation as well as other companies in the industry including Seaspan Corporation (NYSE:SSW) and A.P. Moeller-Maersk (OTCPK:AMKAF) illustrates a strong disconnect between performance in the figure below.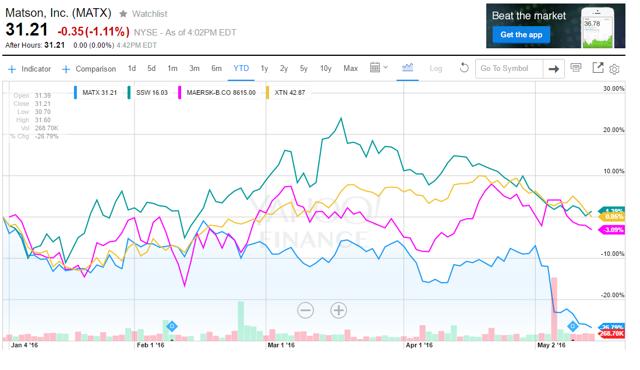 Click to enlarge
Source: Yahoo! Finance
Comparing Matson to major transportation indices is valuable and both Seaspan and Maersk provide good comparisons as these companies provide services affected by the overcapacity issues in the Asia-Pacific trade lane. Most will recognize Maersk as one of the largest container shipping lines in the world, while Seaspan operates as a vessel charterer leasing owned vessels to many major container shipping lines.
From the figure above, one thing is clear; Matson has underperformed its peers by a long shot with the company's stock price down nearly 27 percent year to date. This compares with mostly flat performance by broader indices and Seaspan, versus marginal declines for Maersk.
Matson is a core holding in the Lean Long-Term Growth Portfolio (LLGP) as the company operates as one of the strongest Jones Act shipping lines in the U.S. For a more detailed review of the company, a recent overview was provided expanding upon this updates topics.
The majority of Matson's business is driven by the Hawaii and Alaska services which represented over 70 percent of volume during the first quarter of 2016. As such, Matson's recent acquisition of the Alaska service from Horizon Lines has contributed to strong revenue growth over the past year. During 2015, the company witnessed a confluence of positive factors which contributed to record revenue and diluted EPS growth. Part of this contribution was from strong volumes from the China segment.
But growth has declined since the first half of 2015 from 6 percent YoY to negative 10 percent YoY during the second half of 2015, to negative 18 percent during the first quarter of 2016. While on the surface this looks problematic, investors should realize that the negative performance during the previous two quarters has occurred during the climax of the labor strikes on the West Coast, which abnormally inflated volumes during the baseline comparable.
But the impacts from these declines has impacted the company's revenue and profits, leading to revised guidance to lower expectations for operating income. The market has become concerned regarding the uncertainty of the current freight rate declines for container shipping lines based on overcapacity. This theme is not just a concern within the Asia-Pacific trade lane, but is global.
Despite these headwinds, Matson has had multiple share purchases during late February and most recently on May 5th for the LLGP. The logic behind these actions is driven by the company being substantially undervalued based upon normalized operating conditions.
Matson has consistently had a P/E ratio between 18 to 22 times diluted EPS during the past four years between 2012 and 2015. To date, this multiple is at 14 times earnings. The discounted level is largely a result of the uncertainty surrounding the China segment performance. Specifically, analysts are having a hard time understanding how much of the volume declines are from abnormally high results from extraordinary circumstances, versus normal business.
The majority of the stock price decline occurred from May 2nd, resulting in a 21 percent decline. The market is anticipating that the possibility could be that during the second quarter report, Matson will have witnessed further deterioration suggesting that the normal business volume is substantially weakening. If volume declines for the China business show improvement, the stock should potentially rebound. The normal business could of course be witnessing a weaker environment, depending on how weak, the stock price could be bottoming now or could break through under $30/share.
This will lead to analyst estimates being revised depending on outcomes, but the LLGP focus is for the long-term potential. At some point, overcapacity will subside in this trade lane and freight rates will stabilize. This could possibly occur at some point during 2017. Matson's diversified business is well positioned to weather this storm for the time being.
For 2016, it is very unclear where the stock will end up trading. The range for 2016 is wide as Matson's stock price could fall anywhere between $28 to $40/share. Average price targets over the next twelve months are at $46/share suggesting a P/E multiple over 18.5 times earnings. I think a more conservative P/E is in order at 17 times earnings. This still places a potential return near 35 percent over the next twelve months with a price of $42/share.
Long term, once freight rates in the Asia-Pacific trade lane have stabilized, a conservative P/E multiple should exceed 18 times earnings. Conservatively, this provides the company with the potential to provide average stock price appreciative annual returns of 8 percent. The current dividend yield is at 2.3 percent with an expected raise forthcoming.
Back to the figure above, it is very interesting that Matson is the only company severely impacted by the China business overcapacity issues. Maersk is one of the largest container shipping lines in the world and has much greater exposure to the Asia-Pacific freight rate declines.
Maersk witnessed revenue and profit declines of nearly 20 and 95 percent respectively during the first quarter for its container shipping line segment. Transported twenty-foot equivalent units TEUs increased by 7 percent, but average freight rates declined by over 25 percent. The majority of Seaspan's charter contracts are directly with container shipping lines in Asia. Seaspan has witnessed strong stock price declines from its peak in mid-March, but overall performance YTD has remained much better.
Due diligence is performed for Matson regularly by tracking all ship activity daily to provide demand proxies in addition to management's quarterly reports. Additionally, transparency is strong for the Alaska trade lane allowing for monitoring of Matson's performance versus its competitors. Monitoring of freight rates is also performed monthly. Despite uncertainties, the LLGP will continue to opportunistically accumulate shares.
Disclosure: I am/we are long MATX.
I wrote this article myself, and it expresses my own opinions. I am not receiving compensation for it (other than from Seeking Alpha). I have no business relationship with any company whose stock is mentioned in this article.