Introduction
Pattern Energy Group Inc. (NASDAQ:PEGI) is a relatively new incorporated yieldco having gone public October 2, 2013. PEGI is an independent electric power generation company owning and operating 16 wind power facilities in the United States, Canada and Chile as well as a couple of small solar facilities in Japan. PEGI has a total owned capacity of 2,282 MW. Their facilities generate stable long-term cash flows in markets that have strong growth potential. Each of their generation facilities has contracted to sell its output or a majority of it on a long-term, fixed-price power sale agreement with a creditworthy counterparty. Currently, 89% of the electricity to be generated by PEGI is being sold under these power sale agreements, which have a weighted average remaining contract life of approximately 14 years.
PEGI has performed well since their initial public offering (IPO), having grown their dividend just short of 25% in the 2.5 years since their IPO. All of PEGI's 16 initial generation projects are complete, up and running, and generating power. The company has roughly $335M of liquidity and up to $150M available for additional drop downs or acquisitions. PEGI has no current need for additional capital and can internally fund the next couple of drop downs or acquisitions. As a C-corp., PEGI's 7.68% dividend yield comes in as a typical qualified dividend reported on a standard 1099-DIV.
This article lays out the investment thesis for PEGI and discusses some of the potential risks of investing in this new and growing small-cap, renewable power generator.
What Exactly Is a "Yieldco?"
I found a number of definitions for "yieldco" which indicates to me there is no generally accepted definition. The two that I like are as follows.
Under project finance, the project company is generally created for a project that is under development, while a yieldco is created around a completed project or number of projects that are producing predictable, stable cash flows. These cash-generating projects are grouped together and "spun off" into a separate, publicly traded company referred to as a yieldco. Doing this separates the risky projects, still under development from the de-risked projects already completed, lets the parent company recoup capital and provides investors in the yieldco a stable income stream.
A yieldco is generally defined as a company that predominantly distributes its cash flows from owned operating assets as dividends or other payments to investors.
I particularly like the second definition as I believe it captures the essence of a yieldco without the fluff. Investors should note that yieldcos can be structured in several ways. While PEGI is incorporated as a standard C-corp., Hannon Armstrong Sustainable Infrastructure Capital (NYSE:HASI) is structured as a REIT and Brookfield Renewable Partners LP (NYSE:BEP) is structured as a master limited partnership, while all three are commonly referred to as "yieldcos." Yieldcos originated about 10 years ago in Canada but are relatively new in the US.
Yieldcos have some aspects that are similar to MLPs in that both rely on tax avoidance to bolster returns to share/unit holders. MLPs use the partnership structure to lower the taxes on their assets - partnerships are only taxed at the investor/partner level, not the corporate level. Yieldcos don't get this benefit, instead relying on depreciation or tax loss carry forward to mitigate corporate tax expenses. MLPs and yieldcos also typically distribute a large portion of the cash generated to unit holders/investors but that is where the similarity ends. The types of assets that are eligible for the MLP structure are currently limited to energy exploration, production, storage, transportation and refining. Yieldcos are not limited to any particular energy type or even limited to energy production for that matter.
When Are Yieldcos Used?
Not all projects are ideal for the yieldco structure. Probably the most important requirement is that the projects/facilities in the yieldco must produce stable, predictable revenues. For this reason, projects/facilities that have power purchase agreements (PPA) or very predictable markets are preferred, as this lowers the risk to investors and the cost of capital to the company. Other big factors in using yieldcos are the age of the projects/facilities and the size of the group of projects. Many of the projects that opt to use a yieldco structure are on the younger side for two reasons - 1) it maximizes the remaining length of their PPAs (and thus timeline of stable revenues) and 2) a younger facility "age" maximizes the remaining depreciation and thus maximizes income tax avoidance/reduction for the yieldco. When it comes to size, around $500M in assets is typically the minimum, mainly due to the expense of listing a company on the public exchanges.
Certainly most and maybe all of the US yieldcos have been formed with renewable energy assets (solar, wind, hydro, etc.) but there is no requirement that I can find limiting the formation of a yieldco to renewable energy facilities.
Why Pattern Energy for Dividend Growth Investors?
I'm going to start at the end, looking at the dividends paid since the IPO and work backwards for this presentation. PEGI, by all indications, is well designed for dividend growth investing (DGI). They have been able to raise their dividend for the last 9 consecutive quarters or, in other words, every quarter since their IPO. The chart below shows the dividend history for PEGI.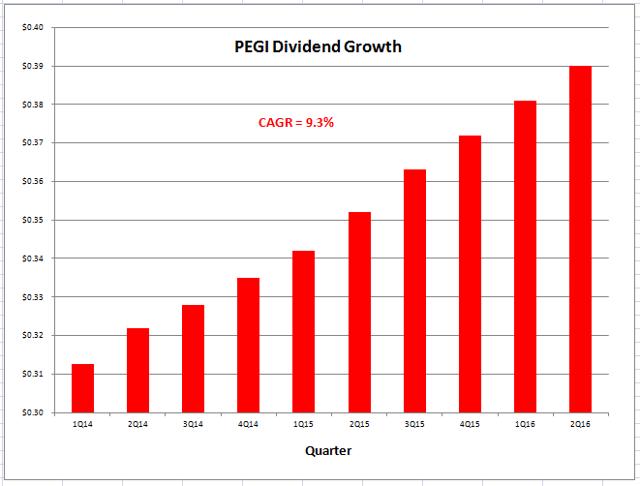 Click to enlarge
Source: Author
PEGI has grown their dividend at a 9.3% compound annual rate during their 11 quarters of operation. Given the company's guidance for 2016 and their first quarter performance, I fully expect the dividend to increase in both 2016 and 2017 by double-digit amounts year over year (YoY). The drivers for the increasing dividend are increased cash flow from the completed generation projects, lower turbine operating expenses, increased power production, expected reductions in G&A expenses and increasing their payout ratio. Based on PEGI's most recent 10-Q, they paid out $28,567M in dividends against $41,015M in cash available for distribution (CAFD) giving a CAFD payout ratio of 69.7%. PEGI has established a target payout ratio of 80% for CAFD going forward. All else staying the same, PEGI's dividend will increase by roughly 15% simply through increasing their CAFD payout ratio from 69.7% to 80%. The growth in the PEGI dividend was driven by increasing income and CAFD as the 16 individual generation projects came on line and began contributing to the bottom line. A chart of PEGI's CAFD is provided below.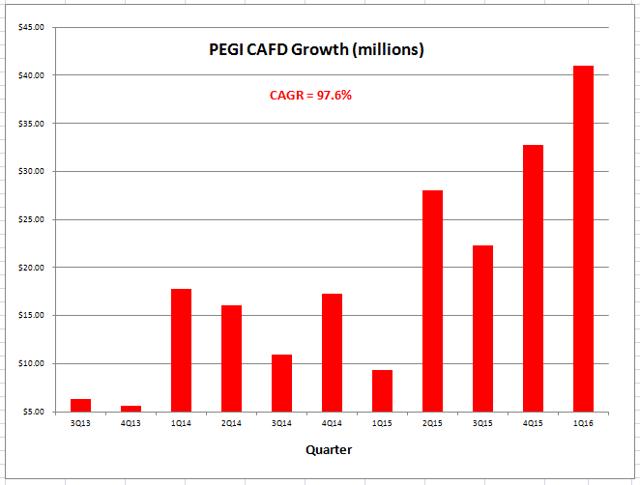 Click to enlarge
Source: Author
Not quite as smooth and consistent as the dividend growth chart, the CAFD per quarter variation is due to the fact that the winds are generally weaker in the third quarter of each year as well as some variation quarter to quarter due to El Niño and La Niña effects. There were also startup costs for new generation facilities that came on line during the period. The significant dip in 1Q15 CAFD was due to costs associated with startup of new generation facilities. Nevertheless, the compound annual growth rate of PEGI's CAFD is nearly 98% over the 11-quarter period.
Production of electricity has also grown significantly since PEGI's IPO. Compliments of the PEGI website, the chart below shows the production growth over the last 10 quarters.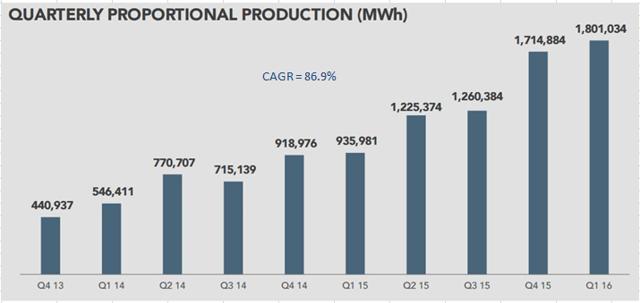 Click to enlarge
Source: Pattern Energy Group
The reason I'm walking through all the charts is to show that Pattern Energy is a solid generation company with growth in production to match CAFD and dividend distributions. Most of the readers of this article are probably aware that SunEdison (OTC Pink:SUNE) recently filed for Chapter 11 and is causing all manner of difficulties and uncertainty for SUNE's two yieldcos, TerraForm Power (NASDAQ:TERP) and TerraForm Global (NASDAQ:GLBL). One of the goals of this article is to show that Pattern Energy Group is not a SunEdison or TerraForm clone. I'll spend more time on that subject later in the article. For now, back to PEGI's operations.
I mentioned earlier in the article that PEGI currently has 89% of its generation capacity contracted under PPAs with an average weighted remaining duration of 14 years. The chart below shows the breakdown of the current PEGI power customers.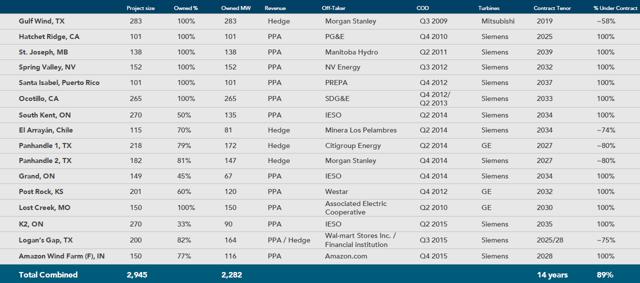 Click to enlarge
Source: Pattern Energy Group
Readers will recognize many of the names of the PEGI customers. The only one that I would have any near-term concern about is Santa Isabel, Puerto Rico. Most readers I'm sure know that the Commonwealth of Puerto Rico (PR) has run out of other people's money and is looking for a way to crawl under a bankruptcy umbrella to shed some or most of its current outstanding debt. Because, PR is a Commonwealth and not a State, it cannot currently file for protection from creditors in bankruptcy court. Whatever the outcome of PR's financial problems, I'm expecting that maintaining electrical power supply on the island will remain a priority and if not, the project is a small percentage of PEGI's production capacity.
PEGI has a capacity growth plan to reach a production capacity of 5000 MW by the end of 2019.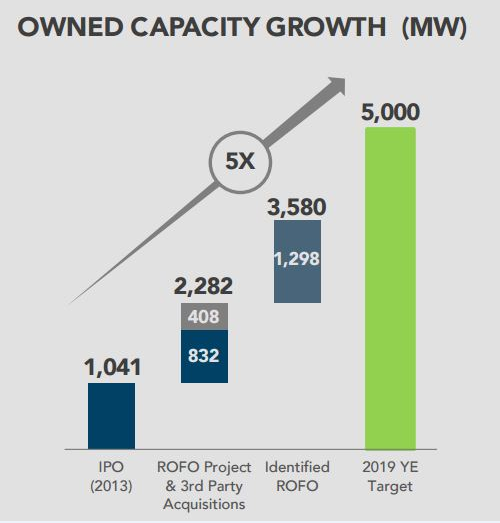 Source: Pattern Energy Group
That growth plan represents nearly a 5x increase in generation capacity between their 2013 IPO and the end of 2019. PEGI has the right of first offer (ROFO) on several new projects under construction and planned by Patter Energy Group LP (Pattern Development). Pattern Development is a privately-held company that owns a minority stake (~23%) in Pattern Energy Group, Inc. Pattern Development has in-house expertise in the planning, site selection, meteorological assessment, land acquisition, environmental permitting and contract negotiation for renewable power generation facilities. Pattern Development provides project planning to the stage of construction readiness at which time Pattern Energy has the ROFO to acquire the project for construction or take a pass on the project. The chart below shows the potential projects in the pipeline that Pattern Energy has ROFO to acquire.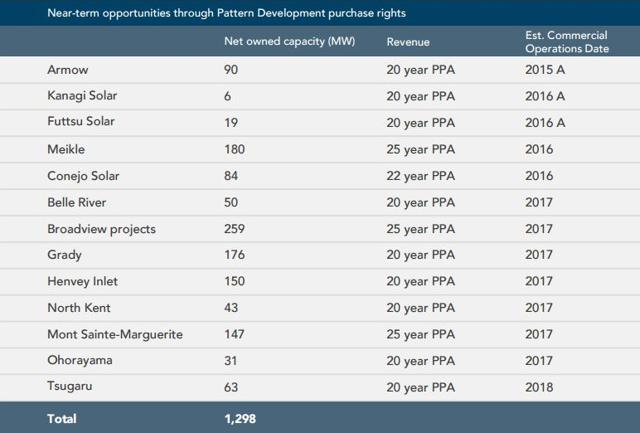 Click to enlarge
Source: Pattern Energy Group
Note that the first three projects on the list have already been acquired and are currently included in PEGI's generation mix. The main takeaway from the chart above is that PEGI has a healthy pipeline from which to choose its growth projects going forward.
At this juncture, it is probably worth spending some time discussing PEGI's relationship with Pattern Development. PEGI has a much more "arms length" relationship with Pattern Development than did the TerraForm yieldcos have with SUNE. There are no loan guarantees between PEGI and Pattern Development and no incentive distribution rights (IDRs) owed to Pattern Development by PEGI. As I understand the relationship, Pattern Development's financial relationship with PEGI is strictly through Pattern Development's minority ownership (23%) in PEGI. The chart below taken from PEGI's 1Q16 investor presentation doubles down on the "arms length" aspect of the relationship between PEGI and Pattern Development.

Source: Pattern Energy Group
I'd be remiss if I didn't talk about PEGI's current debt load. The growth in PEGI's generation capacity did not come without cost. PEGI's long-term debt including convertible senior notes is $1,374M and total equity is $1,702M for a debt to equity ratio of about 0.8 which is a fairly comfortable ratio.
Assuming the 1Q16 EBITDA is reflective of the balance of 2016, PEGI's full year EBITDA should conservatively be $312M giving a total debt to EBITDA of 4.4. I'd like to see this number less than 4 but I'm simply extrapolating the first quarter EBITDA results for the full year. Full year EBITDA should be higher than 4 x 1Q so the 4.4 number, while not comfortable, is probably over estimated.
Interest on PEGI's debt for 1Q16 was $20.3M, giving an EBITDA to interest expense ratio of about 3.8 which is a pretty good metric. This indicates that PEGI should have no difficulty paying the interest on their debt.
This is another departure between Pattern Energy Group and SunEdison. SunEdison's debt load was significantly higher to the point that SUNE could not service their debt load. PEGI's balance sheet is solid and their interest payments relatively low in comparison to their earnings.
The last few metrics I'll cover in this article are PEGI's 1Q16 financial highlights and I'll leave the detailed financials for the reader to discover. The chart below provides a summary of PEGI's 1Q16 financial performance.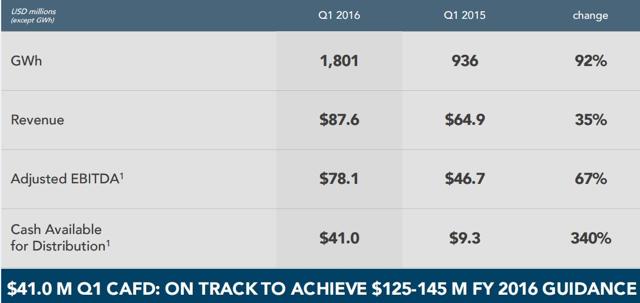 Click to enlarge
Source: Pattern Energy Group
The bottom line is that PEGI had an excellent quarter and expects to have an excellent full year 2016. The full-year guidance of $125-$145M in CAFD compares to $92.4M in 2015. That equates to a minimum increase of 35% YoY. If the $41M of CAFD in 1Q16 is any indication, PEGI should easily beat their full-year guidance of $125-$145M.
Potential Investment Risks
Like any investment, there are risks associated with investing in PEGI. I'll cover here those risks that I have thought of and expect that readers will add those they believe that I have missed.
Size and Maturity - PEGI is still a very small and a relatively new company. I don't generally invest in IPOs because there is no track record and the market has not had time to come to a fair valuation of the company going public. PEGI's IPO was about 2.5 years ago and the market, at least, has had an opportunity to vote on an appropriate valuation. I think that today's market valuation is low because of the difficultly that some yieldcos have recently experienced, in particular the TerraForm yieldcos. Nevertheless, PEGI is still relatively new and untested for the long term.
Interest Rate Risk - There are a couple different risks to consider with interest rates as the driver. The first risk to consider is that as a high dividend paying stock focused more on steady income than on growth, PEGI falls into the bond surrogate category. If market interest rates rise significantly, the share price of PEGI will likely fall at least initially. The good news is that with built-in dividend growth, the fall in valuation should only be temporary. The second interest rate risk to consider is the impact on PEGI's interest it pays on its debt. The majority of PEGI's debt is fixed rate with only a small fraction of the current debt load being variable rate based. PEGI's latest 10-Q provides that they would expect their variable rate debt interest expense to increase by $0.9M per year, given a 1% increase in long-term interest rates. That is not much and should be very easy for PEGI to accommodate given their current revenue and earnings.
Exchange rate risk - PEGI has generation assets in the US, Canada, Japan and in Chile. The risk is that earnings in Canada, Japan and Chile could be impacted due to weak economic conditions in any one or all of those countries. In addition, if the US dollar were to strengthen further, earnings from Chile, Japan and Canada would be worth less in terms of US dollars. I don't have any knowledge of the economic conditions in Chile but the US dollar is currently valued highly against the Canadian dollar and the Japanese Yen. I don't expect the dollar to strengthen significantly against either currency and I do expect the value of the dollar to moderate as the Canadian and, hopefully, the Japanese economies strengthen.
Conclusion
While PEGI is relatively new, it has performed well since its IPO, it has a solid profitable business model, it appears to have a conservative and disciplined management team, and it appears to be investor-focused. In other words, I think the company has all the ingredients to be very successful and deliver a stream of growing dividend payment to its shareholders.
I believe the current valuation of PEGI is low as a result of the SUNE debacle. I believe this is a case of guilt by association and that eventually the market will see that PEGI is not another SUNE waiting to happen.
However, I strongly encourage investors to do their own due diligence before making any investment. Nobody cares more about your money than you do. That said, I would ask for a bit of forbearance from the readers of this article. I am long PEGI but I don't yet have a full position. Please don't everyone run out and place buy orders for PEGI all at once as I'm afraid it will run up the valuation before I can fill out my position. Yes, I'm only kidding.
Disclaimer: This article is intended to provide my opinion to interested readers and to serve as a vehicle to generate informed discussion in the comment posting. I have no knowledge of individual investor circumstances, goals, portfolio concentration or diversification. Readers are strongly encouraged to complete their own due diligence on any stock, bond, fund or other investment mentioned in this article before investing.
Disclosure: I am/we are long PEGI.
I wrote this article myself, and it expresses my own opinions. I am not receiving compensation for it (other than from Seeking Alpha). I have no business relationship with any company whose stock is mentioned in this article.