This article is part of a series that provides an ongoing analysis of the changes made to Prem Watsa's US stock portfolio on a quarterly basis. It is based on Watsa's regulatory 13F Form filed on 05/13/2016. Please visit our "Tracking Prem Watsa's Fairfax Financial Holdings Portfolio" series to get an idea of his investment philosophy and our previous update highlighting the fund's moves during Q4 2015.
This quarter, Watsa's US long portfolio increased 34.69%, from $1.23 billion to $1.66 billion. The increase was primarily due to a $533 million position in BlackBerry's (NASDAQ:BBRY) convertible debt (see note under the BlackBerry section below for details) that is newly listed in the 13F. There are 30 13F securities in the portfolio, but it is concentrated among a few large stakes. The focus of this article is on the larger (greater than 0.5% of the portfolio each) holdings. The top five positions represent 59.47% of the US long assets. The top two holdings are BlackBerry and International Business Machines Corp. (NYSE:IBM), and together, they account for ~35% of the entire 13F portfolio.
Note: Fairfax Financial (OTCPK:FRFHF) has a negative view on equities, the stock portfolio is hedged (107.2% as of March 31, 2016), and the 13F holdings only represent a small portion of the overall investment portfolio. The total size of their investment portfolio as of Q1 2016 was $28.6 billion, of which 18.3% is in cash and short-term positions. Also, they have a huge position in CPI-linked derivative contracts ($112.1 billion notional amount, $228.9 million fair value, 6.3 years average maturity) designed to protect against global deflation. FRFHF currently trades at $511, compared to a book value of $399.
Stake Disposals
Sandridge Energy (OTCPK:SDOC): SDOC was a 0.91% of the US long portfolio stake as of last quarter. It was first purchased in Q4 2008. The bulk of the position was acquired in Q4 2012 at prices between $5.19 and $7.38. Q4 2014 also saw a ~57% stake increase at prices between $1.64 and $4.57. The position was eliminated this quarter at prices between 3c and 14c. The OTC-traded stock is now at 6c.
New Stakes
ICICI Bank (NYSE:IBN): IBN is a small 0.65% of the 13F portfolio stake established this quarter at prices between $5.18 and $7.83. The stock currently trades at $6.74.
Stake Increases
Helmerich & Payne (NYSE:HP): HP was a minutely small stake as of Q3 2015. Last quarter saw the position increased to a 1.52% of the portfolio stake at prices between $46.86 and $61. The stock is currently at $58.08. This quarter saw a marginal further increase.
Kept Steady
BlackBerry Inc.: BBRY is Watsa's largest position at 22.83% of the US long portfolio. The stake was first purchased in 2010 at around $50 for 2M shares. Since then, the position was aggressively built up to the current stake of almost 46.7M shares (~9% of the business). His cost basis is around $17, and the stock currently trades at $6.68. There has only been very minor activity in the last two years.
Note: In Q4 2013, Fairfax co-sponsored a cash-infusion of $1 billion through convertible debentures ($10 conversion price earning 6% interest) - they financed $500 million of that transaction, and the remaining was funded by a consortium of other investment funds. The implied dilution takes their ownership up to ~16.5% of the business.
EXCO Resources (NYSE:XCO): XCO is a 1.52% of the US long portfolio stake first purchased in Q1 2012. The bulk of the current position was purchased in Q4 2012 at prices between $6.77 and $8.93. The last quarter saw another ~46% increase at prices between $0.75 and $1.36. The stock currently trades at $0.72. Watsa controls ~9% of the business.
Note: In January 2014, XCO had a rights offering (one new share at $5 for every four shares of XCO held), and Watsa increased his stake from 10.81M shares to 17.54M shares as a result - Prem Watsa, along with Wilbur Ross, agreed to backstop the offering, thereby acquiring more shares than what he would have received by exercising his rights.
International Business Machines Corp.: IBM is a large (second largest) 12.44% of the US long portfolio position established in Q3 2014 at prices between $181 and $196. The stake was increased by ~28% in Q4 2014 at prices between $151 and $190. The stock currently trades below the low end of those ranges at around $148. For investors attempting to follow Watsa, IBM is a very good option to consider for further research.
Johnson & Johnson (NYSE:JNJ): JNJ is a long-term position that has been in the portfolio since 2007. The original stake was 5.9M shares purchased at a cost basis of $62.29. In Q3 2013, roughly half the stake was sold at prices between $85.86 and $94.39, and in the following quarter, the remaining position was almost eliminated at prices between $85.61 and $95.63. The stock currently trades at $114, and the stake is now very small at 0.54%.
Kennedy-Wilson Holdings (NYSE:KW): KW stake in the common stock is the third-largest at 11.81% of the US long portfolio. Watsa's ownership stake in the business is ~8%. KW currently trades at $20.01, and his cost basis is $11.90.
Note: The original stake is from a 2010 private placement for Kennedy-Wilson convertible preferred stock. The total investment from that point on was $645 million. Over the years, they received distributions of $625 million, and so the net investment is only $20 million, compared to the current value of close to $200 million.
Overstock.com Inc. (NASDAQ:OSTK): OSTK is a top-five position at 2.76% of the US long portfolio. The original stake was purchased in Q4 2008 at prices between $9 and $17, and has since been kept relatively steady. The stock currently trades at $14.70.
Pfizer Inc. (NYSE:PFE): The very small 0.37% portfolio stake in PFE saw a ~11% reduction last quarter at prices between $31.33 and $35.45. The stock is now at $33.18.
POSCO ADR (NYSE:PKX): PKX is a very small 0.55% of the US long portfolio stake established in Q3 2015 at prices between $34.64 and $50.83. The stock currently trades near the low end of that range at $43.38.
Resolute Forest Products (NYSE:RFP): RFP is the fourth-largest holding at 9.63% of the US long portfolio. The stake was first established in Q4 2010 when it was named AbitibiBowater, and the position has since been more than doubled. In Q2 2013, the original stake was increased by ~17% at prices between $12.70 and $16.49. Since then, the position has remained relatively steady. Watsa's cost basis on RFP is much higher than the current quote of around $5.46. The stock lost ~55% in 2015 and another ~30% YTD.
Note: A regulatory 13D/A filing on 5/13/2016 shows Fairfax owning 29,485,689 shares (32.9% of the business). This is compared to 29.05M shares in the 13F.
Baldwin & Lyons Inc. (NASDAQ:BWINB) and BCE Inc. (NYSE:BCE): These are very small (less than ~2%) positions that were kept steady this quarter.
The 13F portfolio also has numerous very small positions (less than ~0.5% of the US long portfolio each) that add up to a total allocation of ~2%. The stakes are The ADT Corporation (NYSE:ADT), Cleco Corporation (NYSE:CNL), Colfax Corp. (NYSE:CFX), CSX Corporation (NYSE:CSX), Eros International (NYSE:EROS), K12 Inc. (NYSE:LRN), Leucadia National Corp. (NYSE:LUK), New Oriental Education & Technology Group Inc. (NYSE:EDU), Rayonier Advanced Materials (NYSE:RYAM), Starwood Hotels & Resorts Worldwide (HOT), Turquoise Hill Resources (NYSE:TRQ), U.S. Bancorp (NYSE:USB), USG Corporation (NYSE:USG), and Wells Fargo (NYSE:WFC). Of these, ADT, CNL, CSX, HOT, and LUK are new this quarter.
Note: In the 2015 investor letter, Watsa identified the investment in Eurobank (OTCPK:EGFEY) as having the largest unrealized losses ever.
The spreadsheet below highlights changes to Watsa's US stock holdings in Q1 2016: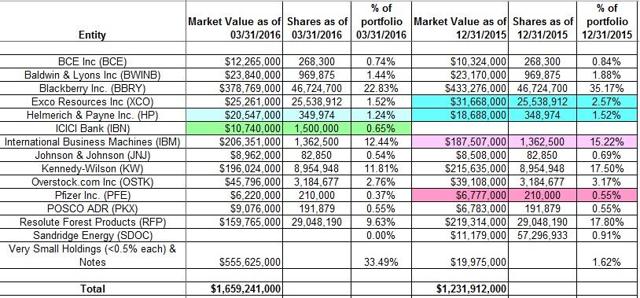 Click to enlarge
Disclosure: I am/we are long BBRY, IBM, RFP, SDOC, RYAM, XCO.
I wrote this article myself, and it expresses my own opinions. I am not receiving compensation for it (other than from Seeking Alpha). I have no business relationship with any company whose stock is mentioned in this article.
Editor's Note: This article covers one or more stocks trading at less than $1 per share and/or with less than a $100 million market cap. Please be aware of the risks associated with these stocks.