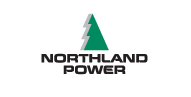 Northland Power reports in CAD; unless otherwise mentioned, all prices are shown in that currency.
Northland Power Increases Production
Northland Power, Inc. (OTCPK:NPIFF), a company that previously had focused on Canadian production, is now involved in two large offshore wind projects in Europe. The company is becoming even more attractive as its European projects come close to completion and its share price has gradually risen.
Northland now generates 1,388 MW of electricity, still largely in Canada, but with some onshore wind production in Germany. In its Q1 earnings report the company announced that its Grand Bend wind project in Canada has just come on stream in April (100 MW; 50 MW net).
What makes Northland especially attractive, however, are two new offshore wind projects, Gemini in the Netherlands and Nordsee in Germany. Together the two, when fully commissioned in late 2016-2017, will produce an additional 932 MW (642 MW net), but Gemini is already producing gradually increasing output. Almost all Northland's current and future revenues are secured by long-term power contracts.
Northland's Canadian Projects
Northland is now generating power from 25 different locations, apart from Gemini. A list of its operating assets shows Canadian power generation from natural gas and biomass operations at 627 MW in Ontario, 346 MW in Saskatchewan, and 28 MW in Quebec. A legacy thermal plant at Cochrane ON (42 MW) is currently mothballed in the hope that a future contract may be secured.
In Canada as well as in Europe, Northland has been expanding into the area of renewable energy. It now has banks of solar panels at various locations in Ontario (130 MW). In Canada also, it has two onshore wind farms in Quebec (228 MW) and one in Ontario (30 MW net). As mentioned, a second Ontario wind farm, Grand Bend, came on stream just recently, well ahead of schedule and on budget.
Until recently, Northland's European exposure has been minimal, although the company has been active in Germany since 2000, operating small onshore wind farms at two locations (Thuringen and Rostock) that together produce 21.5 MW.

First Gemini turbine; Northland Power Inc.
Gemini
The company's global footprint, however, is currently increasing and reflects a shift to the offshore. In 2014, Northland began construction of an offshore wind park in the Netherlands (Gemini) and acquired a majority interest in a similar project in Germany (Nordsee One). In fact, although they are in different jurisdictions, the two projects are geographically close in the North Sea. Together, these projects will generate 642 MW net to Northland by the end of 2017.
Northland holds a 60% interest in Gemini, which when complete, will produce 600 MW (360 net). When fully commissioned, Gemini will be the largest North Sea offshore wind farm and the second largest in the world. Gemini is 85 km offshore and will comprise 150 wind turbines, each generating 4 MW.
Construction there has been well ahead of schedule and on budget. In its Q1 report, Northland indicated that to date 50 of the turbines have been installed, and that 27 of them are actually producing power. Under Northland's contractual arrangements, the revenues from pre-completion production are being applied to construction costs. Currently this power is being sold at market rates. Northland has not yet triggered its 15-year contract, which would include a government subsidy; it will do so only when sufficient power is being produced, likely in Q4.
The company is cautiously maintaining a fully commercial completion date in mid-2017, but with favorable conditions, a late date in 2016 may well be feasible. Good weather is one factor; Siemens manufacturing schedule is another.
Although they share basic technology, onshore and offshore wind are not really comparable. For expertise in the offshore, Northland involved more experienced partners. Siemens (OTCPK:SIEGY) holds a 20% Gemini stake, Van Oord, a privately-held Netherlands marine contractor, holds 10%, as does HVC NV, a Dutch energy company. Siemens has a 15-year operating and maintenance contract for the project, with relatively fixed costs. The total cost of Gemini is estimated at €2.8 billion.
For its power, Northland is supported by a 15-year contract with the Netherlands government. At the same time, there is some market exposure. To reflect the currently weak Netherlands power prices, Northland earlier lowered its guidance for 2018 Gemini revenue to approximately $266 million net (€170-190 million) a reduction of about 18% from earlier guidance. Still, the company is optimistic for gradually better pricing as the Netherlands economy improves.

Nordsee monopoles and transition pieces; Northland Power Inc.
Nordsee One
Northland's second North Sea project, Nordsee One, is located about 40 km from the German island of Juist. It will consist of 54 Senvion wind turbines that will generate 332 MW (282 MW net to Northland). All 54 monopoles and transition pieces have now been installed offshore, and production of the turbines has begun. The offshore substation platform jacket has just been completed and construction of the topside should be finished during the summer. The manufacture of components is on schedule. Like Gemini, construction of Nordsee One is on budget and on target for completion in late 2017.
Nordsee One, where Northland Power's stake is 85%, will produce 332 MW. The other 15% share is held by RWE Innogy, a significant EU renewable energy planner and operator. The price of power is effectively guaranteed by a 10-year German government subsidy. Senvion, the turbine manufacturer, has an operating and maintenance contract, also for a 10-year period. The overall cost of Nordsee One is estimated at €1.2 billion. While it has reduced its revenue estimates for Gemini, Northland has maintained its 2018 guidance for Nordsee EBITDA at €160-180 million (about $250 million).
Court Decision on Pricing
Northland, together with other Ontario power producers, has been involved in a court case against OEFC (Ontario Electricity Financial Corporation) over the price escalator in power purchase agreements. In April the Provincial Court of Appeals upheld an earlier judgment in favor of the producers, which benefits Northland both retroactively and going forward.
While OEFC still has the right to appeal to the Canadian Supreme Court, Northland stands to gain from the current judgment about $225 million over the life of the agreements, $90 million retroactively. Subject to any appeal, Northland expects to receive the $90 million deemed owing in the next few months, but it has not incorporated this amount into its guidance.
Outlook
Northland is clearly committed to the development of further clean and renewable energy projects, not only wind farms but possibly hydro and solar and natural gas as well. Geographically, according to its latest earnings report, it is looking not just to opportunities in North America and Europe, but potentially to Mexico as well.
In its current conference call, management provided some general indication as to its thinking. The major focal point appears to be its potential Norsee Two and Three projects, where the company holds ten-year rights on offshore allocations that could be developed. In these, Northland would continue to hold an 85% working interest and RWE Innogy 15%. If developed, Nordsee Two would produce 295.2 MW (gross) and Nordsee Three 369 MW (gross). A competitive German bidding process is expected in 2017. With its legacy projects, Northland might have a competitive advantage and at the same time be poised to take advantage of materially lower construction costs.
Northland is also examining possible expansion into Mexico, where it has established a small office and where future developments are under active consideration. There it would be looking to partnerships in the area of thermal plants, as well as to securing sites for future onshore wind farm projects. Although any plans are currently at an early stage, Northland sees the potential for considerable Latin American growth.
Northland's Dividend
Although it took on huge new financial obligations with the construction of Gemini and the purchase of its interest in the Nordsee holdings, Northland decided to continue payment of its $0.09 monthly ($1.08 annualized) dividend. In Northland's case, the dividend cash payout is mitigated to some extent by extensive participation in its DRIP.
Northland's guidance for free cash flow per share in 2016 is in the range of $0.93 to $1.08, which means that, DRIP aside, the current payout ratio is likely to exceed 100%. It could remain near that level until Gemini is completed. With the DRIP, cash dividends should be in the vicinity of 70-80% of free cash flow.
In its Q1 earnings release, the company confirmed that it is committed to maintaining the current dividend. It said that in doing so they are taking future growth into account, but feel confident that they have the funds to sustain the dividend in the interim, especially given DRIP participation.
With forthcoming project completion and depending upon any new projects undertaken, the company should be in a position to consider dividend raises in 2017 and 2018 as extensive new production comes on stream.
Analyst Recommendations
Northland Power is relatively thinly covered by analysts. The table below shows recent coverage only. The target prices shown are in CAD and relate to NPI trading on the TSE. At closing on May 13, NPI was $22.58 (NPIFF:US$17.46).
| | | | |
| --- | --- | --- | --- |
| Date | Institution | Recommendation | Target Price |
| | | | |
| May 13 | TD Securities | Buy | $25.00 |
| May 13 | National Bank Financial | Outperform | $24.00 |
| May 12 | CIBC | Sector Outperformer | $25.75 |
| | | | |
Risks
With major offshore production facilities, especially while still under construction, there are always major weather and environmental risks. Other similar, but smaller, risks exist also for more traditional generating facilities.
With large financial commitments at stake, Northland's leverage (and consequently, its dividend) is particularly exposed to risk from unanticipated delays or cost increases during the construction period. This exposure will obviously diminish as construction advances.
With any projects that may be undertaken in new jurisdictions, even if these are stable ones, there are always certain political risks as well as the risks from lack of familiarity with local conditions.
Power pricing is generally governed by long-term contracts. As current contracts expire, there exists the risk that they will not be renewed, or that they will be renewed at lower prices.
For U.S. investors there is a risk in terms of share price and dividend from any decline in the Canadian dollar. At the same time, an increase in crude oil pricing will likely strengthen the Canadian currency and could benefit USD shareholders.
Investment Thesis
Northland is poised to provide production (and presumably, also revenue) growth through 2018, when it will have a full year's power production from both its new European sites. Its shares should have some attraction for institutions and individuals who seek relatively safe income-bearing investments and for investors who seek the long-term advantages of renewable energy.
As an electrical power producer with fixed price longer-term contracts, Northland's cash flow should be predictable, steady and subject to gradual increases. The company also stands to gain from any increased emphasis on renewable energy generation.
Since this time last year, Northland's share price on the TSE has increased by about 33% (NPIFF:26%). It should continue to rise gradually as the Gemini and Nordsee projects are brought to completion between now and 2017. Steady share price growth is likely to prevail until then; longer-term growth will depend on future prospects.
For the possibility of longer-term growth, investors might pay close attention as to how projects like Nordsee Two and Three, as well as any Mexican projects, are progressing. For continued share price growth beyond the nearer term, Northland will probably need to initiate attractive new projects.
As Gemini and Nordsee One draw closer to completion, with full financing in place and the projects on time and on budget, investor concerns about Northland's dividend seem to have diminished. The dividend should be sustainable until 2017 and should rise gradually thereafter.
DISCLAIMER: The information provided above is not a recommendation to buy or sell a stock. It intends to increase investor awareness and to assist investors in making smarter decisions. Prospective investors should always do their own further research and take into account their own current financial holdings, their risk levels and their shorter or longer-term outlooks.
Disclosure: I am/we are long NPIFF.
I wrote this article myself, and it expresses my own opinions. I am not receiving compensation for it (other than from Seeking Alpha). I have no business relationship with any company whose stock is mentioned in this article.
Editor's Note: This article discusses one or more securities that do not trade on a major U.S. exchange. Please be aware of the risks associated with these stocks.