Vanguard Natural Resources (NASDAQ: VNR), much like Linn Energy (NASDAQ: LINE), captured many investors' imagination when oil was flying high. Since then, it has been a complete disaster. When I first looked at the company in January ( Don't Hope For A Rebound From Vanguard Natural Resources), I saw a lot of red flags. Including the lack of growth (can't blame management for this one), and injecting equity capital and subsequently paying it out through distributions. While the company did improve the fundamentals through the Eagle Rock transaction, it didn't do much to the stock. Since the beginning of this year, shares have tumbled by another 50%, on top of the 82% loss suffered in 2015.
Laggard Among Peers
Having bled out $174 million of cash in 2015 through distributions, the management finally came around in Q1 and decided to halt payouts on common and preferred units. Better late than never I suppose. What's more important however, is that the macro conditions have improved dramatically over the past couple of months; yet somehow, shareholders were not able to participate in the industry-wide rally.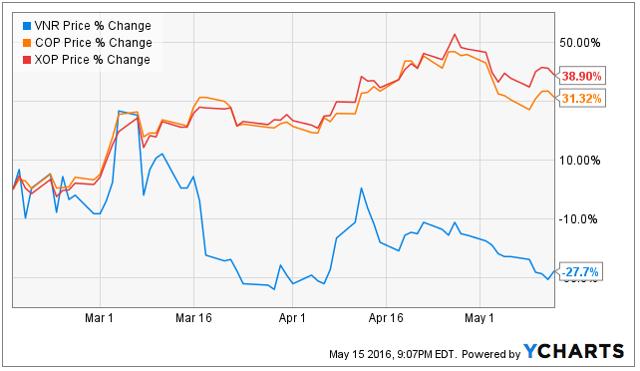 Click to enlarge
Should You Fear For The Worst?
Based on the chart alone, it is clear that the current stock price reflects a significant amount of financial distress. Much like Linn Energy, which filed for bankruptcy last week ( Will There Be Salvation For Equity Holders?), rising oil won't be of much help if shareholders won't be there to see the profits. With $2.2 billion of financial debt and $262 million in asset retirement obligations (essential debt) and just $1.8 billion of tangible and financial assets, the company seems to be standing on shaky ground.
This Redetermination Shouldn't Be A Problem
Looking at the upcoming maturities, the company seems to be fine. The credit facility, which has a balance of $1.67 billion, matures in 2018, and the three issues of senior notes mature in 2019, 2020, and 2013. So is there a problem? With oil seemingly on the cusp of a breakout, isn't ample liquidity the best thing that any E&P company can wish for?
Unfortunately, the long maturities don't tell the whole story. The company is currently in the process of completing (or possibly have recently completed) its semi-annual redetermination of borrowing base of the credit facility. This effectively means that in sharp contrast to the long maturities, there will be a significant liquidity event every six months.
In my view, the redetermination has given rise to undue anxiety. While I am uncertain of the outcome, I do believe that the current outlook has dramatically improved. Just two months ago, the management believed that the reduction would be "significant;" but given the recent bounce in energy prices, management stated in Q1 that there will only be a "small deficiency." Furthermore, the company is selling some assets for $280 million, which will be used to pay down the credit facility. I believe that the proceeds should be more than enough to cover any shortfall arising from a potential reduction in borrowing base.
Is A Going Concern
Given that the current oil price of $47/bbl is close to what the company achieved in Q1 including hedges ($46.48/bbl), the company's financials in Q1 actually provide a good approximation of what we can expect going forward. In Q1, the company was able to generate $50 million of operating cash flow and spent $20 million in capex, generating free cash flow of $30 million. While that number is unlikely to be sustainable over the long-run as the company would eventually have to ramp up drilling, it is at least sufficient to pay the bills. Since the current hedge book covers 82% of 2016 production at $59.59/bbl, cash flow shouldn't materially deteriorate in the near-term even if the commodity market takes a nose dive. But now that commodities have risen much higher, shareholders shouldn't worry too much about the hedges expiring.
Takeaway
Vanguard remains in a precarious position due to its sensitivity to oil prices, but given the current macro environment, I believe that the company should not face any fatal near-term liquidity event. Furthermore, the company's Q1 results show that it is able to generate enough cash to meet its financial obligations. To conclude, despite how Vanguard has performed over the past couple of months, I believe that it should now participate in any further appreciation of energy commodities.
Note: If you are thinking about shooting for a higher return over the long term, I encourage you to understand how I structure the V20 Portfolio (+40% in 2015). You can read the introduction to my investment process and if you are looking for some ideas that could complement your own portfolio, click the "Follow" button beside my name on the top of the page and be updated with my latest insights. Premium subscribers will get full access to the V20 Portfolio. You can follow my latest weekly update available to all here.
Disclosure: I/we have no positions in any stocks mentioned, and no plans to initiate any positions within the next 72 hours.
I wrote this article myself, and it expresses my own opinions. I am not receiving compensation for it (other than from Seeking Alpha). I have no business relationship with any company whose stock is mentioned in this article.
Editor's Note: This article covers one or more stocks trading at less than $1 per share and/or with less than a $100 million market cap. Please be aware of the risks associated with these stocks.