Invesco Value Municipal Income Trust (NYSE:IIM) is a closed end fund (CEF) whose investment objective is to provide current income which is exempt from federal income tax. It invests in tax free municipal bonds in almost every state across the country. Total assets are around 1 billion dollars. One of the great things about this CEF is that it has a long history going back to 1993, so an investor can look at its track record for the past 23 years.
While it has had its ups and downs, they have stayed for the most part in the range of $12 on the low end to $17 on the high end. So as I write this article, it is sitting at its all-time high for the past 20 years. Below are the basic stats as of 5/13/16. All stats, charts and pictures are taken from the Invesco IIM webpage and the documents on it, unless otherwise noted.
| | |
| --- | --- |
| Ticker: | IIM |
| Price | $17.10 |
| NAV | $17.42 |
| Discount to NAV | 1.00% |
| Current Yield | 4.82% |
| % AAA bonds | 7% |
| % of AA bonds | 51% |
| % of A bonds | 18% |
| % of BBB bonds | 16% |
| Leverage | 34% |
| WAL duration | 7 years |
| Pay out: | Monthly |
Fund Characteristics
The current yield on this fund is 4.82%. In an income-starved world, this is a great yield, especially when one considers the quality of bonds held and the fact that the tax adjusted yield is actually much higher if one is in a higher tax bracket since no taxes need to be paid at the federal level, and possibly none at the state level too, depending on where you live.
The history of the dividend has been pretty stable. When the monthly payouts were started back in the mid 90s, the dividend was 6.5 cents. It is currently 7 cents. There have been a few slight raises and cuts in between, but the dividend has remained pretty constant over the years, which is what an income oriented investor wants to see. The dividend has never been cut drastically or suspended either. Over the course of 23 years, the fund's managers have done a great job. The average return, once you factor in dividends reinvested, has been about 7% since 1993. Not a bad return on a bond fund for income investors that are looking for a steady payout. Note that it has beat the market slightly since inception.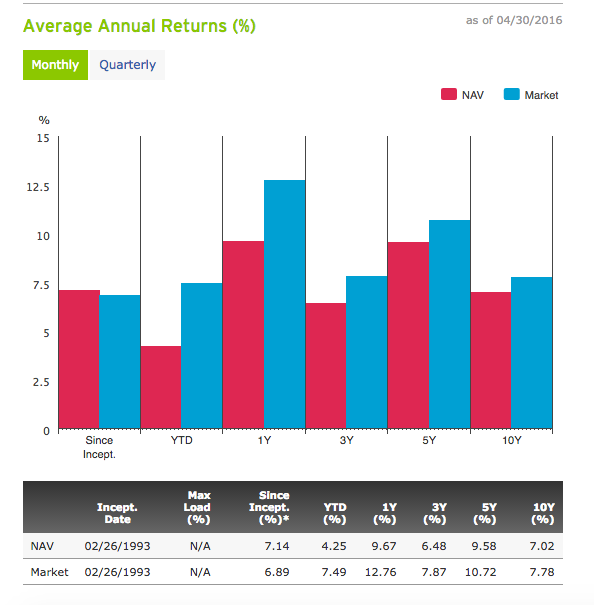 Another question one must ask when doing due diligence is, "How secure is the dividend now?" By looking at the latest financials, we see that for the year ended February 29, 2016, total investment income was 50 million. Once expenses are taken out, total net income was 40 million that was left over to pay the dividend. With 47 million shares outstanding, that is $0.85 per share for the past year. Since the dividend is $0.84 per share, the dividend seems like it is covered for now.
However, if rates continue to compress and come down, there could be some future downward pressure on the dividend. Looking at the year ended, interest income went down slightly, probably due to yield compression. However, it was minimal. The upside to rates compressing is that the underlying bonds will go up in value, so this serves to offset any loss in income from rates compressing. And for the past few years, the yield compressing has added over $2 worth of book value to this fund. Not too bad if you ask me.

Click to enlarge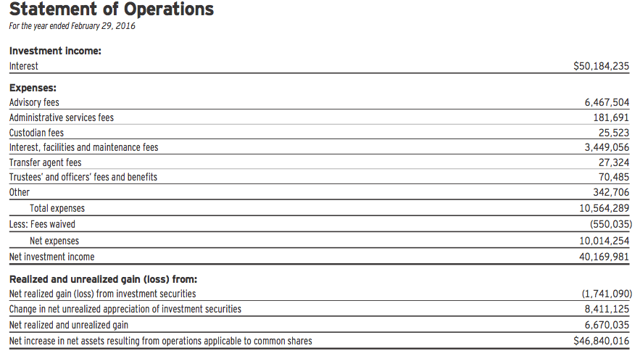 Click to enlarge
What about the underlying bonds?
Most of the bonds are in the A to AAA range, with about half of them being AA. Also, as I looked through the fund's financials and stats, about half of the bonds are insured, which adds an extra layer of security so one can sleep well at night.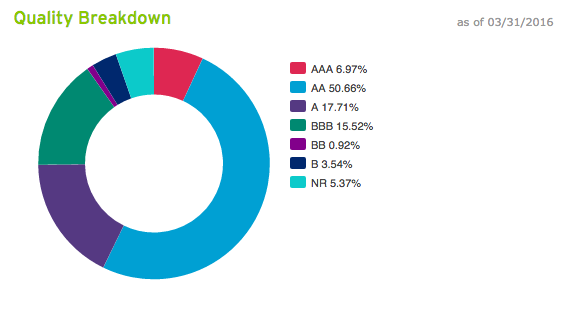 Below are the top 5 states where the bonds are located and the sectors represented by the bonds. While the top 5 are listed below, most states are represented in this fund, which gives it great diversity. Thankfully, there is no exposure to Puerto Rico in this bond fund. The bonds are also spread out between many different sectors, which again, adds to the great diversity and thus helps preserve capital in the event of any downturn in a given sector.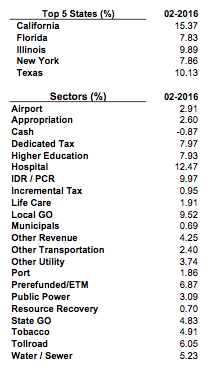 The bonds are mostly made up of revenue bonds (76% of them) but there is also 14% worth of general obligation bonds represented. There is also not too much money in any one security, as seen by the top 5 holdings.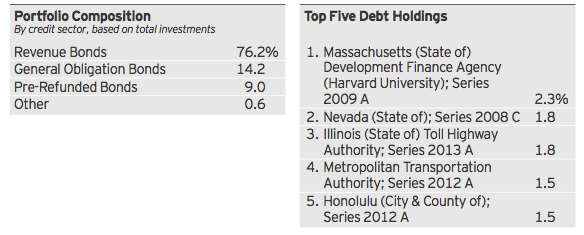 As for maturity, the bonds are laddered pretty well, with an average duration of 7 years. There are callable bonds in the portfolio as well, so if rates go down, there could be some more downward pressure on interest income as bonds are called and replaced with lower yielding ones. Many of the bonds are not callable though for many years to come.
Risks associated with this fund
In addition to the risks mentioned above like interest income going down slowly due to yield compression, there are a few other risks to be aware of. The first one is that there could be a wave of muni bankruptcies in cities and states across the U.S. in the future. Some analysts started warning about this a few years ago, but it has never come to pass. I doubt it ever will, but there may be a time when cities across the U.S. all in mass have trouble paying their bills and default in their bonds. I don't see that happening any time soon though, barring some unforeseen world financial crisis.
Leverage is another risk. It can also be a good thing though too. I am actually glad that this fund uses leverage, as it boosts the yield. However, if rates were to go up really fast, like in the scare of 2013, an investor could be left with a 20-30% unrealized capital loss since leverage would magnify the losses. With 1/3 of the fund leveraged, I don't think it is too much, and is generally in line with other funds that employ leverage in the 25% to 35% range. I am a buy and hold investor, so I am able to live with the ups and downs that come with holding an ETF or CEF.
If rates were to rise really fast this year or next, this would put downward pressure on the stock price. So, this is another risk to keep in mind. Investors have been worried about rising rates for the past 4-5 years though, and it still hasn't happened, even though the Fed just raised rates by a quarter of a basis point. Since the Fed raised rates, long-term rates have actually come down and bonds have rallied quite a bit this year.
I don't think many people were expecting short and long-term rates to move in opposite directions, but that is what has happened. With the world economy decelerating and growth slowing, along with Europe and Japan experimenting with negative interest rates, I don't think long-term rates will be rising anytime soon. However, the bond market could selloff in a hurry if the Fed continues to raise rates, so one must be comfortable with the ups and downs of the market and a stock and be happy with the income produced if you want to sleep well at night.
To buy or not to buy
Based on the above analysis, I believe that the dividend is pretty secure, although it may go down slightly due to yield compression if rates stay low for a long time. For investors looking for solid, tax-free income, I rate this fund as a buy. However, note that the fund is currently at its 20+ year high of $17. If you buy here, you must be comfortable with the potential for the stock to go down 10% to 20% in the coming years, especially if rates start to rise. If you are looking for a fund, but don't need to buy right away, it might be wise to just keep an eye on this fund and buy if there is a selloff in bonds and IIM goes below the $16 mark.
However, there is no guarantee of a selloff, and rates could continue to rally for the next year or two, especially since world interest rates are still coming down, which will put downward pressure on U.S. long-term rates. So, in summary, this is a great fund to buy into, given its history and current dividend coverage ratio. However, it is at multi year highs, so the patient investor may want to wait for a pullback in the fixed income market to get a better entry price.
Other options for income
If you are looking to hold some taxable munis, I would recommend the Build America Bonds. They are best held in a tax free account like an IRA though, since they are taxable. Some funds have a 6-7% yield on them. You can read about two of them that I wrote about here and here.
If you want to have a hedge against rising interest rates, I would recommend buying into New Residential Investment Corp. (NYSE:NRZ). NRZ invests in excess mortgage servicing rights (MSRs), servicer advances, and non-agency RMBS with the underlying call rights. The MSRs increase in value as rates rise and will give off more cash while increasing the book value of NRZ, so this would help to balance out a bond fund like IIM that would decrease in value as rates rise. You can read my original article on NRZ here as well as some subsequent articles I wrote on it clarifying the different components of the company. Since I wrote the original article, NRZ has raised its dividend over 30% as its core earnings have been rising each year since it went public in 2013.
So far, 2016 has been an interesting year for the fixed income market. Bonds are having a great year, in spite of the ever-threatening rise in interest rates from the Fed. For income investors, things have gone well the past few years, as long as you didn't dabble in the high-yield (aka Junk Bond) market. IIM is anything but a junk bond fund and I heartily recommend it. The time to step into it though is up to you and whether you think the bond market will continue to rally (then buy) or sell off (then hold on to buy at a better price later). If it does sell off, jump into IIM unless the world is crumbling all around you and cash is then king. Good luck for the rest of 2016!
Disclosure: I am/we are long NRZ, GBAB, BBN.
I wrote this article myself, and it expresses my own opinions. I am not receiving compensation for it (other than from Seeking Alpha). I have no business relationship with any company whose stock is mentioned in this article.
Additional disclosure: I recommended IIM to a family member in 2014 and he is still holding it and I have not told him to sell yet, as he is invested in it for the tax free monthly income.