Merus B.V. (NASDAQ: MRUS) expects to raise $65.7 million in its upcoming IPO. Based in Utrecth, the Netherlands, Merus is a clinical-stage immuno-oncology company that engages in developing bispecific antibody therapeutics.
We previewed MRUS on our IPO Insights platform last week.
Merus B.V. will offer 4.33 million shares at an expected price range of $14 to $16. MRUS filed for the IPO on October 19, 2015.
Lead Underwriters: Citigroup Global Markets and Jefferies LLC
Underwriters: Guggenheim Securities and Wedbush Securities
Business Summary: Clinical-stage Pharmaceutical Developing Bispecific Antibody Therapeutics
As the company describes in its prospectus summary, Merus B.V. is a clinical-stage immuno-oncology company that engages in developing bispecific antibody therapeutics, which the company refers to as Biclonics. Its lead bispecific antibody candidate is MCLA-128, which is in Phase I/II clinical trials in Europe for the treatment of various solid tumors, including breast, colorectal, and ovarian cancers. In addition, the company is developing MCLA-117, a bispecific antibody candidate that is expected to commence a Phase I/II clinical trial for the treatment of patients with acute myeloid leukemia, as well as for the treatment of myelodysplastic syndrome in pre-clinical studies. Its pre-clinical bispecific antibody candidates include MCLA-134, MCLA-114, and MCLA-145, as well as other early research projects. The company has a strategic collaboration with Gustave Roussy to develop innovative bispecific antibodies for therapeutic immuno-oncology applications.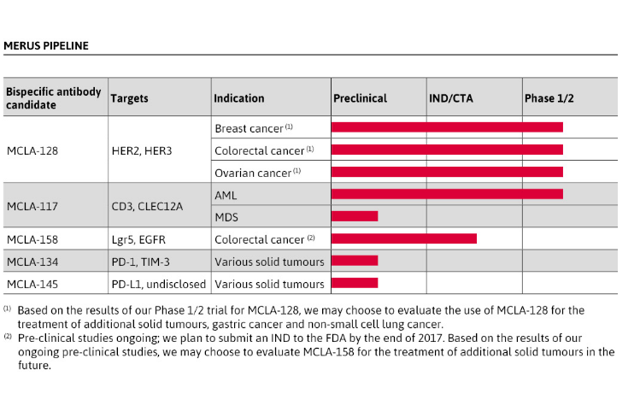 Click to enlarge
(Source)
The company's Biclonics technology platform facilitates the rapid screening of large numbers of Biclonics, which enables Merus to identify lead product candidates with many mechanisms of action. The Biclonics platform retains the immunoglobulin G configuration of conventional monoclonal antibodies, and this works to preserve the key features such as stability, long half-life and low immunogenicity.
The company intends to use the proceeds of this IPO for further clinical development of MCLA-128, MCLA-158 and MCLA-117, as well as funding research and development, working capital, and general corporate purposes.
Executive Management Highlights
As described in MRUS' SEC filings, CEO Dr. Ton Logtenberg, Ph.D. co-founded Merus B.V. in 2003. His previous experience includes positions at Crucell NV, U-BiSys, and Becton Dickinson Immunocytometry Systems. He is a Professor of immuno-biotechnology at the University of Utrecht, a part-time Professor and Staff Member of the Department of Immunology at the University Medical Center Utrecht, and a Senior Researcher on a fellowship from the Royal Dutch Academy of Arts and Sciences. Dr. Logtenberg has a Masters in Biology and a Ph.D. from the University of Utrecht.
CFO Shelley Margetson has served Merus since 2010. Prior to joining Merus, Ms. Margetson served as Vice President of Finance at PanGenetics B.V. She has worked in the biotechnology industry since 2001 for companies located in the UK, France and Netherlands, and she is an Associate of the Chartered Institute of Management Accountants.
Potential Competition: Regeneron Pharmaceuticals, OncoMed Pharmaceuticals and Others
There are a number of pharmaceuticals developing cancer treatments that focus on the immune system. The closest competitors to Merus B.V. are Xencor Inc., Regeneron Pharmaceuticals (NASDAQ:REGN), Merrimack Pharmaceuticals (NASDAQ:MACK), MacroGenics (NASDAQ:MGNX), Genmab A/S, OncoMed Pharmaceuticals (NASDAQ:OMED), and Affimed N.V. (NASDAQ:AFMD).
Financial Overview: Early Stage Losses Noted
Merus B.V. provided the following figures from its financial documents for prior year in Euros:
| | | |
| --- | --- | --- |
| | 2015 | 2014 |
| Revenue | $1,977,000 | $1,303,000 |
| Net Income | ($23,184,000) | ($17,409,000) |
As of Dec. 31, 2015:
| | |
| --- | --- |
| Assets | $38,707,000 |
| Total Liabilities | $7,843,000 |
| Stockholders' Equity | $30,864,000 |
Conclusion: Consider Holding Off
While a 33% increase in net loss 2014-2015 is not extraordinary for an early stage biopharma firm, MRUS' product candidates are in very early clinical stages. Additional risks include an unproven technology platform and international operations.
While oncology IPOs often tend to be popular, we hesitate on MRUS, also given its somewhat smaller team of underwriters.
Disclosure: I/we have no positions in any stocks mentioned, and no plans to initiate any positions within the next 72 hours.
I wrote this article myself, and it expresses my own opinions. I am not receiving compensation for it (other than from Seeking Alpha). I have no business relationship with any company whose stock is mentioned in this article.